Construction milestone for new Mount Crosby Vehicle Bridge
Published Tuesday, 14 November, 2023 at 09:30 AM
Minister for Regional Development and Manufacturing and Minister for Water
The Honourable Glenn Butcher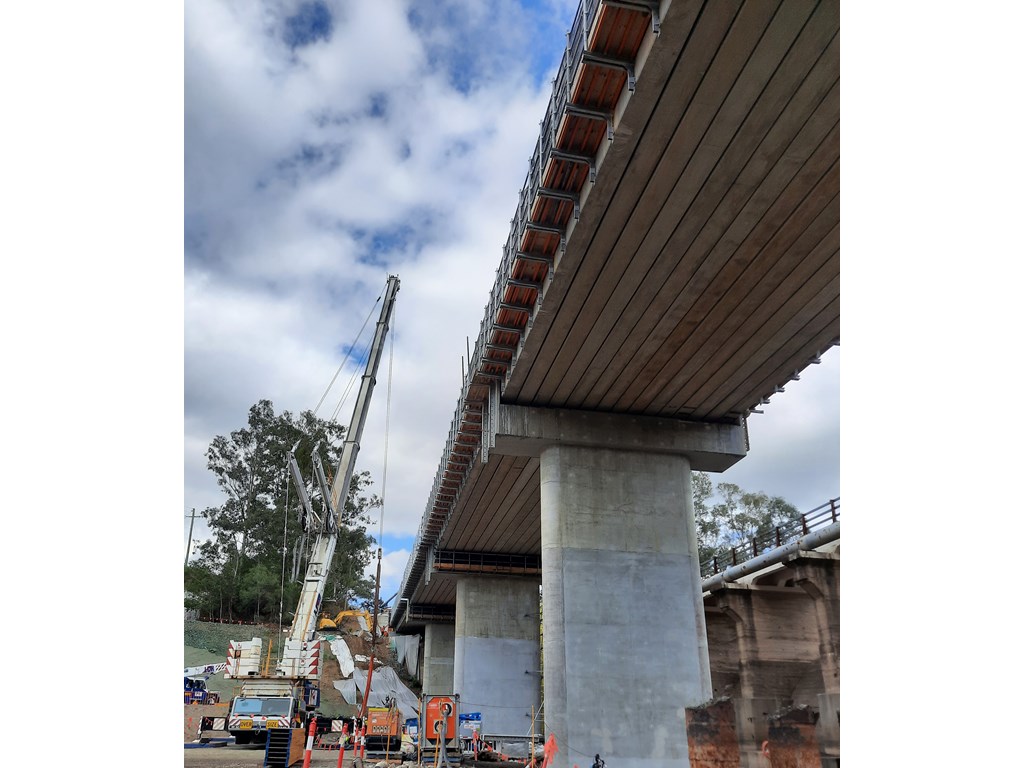 Final bridge deck units installed for Mount Crosby Vehicle Bridge

New bridge will deliver greater flood resilience for the community

Bridge nearing completion, expected in early 2024
Construction on the new Mount Crosby flood resilient bridge is nearing completion, with the final deck lifted into place.
The bridge, once complete will deliver greater flood resilience and improved traffic flow for the growing community. The $29 million dual-lane bridge project is also supporting 30 jobs during construction.
At 187-metres in length and nine metres wide, the new bridge will accommodate two-way traffic and provide a more flood-resilient route over the Brisbane River between Kholo and Mount Crosby. The new bridge is almost three metres higher than the existing structure.
The 27-metre-long deck sections, each weighing 33-tonnes, were pre-cast near Beaudesert and delivered to the East Bank site by truck and craned progressively into place.
Concrete pouring on the bridge deck is already underway, with guardrail installation, road furniture and line marking to follow.
Around 122 tonnes of reinforced steel and 750 cubic metres of concrete are being used to form the bridge deck.
The new bridge will be located approximately 15 metres downstream from the existing Mount Crosby Weir Bridge, which will be turned into a pedestrian and cycle connection for the community to enjoy after the new bridge opens.
The Mount Crosby Vehicle Bridge is expected to be opened to traffic in early 2024, weather permitting.
Quotes attributable to Minister for Water, Glenn Butcher:
"Construction on the Mount Crosby Vehicle Bridge is supporting 30 jobs and has been a hive of activity in recent months. This is a vital project that is delivering more flood resilient infrastructure for this community.
"It's fantastic to see the new bridge taking shape, and I look forward to seeing the bridge improving traffic flow for the surrounding communities.
"The new bridge is an important part of a wider program of project work by Seqwater to reduce flood risks and enhance connectivity along the Brisbane River at Mount Crosby."
Quotes attributable to Ipswich West MP Jim Madden:
"The Mount Crosby Vehicle Bridge will be safer and more convenient for motorists, allowing for two-way traffic flow and heavier vehicles than the existing single-lane weight-restricted weir bridge.
"I look forward to seeing this crucial project wrap up and make travel easier for motorists."
Quotes attributable to Seqwater CEO, Neil Brennan:
"We are proud to be delivering the new bridge, which will bring so many community benefits.
"Seqwater is working closely with contractor BMD to complete construction as safely and efficiently as possible, minimising disruptions to commuters.
"The adjacent weir bridge has remained open to traffic during construction, and we thank the community for their understanding and patience as we deliver this important project."
Further Information:
This project is a key part of Seqwater's East Bank Flood Resilience Program, which will reduce flood risks to critical bulk water infrastructure along the river at Mount Crosby, while keeping communities connected in all weather.
For more information on the East Bank Flood Resilience Program visit the Seqwater website.
Vision here.
ENDS
Media contact: Lizzy Aboud – 0474 811 004