Made in Queensland is the solution for Brisbane chair manufacturer
Published Friday, 22 September, 2023 at 01:14 PM
Minister for Regional Development and Manufacturing and Minister for Water
The Honourable Glenn Butcher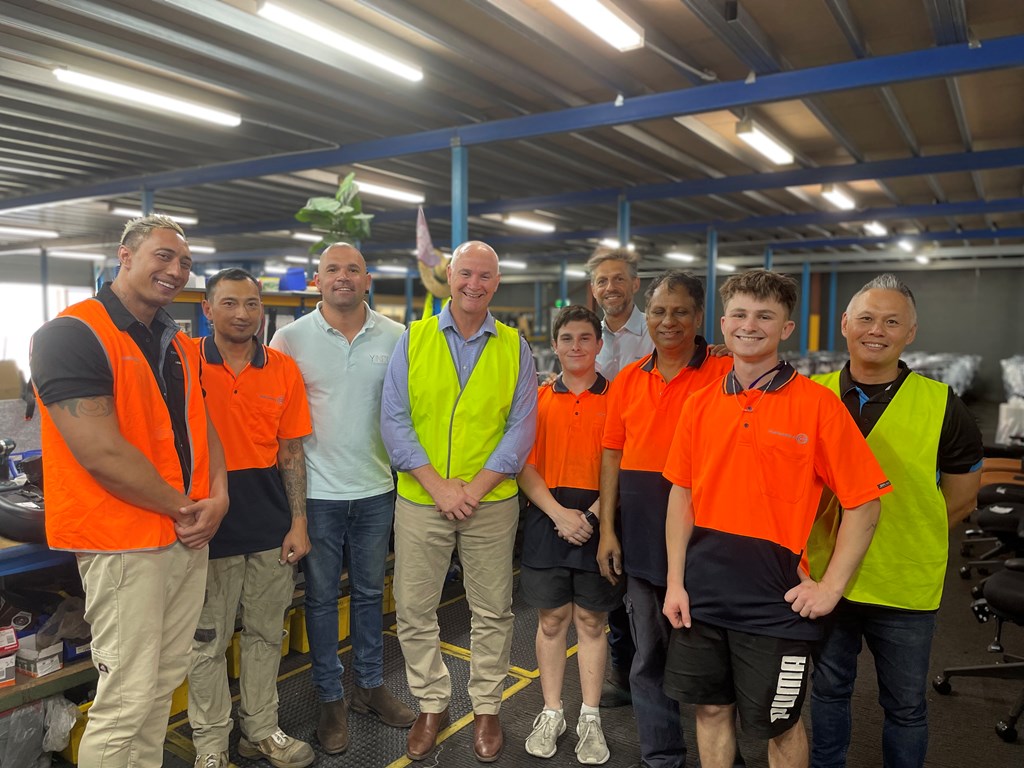 Northgate manufacturer, Chair Solutions will expand capabilities and cut production time with a $635,500 Made in Queensland (MiQ) grant

Chair Solutions are the first MiQ Round 5 recipient to be announced, and they will purchase a moulding machine and plastic moulds

MiQ Round 6 opening next month
During Queensland Manufacturing Month, Manufacturing Minister Glenn Butcher visited the first MiQ Round 5 recipient, Chair Solutions who were awarded $635,500 to purchase new equipment to help expand their capabilities and grow their business.
The Northgate manufacturer provides seating to offices, hospitals, waiting rooms, and schools right across Australia.
Thanks to the Palaszczuk Government's support, Chair Solutions are able to purchase an injection moulding machine which will expand their manufacturing capabilities.
The new equipment will allow Chair Solutions to bid for large-scale projects, reduce production costs and decrease production time by up to 40%.
Chair Solutions will be able to increase their workforce from 26 to 38, employing 12 new full-time staff over the next five years.
The Palaszczuk Government has invested $101.5 million in the MiQ grants program which has created and supported over 5,900 jobs, and generated more than $110 million in private sector investment.
Applications for Round 6 of MiQ will open in October.
Quotes attributable to Minister for Manufacturing, Glenn Butcher:
"The Palaszczuk Government will always back our manufacturing industry because it contributes so much to our state's economy and creates good, secure jobs.
"Made in Queensland gives manufacturers just like Chair Solutions, the practical and financial support they need to grow their business and create more jobs.
"This is a local manufacturer who is embracing Industry 4.0 and growing the business to become even more competitive nationally and internationally."
Quotes attributable to Member for Nudgee, Leanne Linard:
"This grant will be a game-changer for Chair Solutions – helping them expand their workforce and boost their services.
"I congratulate them on their grant funding and look forward to seeing the impact it has on their business and the local economy."
Quotes attributable to Chair Solutions Managing Director, Carl Davies:
"This new equipment and training for staff will enable us to pursue larger contracts and continue our strong growth record.
"We've had strong growth in hospitals recently, providing almost 25,000 chairs to the Sunshine Coast Hospital, Lady Cilento Hospital and the Gold Coast University Hospital.
"Our core business is offices but we also provide chairs to stadiums and recently provided soft seating and removable seating to the Cowboys Stadium.
"The Made in Queensland grant will enable us to scale our business and grow our capacity so that we can be successful with large-scale contracts."
Further Information:
Read more about the Made in Queensland program here.
ENDS
Media contact: Lizzy Aboud – 0474 811 004