China Southern to BNE daily
Published Wednesday, 13 September, 2023 at 01:36 PM
Minister for Tourism, Innovation and Sport and Minister Assisting the Premier on Olympics and Paralympics Sport and Engagement
The Honourable Stirling Hinchliffe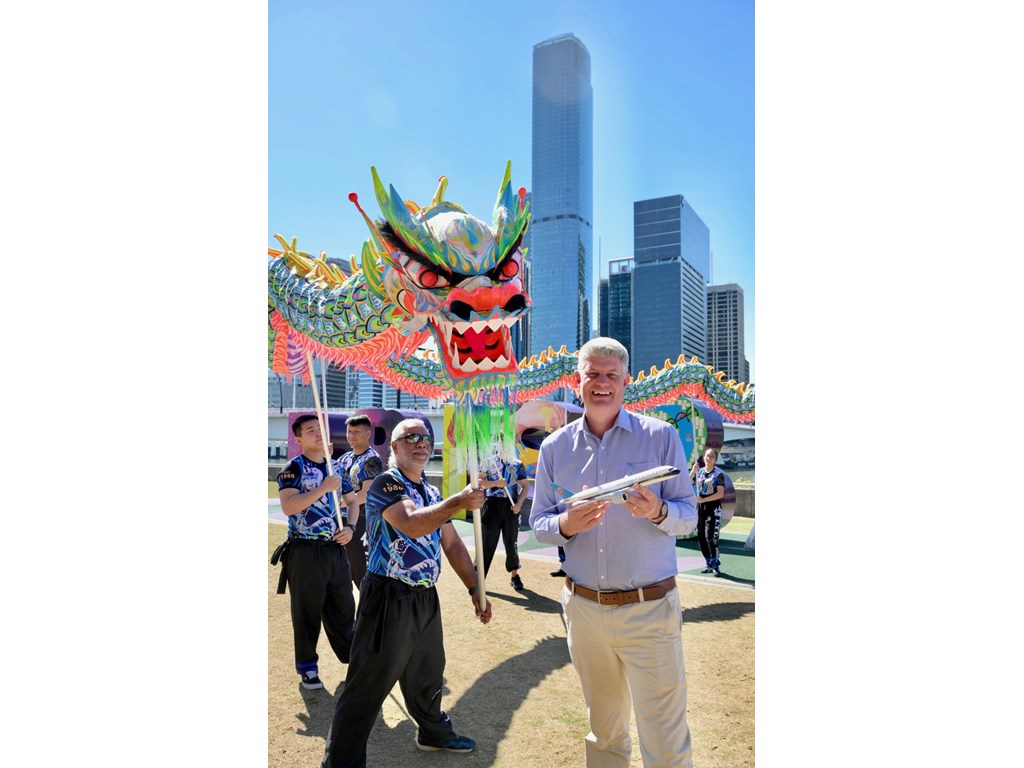 China Southern Airlines to launch seasonal daily flights from mainland China to Brisbane.
Daily flights to boost capacity into Queensland from December to February for China's peak travel season.
China Southern Airlines is expanding direct Brisbane services from Guangzhou, China to daily from December to February.
The daily seasonal services coincide with the traditional Chinese New Year peak travel season.
China Southern announced last month it would reconnect mainland China to Queensland with direct flights from Guangzhou four times a week, starting from mid-November.
The recent lifting of China's pandemic suspension for group travel to destinations including Queensland is driving demand for seats on China Southern's soon-to-restart Brisbane services.
Guangzhou – Brisbane is one of 25 strategic overseas connections secured by the Palaszczuk Government's $200 million Attracting Aviation Investment Fund (AAIF), in partnership with Queensland's international airports.
The AAIF is designed to fast-track the State's international tourism recovery with a predicted $1.49 billion for the visitor economy and support for 18,500 good Queensland jobs.
Before the pandemic, China was Queensland's biggest source of international visitors with almost 500,000 travellers generating $1.6 billion a year.
Tourism Minister Stirling Hinchliffe said:
"This is terrific news for Queensland tourism operators.
"China Southern's commitment to daily seasonal flights shows the strong demand for Queensland holidays ahead of November's reconnection of mainland China with Brisbane.
"Bringing daily flights online for the traditional Chinese New Year travel season delivers many more opportunities for Chinese visitors to discover Queensland's great lifestyle.
"Tourism and Events Queensland's travel campaigns are re-igniting Chinese visitors' love of Queensland's world-class destinations and our State's unique travel experiences.
"Daily seasonal flights are a critical step in re-establishing year-round, seven-day-a-week services from China and building TEQ's blueprint for an $11 billion visitor economy by 2032."
Brisbane Airport Corporation CEO Gert-Jan de Graaff said:
"This increase by China Southern has occurred at breathtaking pace.
"It's still 9 weeks from landing its first flight in Brisbane since the pandemic, but to see demand so strong this early is good news for Queensland's economy.
"Chinese visitors love Brisbane, the Gold Coast and The Great Barrier Reef, so the jobs from these tourists will be spread across the state,"
"The 2032 Games are playing a key role in this market right now with Chinese visitors viewing hosting an Olympics and Paralympic Games as an important marker of status for a city."
Queensland Tourism Industry Council CEO Brett Fraser said:
"It's fantastic to welcome back more international guests to Queensland.
"Seasonal flights can be a shot in the arm for the tourism industry and we hope to see an influx of visitors during the Chinese New Year travel period.
"Expanding international flight routes is critical in attracting guests to Queensland and putting our state on the radar of would-be travellers.
"Re-establishing and strengthening the connection between China and Queensland is vital to our long-term tourism success."
Images are here: https://www.dropbox.com/scl/fo/jhy5fwo2644fkfuydtfas/h?rlkey=5xiwhb64ii6vkbmyq6gsg1tco&dl=0
Media: 0427 475 089