Plans lodged for Queensland's largest social, affordable housing precinct
Published Wednesday, 13 September, 2023 at 09:45 AM
JOINT STATEMENT
Premier and Minister for the Olympic and Paralympic Games
The Honourable Annastacia Palaszczuk
Minister for Housing
The Honourable Meaghan Scanlon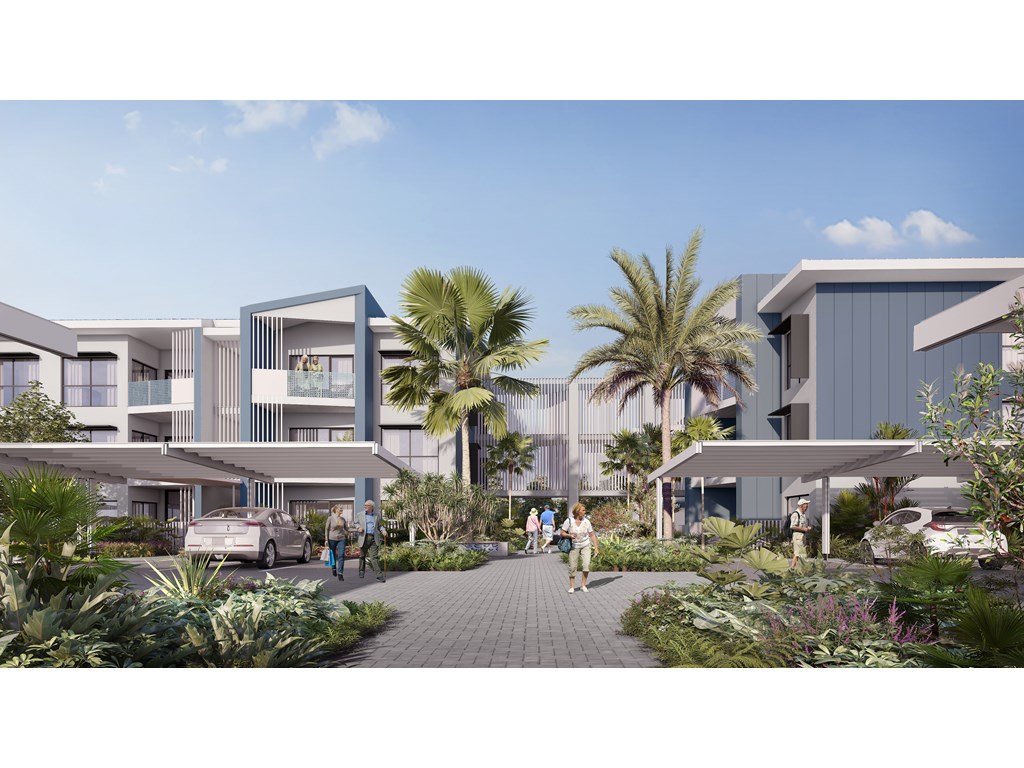 Concept design. Subject to change.
A development application has been lodged for 490 social and affordable homes in Cairns' south
The precinct will particularly cater to older Queenslanders and will also include specialist disability homes
Project proponents are working with the Palaszczuk Government's Housing Investment Fund
Link to pics: https://tinyurl.com/35e9cbcd
Planning applications have been lodged for what could be Queensland's largest social and affordable housing precinct.
Four hundred and ninety new social, affordable and specialist disability homes are on the cards for Woree, between Cairns' southern corridor and inner-city suburbs.
It's particularly aimed at seniors who are seeking to downsize and would be able to enjoy supported independent living, while freeing up under-occupied social homes for larger households.
Plans feature modern, low maintenance and energy efficient one and two-bedroom homes, set among landscaped gardens, picnic grounds, BBQs and playgrounds.
The Palaszczuk Government is now considering an application from project proponents Community Housing Qld Limited and Tetris Capital through the government's signature $2 billion Housing Investment Fund.
The site is connected to the Bruce Highway via the newly upgraded arterial road Des Chalmers Drive on the eastern boundary. Directly adjoining the property on the southern boundary is a local shopping centre and the Woree Aquatic Centre.
The location offers direct access to the Cairns Bus Transit network at the eastern front of the property with two newly constructed bus stops servicing five bus routes.
This development is on top of the 1600 homes already approved under the Housing Investment Fund.
Quotes attributable to Premier Annastacia Palaszczuk:
"We know Queenslanders are feeling the impact of national housing pressures across the state.
"That's why my government is pulling every lever available – including working hand in hand with housing providers.
"Through our $2 billion Housing Investment Fund, we're seeing the private sector come to the table with their solutions including another 71 projects being shortlisted for the next stage.
Quotes attributable to Housing Minister Meaghan Scanlon:
"Right around the state we have projects in the pipeline, as part of our $5 billion commitment to help deliver 13,500 homes.
"We welcome any proposed housing projects that will boost the number of social and affordable homes for Queenslanders in need.
"We are now actively working with Community Housing Qld Limited and Tetris Capital to progress this project through the Housing Investment Fund."
Quotes attributable to Speaker of the Queensland Parliament and Member for Mulgrave Curtis Pitt:
"This proposed development has the potential to provides homes for hundreds of seniors in Cairns.
"The proposed development will be a fully master-planned community of one and two-bedroom units, located close to medical facilities, community services, shopping and transport.
"I'm very excited about the potential of this project, and I look forward to following its progress."
Quotes attributable to Member for Cairns Michael Healy:
"What's great about this proposal is that Community Housing Qld (CHQL) will operate the campus with onsite staff and support.
"CHQL will also lead a Community Development model with staff who will work with support partners to deliver lifestyle programs to reduce social isolation and encourage active lifestyles.
"This approach will provide residents with support and activities as well as continuing any existing support arrangements they may have in place already."
Quotes to be attributed to Community Housing Limited State Manager Alicia Follent:
"This project is an example of the community housing sector's pivotal role in delivering supply at scale by working across the private and public sector.
"It exemplifies successful collaboration with our valued partners Tetris Capital, harnessing their expertise in managing institutional investment in response to the urgent need for social and affordable housing.
"These contemporary, high-quality social and affordable homes are a long-term investment and will serve as a community conscious development for our seniors and those living with disability, enabling them to comfortably age in place.
"These homes will be transformative, providing life-changing opportunities for residents to age in place while remaining closely connected to local services, transport, and their community."
ENDS
MEDIA CONTACT: Francis Dela Cruz - 0420 592 078