Social housing bolstered for Ipswich
Published Monday, 11 September, 2023 at 01:30 PM
Minister for Housing
The Honourable Meaghan Scanlon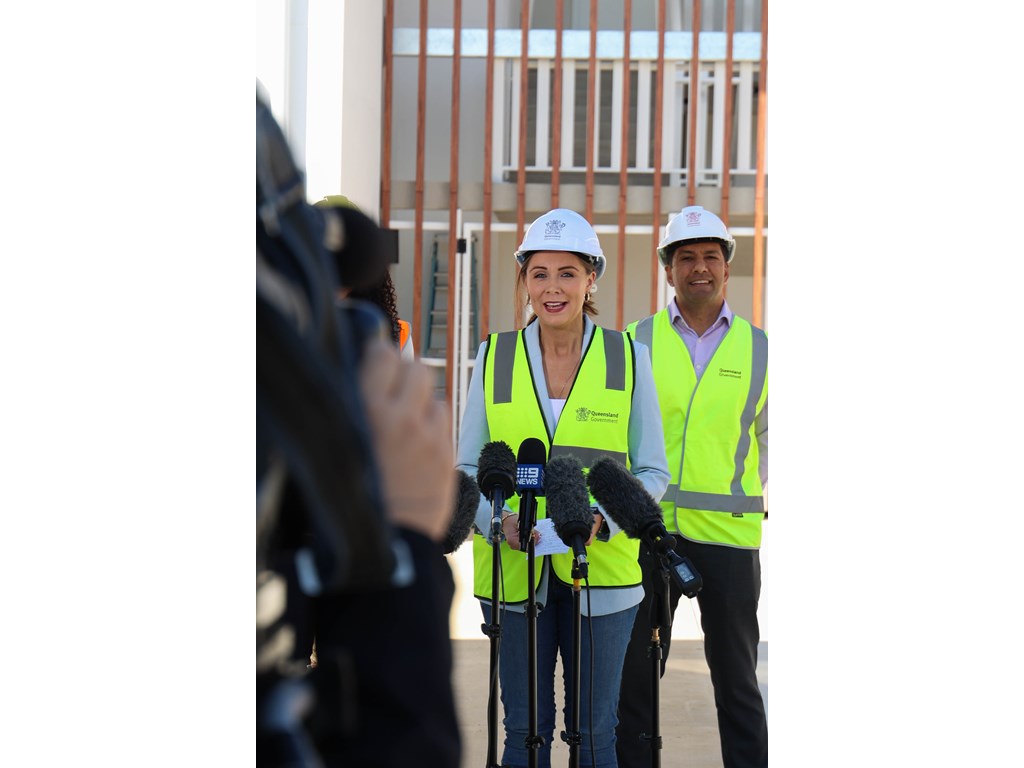 Housing Minister today inspected finishing touches being made to seven two-bedroom homes being built in Goodna
Minister announced a further 10 homes to be built in Ipswich in partnership with YWCA
It's part of a record $5 billion for social and affordable homes – the largest concentrated investment in Queensland's history – to help deliver 13,500 homes
The final touches are being put on seven two-bedroom homes in Goodna that have been built on a redevelopment site.
The Goodna site had previously contained two detached three-bedroom homes that had been built in 1974.
Housing Minister Meaghan Scanlon visited the new build, which includes three homes built to Gold level and one to Platinum level of the Livable Housing Design guidelines.
It means they will be suitable for older people and people with disability, with features including wider hallways and doors. The Platinum level home is suitable for someone who mobilises in a wheelchair.
The construction is being managed by QBuild and has been a great opportunity for QBuild's carpentry, plumbing and electrical apprentices. More than 4,800 training hours have been provided.
Minister Scanlon also announced today a partnership worth $5.5 million with YWCA to build 10 new social and affordable homes in the region. Six will be social homes funded by the government, and four will be affordable homes fully funded by YWCA.
The announcement of the Goodna complex nearing completion and the YWCA partnership follows July's announcement of 40 new homes to be built in Basin Pocket.
Quotes attributable to Housing Minister Meaghan Scanlon:
"Redevelopment of older properties allows us to boost the stock of social housing available.
"While social housing was traditionally built as family homes, the greatest demand in Ipswich, and across Queensland, is now from smaller households requiring one or two-bedroom homes.
"This trend is expected to continue so that is what we are building and buying to match this need.
"Not only are we building public social housing, we're also partnering with organisations like the YWCA to build and buy social homes.
"As part of today's announcement, the YWCA will build another six homes in the region – catering in particular for women and children."
Quotes attributable to Member for Bundamba Lance McCallum MP:
"Final works like installing retaining walls, landscaping and fencing are underway on these brand new social homes.
"It great these new homes are directly opposite a shopping centre and pharmacy – close to services and shops that locals need.
"More social homes are currently under construction at Redbank Plains, which makes six new complexes recently Bundamba.
"We are delivering more homes as soon as possible for more locals."
Quotes attributable to YWCA GM National Housing Charlotte Dillon:
"YWCA is proud to continue increasing the number of social housing properties for women and their families in Queensland.
"We are committed to ensuring that women and their families have access to safe, suitable, and affordable housing.
"A stable foundation of housing provides a pathway for social cohesion and economic security for women, and supports achievement of broader gender equality outcomes."
ENDS
Media contact: Francis Dela Cruz - 0420 592 078