FNQ's biggest project Edmonton to Gordonvale (E2G) opens this month
Published Tuesday, 15 August, 2023 at 02:46 PM
Minister for Transport and Main Roads and Minister for Digital Services
The Honourable Mark Bailey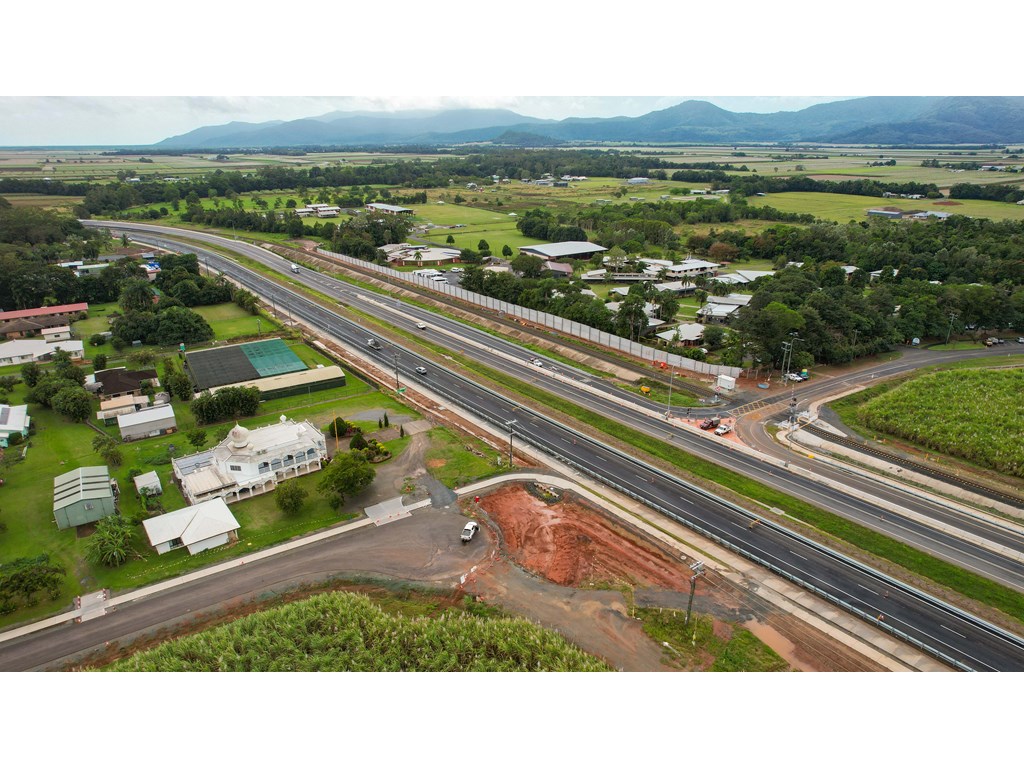 A critical piece of Far North Queensland's biggest and most complex road and rail infrastructure project has been officially commissioned, marking the final step towards the completion of the project.
The $535 million Bruce Highway – Cairns Southern Access Corridor (Stage 3) – Edmonton to Gordonvale project is delivering long-term improvements to traffic flow and road safety through reducing congestion and highway travel times, and improving road access and active transport networks.
Today's commissioning of the Menmuny Overpass, which spans 141 metres, is a significant milestone for the project.
It wIll open to motorists by Friday (18 August), providing safe access to the highway – north, south, east and west.
Construction of the 10.5-kilometre section of newly duplicated and upgraded Bruce Highway between Edmonton to Gordonvale – the busiest two-lane section of Bruce Highway between Cairns and Brisbane – began in May 2020.
More than 200 million hours of work has been undertaken on the project and involved more than 300 local suppliers and contractors.
In addition to upgrading and duplicating the highway, the project will also deliver:
A new intersection and two upgraded intersections
More than eight kilometres of upgraded local roads (8.9 kilometres)
New road and rail bridges at Wrights Creek and Stoney Creek
Cycleway bridge at Collinson Creek
10.4 kilometres of cycleway
Twenty-seven kilometres of drainage
Three new pedestrian crossing facilities, including a pedestrian overpass
A rail track upgrade and realignment of 4.5 kilometres of the Queensland Rail North Coast Line
The $535 million Edmonton to Gordonvale project is funded by the Australian and Queensland governments under the Bruce Highway Upgrade Program, with the Australian Government committing $428.01 million and the Queensland Government $106.99 million.
The project will fully open to motorists by the end of August 2023, with remaining minor works to be completed in September 2023.
Quotes attributable to Federal Minister for Infrastructure, Transport, Regional Development and Local Government Catherine King:
"The Australian Government is committed to providing safe and reliable road infrastructure to connect and support Queensland and rural and regional Australia, which is why it's fantastic to see this major project nearing completion.
"Not only will this 10.5 kilometres of highway be upgraded and duplicated, but through this jointly funded project we are delivering new and upgraded intersections, new local roads, cycleways, drainage, an impressive overpass and pedestrian crossings.
"Vital infrastructure projects like this are helping support rural and regional Australia by connecting communities, strengthening freight networks and improving road safety."
Quotes attributable to Senator for Queensland Nita Green:
"This is Far North Queensland's largest road and rail infrastructure project, and its completion will be a massive boost to the community and the estimated 20,000 thousand motorists who travel this section of the Bruce Highway every day.
"This is the busiest two-lane section of the Bruce Highway between Cairns and Brisbane, these upgrades are necessary and I look forward to seeing them complete."
Quotes attributable to Queensland Transport and Main Roads Minister Mark Bailey:
"The Queensland Government is building the infrastructure our growing State needs. It's all part of Queensland's Big Build the biggest investment in infrastructure delivery in our history.
"This project – Far North Queensland's biggest and most complex – will deliver significant improvements to safety and connectivity, has reduced congestion and highway travel time on the Bruce Highway, as well as improved active transport networks.
"The new highway will future-proof this section of the Cairns Southern Access Corridor for years to come.
"We are committed to delivering real benefits to Far North Queensland and are continuing to provide safer roads for the community, which is exactly what this project has done.
"Input from the people who live in the area has been key to the success of the project. The community helped to name 10 new pieces of infrastructure, which celebrate the area's local identities and rich Indigenous culture.
"This was a wonderful opportunity for the local community to name these important transport links, and to recognise the significant cultures and people who have contributed to the region through that process.
"We know Cairns is growing rapidly and this investment provides a better road network service to keep people moving."
Quotes attributable to State Member for Mulgrave Curtis Pitt:
"The opening of Menmuny Overpass to traffic this Friday will be a significant moment.
"It will enable motorists' safe access to the highway when travelling north to Cairns or south to Gordonvale, as well as access to the east or west without needing to interact with Bruce Highway traffic.
"Local road upgrades, delivered as part of the Edmonton to Gordonvale project, are really important in maintaining access for residents, and reducing congestion and improving safety on the Bruce Highway.
"Projects like this aren't just about building safer roads – they're also supporting good, secure jobs for Queenslanders. This project is estimated to have supported an average 460 direct jobs over its life.
"Crews have put in more than two million hours of work to build this upgraded and duplicated section of the Bruce Highway and the project has engaged with more than 300 local suppliers and contractors to get the job done.
"Not only has this project supported local businesses but it has also provided significant opportunity for development with more than 220,000 upskilling hours worked – which is 378 per cent above the project's target."
Quotes attributable to Joint Venture Contractor Project Manager Natasha Roy, Project Manager E2G (Operations Manager John Holland)
"The joint venture contractors, John Holland, Seymour Whyte and AECOM are proud to have delivered Far North Queensland's largest infrastructure project. The collaboration between our teams and the local subcontractors have made this fantastic achievement possible.
"We have received support from the local community, from farmers to local businesses and residents, all understanding the disruptions from the construction because they knew it would result in a significant improvement of their future travel to and from Cairns.
"The sustainable construction methodologies used during the works have been recognised across the industry. The team was also conscious of the significant heritage and sensitive areas surrounding us, and implemented high standards of controls to ensure the project would be delivered with no harm to the land or the environment.
"By supporting local livelihood through jobs and business transactions, the project team has not only built strong relationships with the local contractors and businesses, but helped to provide experience and skills that will assist the organisations being part of future major infrastructure projects in Far North Queensland."
MEDIA CONTACT:
MINISTER KING – KALLISTA KAVAL 0474 048 152
MINISTER BAILEY – LESLEY MAJOR 0419 288 284