Boost for Indigenous native food businesses
Published Thursday, 06 July, 2023 at 07:14 AM
Minister for Agricultural Industry Development and Fisheries and Minister for Rural Communities
The Honourable Mark Furner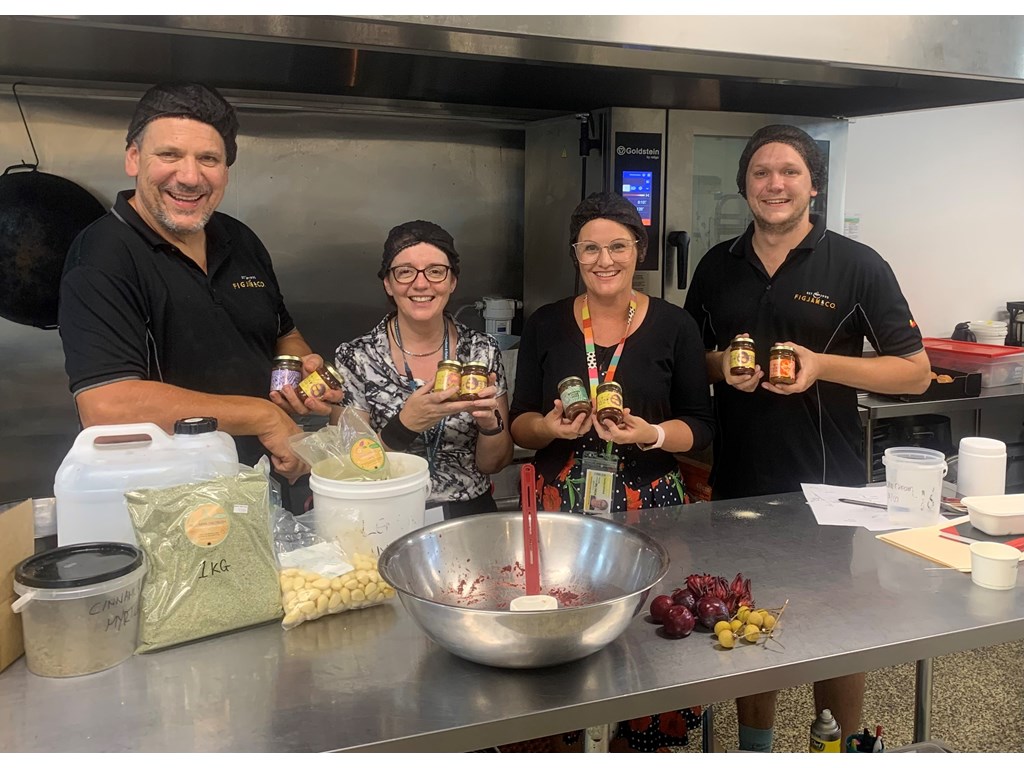 The team at FIGJAM
First Nations businesses take on $50m market opportunity
Queensland Government support to improve products and market placement
Bringing taste of Australian native foods to the world
Three Queensland First Nations native food businesses have received Queensland Government backing to develop their products and expand their foothold in Australia's $50 million native food market.
Condiments with traditional native flavours of the Australian bush, and sparkling water and beverages with a native twist are on the menu in the latest round of the Queensland Government's Indigenous Native Food Program.
The program helps First Nations owned and operated businesses develop and commercialise new food products with native food ingredients.
Partnerships with FIGJAM and Co, Yaala Sparkling and Beechtree Distilling Co are underway.
The businesses receive targeted support from researchers including consumer led formulation development, process development and practical scale up, packaging selection, end product shelf-life assessment and validation, and consumer and sensory assessment.
They also have the opportunity to connect with raw material and equipment suppliers, contract manufacturers, marketers and distributors.
The program is helping FIGJAM and Co to review its condiment range, production methodology, raw materials, costs, supply and labelling. Products will be formulated to meet regulatory requirements, ensure optimum flavour, texture and nutrition are maintained through shelf life, and prepare for scale up trials and bulk manufacture.
Yaala Sparkling is being assisted to modify its products in line with findings from physico-chemical testing and consumer feedback. The team will be developing new products, which will be scaled up in preparation for bulk manufacture.
Beachtree Distilling Co will be supported to assess new production methodologies, source and screen raw materials, and develop a new range of products with native food ingredients. This will enable the company to process these products, scale up manufacturing and diversify their product offering.
The Indigenous food industry is valued at $50 million, yet it is estimated that less than 2 per cent of native food products are produced by First Nations peoples.
The program is a joint collaboration between Department and Agriculture and Fisheries (DAF) and Department of Tourism, Innovation and Sport (DTIS).
Quotes attributable to Minister for Agricultural Industry Development and Fisheries and Minister for Rural Communities Mark Furner:
"The Palaszczuk Government is backing these businesses for success, so they can bring great new Queensland tastes to the world and we can create more good jobs in Queensland.
"We want Queensland Indigenous businesses to get the opportunity to display their creativity, innovation and culture by helping them to get the best from their product offering.
"I hope Queenslanders will get behind these businesses like we have and give their products a go."
Quotes attributable to Innovation Minister Stirling Hinchliffe:
"This innovative program is designed to support First Nations-led startups to grow local jobs and expertise.
"With the eyes of the world focused on Queensland ahead of the 2032 Olympic and Paralympic Games, now's the perfect time to build a strong, world-class Indigenous food industry.
"The potential to create new commercial First Nations cuisine opportunities at home and overseas is enormous."
Quotes attributable to Minister for Treaty and Minister for Aboriginal and Torres Strait Islander Partnerships Leeanne Enoch:
"The Palaszczuk Government is proud to recognise and elevate First Nations businesses in Queensland, continuing to develop economic opportunities for Traditional Owners, Aboriginal and Torres Strait Islander communities and businesses.
"This is particularly important in the leadup to the Brisbane 2032 Olympic and Paralympic Games, where Queensland's unique native foods and businesses will be showcased on the world stage.
Quotes attributable to FIGJAM owner Jacob Davidson:
"Working with the Indigenous Native Food Program was a massive stepping stone for our business," Mr Davidson said.
"It was more than a mentorship. The team were pragmatic in their approach and their scientific knowledge and previous industry experience has helped us get to the next stage in upscaling our business.
"The team brought together in a scientific background and understanding of testing and standards, and an industry background of manufacturing techniques and knowledge of ingredients.
"Our end product now tastes even better and has an extended use by date."
ENDS
Media contact – Martin Philip 0407 675 008