Decade-long drought ends for large parts of Queensland
Published Thursday, 01 June, 2023 at 03:00 PM
Minister for Agricultural Industry Development and Fisheries and Minister for Rural Communities
The Honourable Mark Furner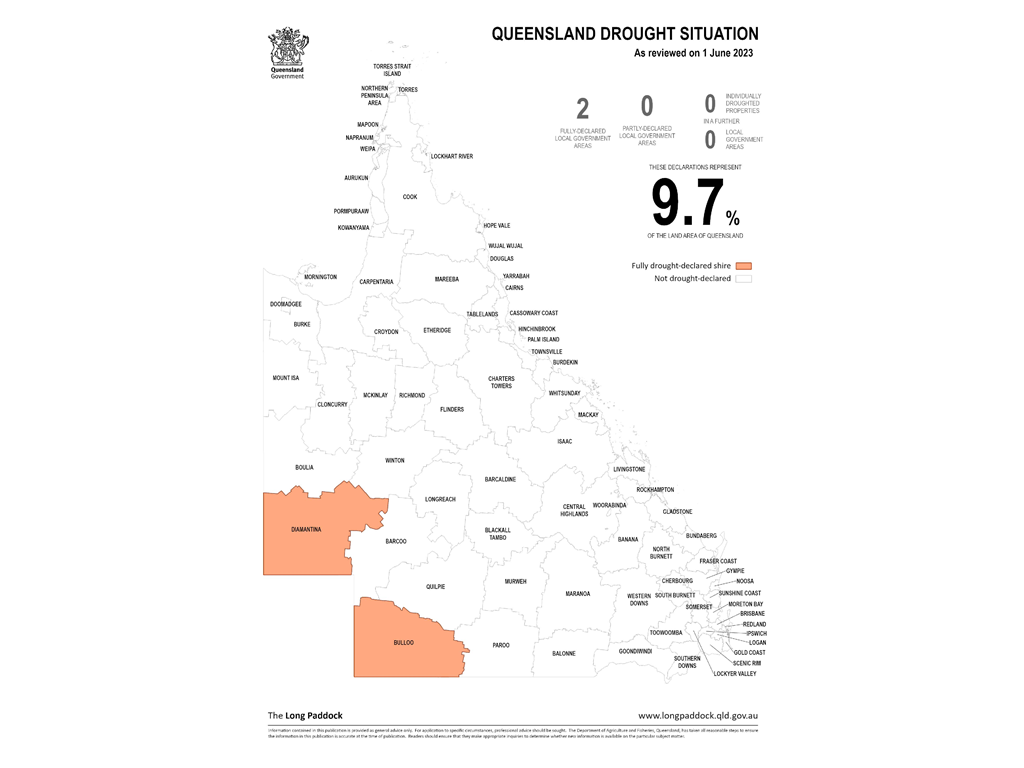 Queensland Drought Situation map as of 1 June 2023. Only the Diamantina and Bulloo Shire Council areas remain in drought.
Less than 10 per cent of the state is drought-declared for first time since 2013.
Drought-declared area reduced from 27.8 per cent to 9.7 per cent.
Primary producers no longer need to be drought-declared to access drought assistance.
Palaszczuk Government is helping primary producers prepare for future droughts.
For the first time since 2013, less than 10 per cent of Queensland is drought-declared.
Minister for Agricultural Industry Development and Fisheries and Minister for Rural Communities Mark Furner has accepted the recommendations of Local Drought Committees to revoke the full or partial drought declarations from today for:
Barcaldine Regional Council
Boulia Shire Council
Longreach Regional Council
McKinlay Shire Council
Richmond Shire Council
Isaac Regional Council
Livingstone Shire Council
Whitsunday Regional Council
Winton Shire Council
It's the first time since 2013 the LGAs of Barcaldine, Boulia, Longreach, McKinlay, Richmond, Winton and Isaac Shires have been drought-free.
The Whitsunday Shire had been part-drought declared since 2015, while Livingstone Shire Council was drought-declared from 2019.
Only the Diamantina and Bulloo Shire Councils remain drought-declared.
Local Drought Committees made recommendations to the Minister after considering local conditions as well as scientific information, with the assistance of the new combined drought indicator.
Following the Palaszczuk Government's drought reforms in 2021, primary producers no longer need to be in a drought declared area to access assistance.
While much of the state is enjoying green conditions, primary producers are being advised to bolster drought resilience now.
Drought preparedness grants of up to $50,000 are available as a co-contribution to help producers undertake on-farm capital improvements that improve the drought preparedness of their property.
The drought declaration map can be viewed at www.longpaddock.qld.gov.au
For further information on drought assistance visit daf.qld.gov.au or call the Customer Service Centre on 13 25 23.
Quotes attributable to Minister for Agricultural Industry Development and Fisheries and Minister for Rural Communities Mark Furner:
"Some of our primary producers have done it tough during a long drought, so the widespread improvement in seasonal conditions has been a welcome relief," Mr Furner said.
"Consecutive La Niñas and high rainfall have resulted in this fantastic outcome for our primary producers.
"Primary producers in recently drought-revoked areas can access freight subsidies for restocking and returning from agistment under the Drought Relief Assistance Scheme (DRAS) for up to two years.
"DRAS is being phased out as areas come out of drought, but thanks to our government's ground-breaking reforms, primary producers no longer need to be in a drought-declared area to access assistance.
"Drought assistance in Queensland has been broadened and is for the first time open to eligible primary producers across all agricultural sectors with a focus on resilience and preparedness for the next drought.
"More than 270 primary producers have already applied for drought preparedness assistance under the new programs, and I hope many more farmers join them.
"We have the Farm Business Resilience Program that provides free information and training sessions to improve drought preparedness, including help with a farm business plan.
"We offer Farm Management Grants providing a rebate of up to 50 per cent to a maximum of $2,500 to primary producers for the cost of professional assistance to develop a plan.
"The Farm Business Resilience Program and Farm Management Grants are jointly funded by the Australian Government's Future Drought Fund and the Queensland Government's Drought and Climate Adaptation Program.
"Additionally, the Palaszczuk Government is delivering Drought Preparedness Grants of up to $50,000 and Drought Ready and Recovery concessional loans up to $250,000 that are available in any year, regardless of drought status.
"For any producer who believes they are droughted, in addition to the Drought Preparedness Grant and Drought Ready and Recovery Loans, the Palaszczuk Government offers both interest free and concessional interest loans to assist with the broad range of drought related costs compared with the limitations of the old fodder and water freight subsidy program.
"If a producer in these newly revoked council areas believes they are still experiencing difficult conditions, they could immediately apply for an Individually Droughted Property (IDP) declaration.
"If approved, an IDP will continue to give them the same access to DRAS as the recent area declaration."
ENDS
Media contact: Bryce Heaton 0427 781 920