New Ekka Station takes shape as Ekka public transport changes announced for 2023
Published Saturday, 27 May, 2023 at 10:07 AM
Minister for Transport and Main Roads and Minister for Digital Services
The Honourable Mark Bailey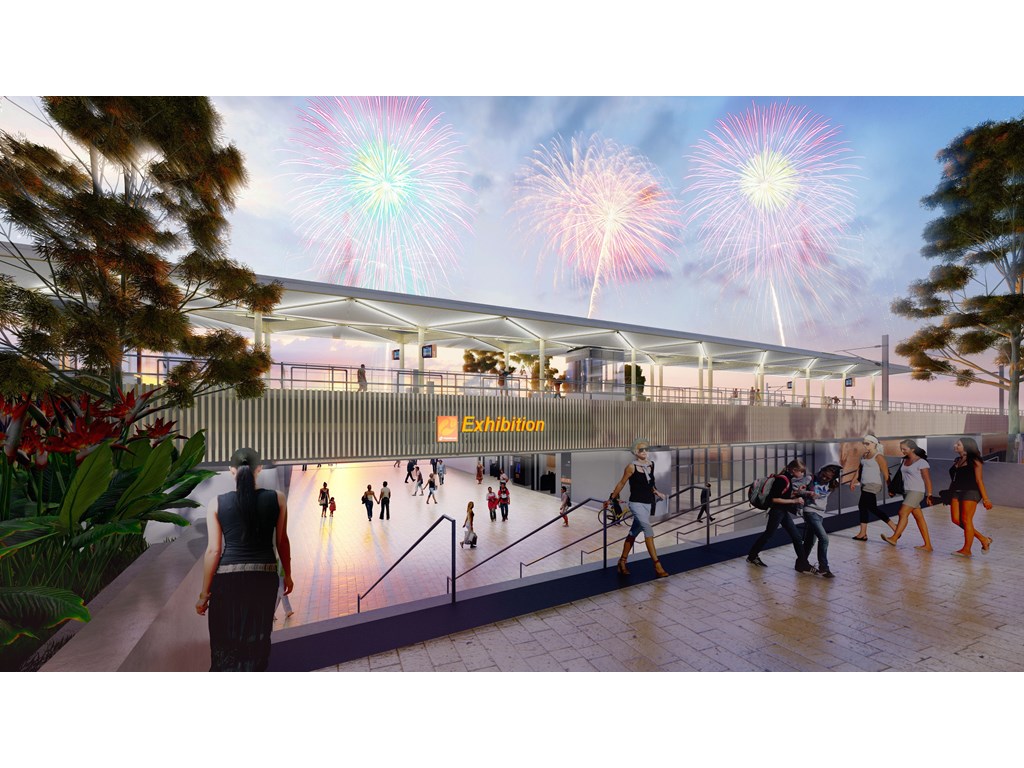 Works are progressing well on Cross River Rail at the new 365 day-a-year Ekka Station
Because the old Ekka station had to be demolished to build the new station, it is not available for Ekka 2023.
People will still be able to take public transport to the Ekka, with multiple alternative travel options including nearby bus and train stations, bus shuttles and special services for passengers with accessibility needs.
Works are progressing well on the new year-round Ekka station being delivered through Cross River Rail, with the old station building and platforms demolished, and tracks recently installed over a new 150-metre-long rail bridge that will form part of the new station.
The old Ekka station had to be demolished to make way for the new station so it will not be in operation for this year's Ekka.
There will still be plenty of transport options available to Ekka goers, including trains and buses from nearby stops and stations, and additional shuttle services.
Specific information about travel options will be available closer to the event.
For more information, visit translink.com.au/ekka.
Quotes attributed to Transport and Main Roads Minister Mark Bailey:
"Construction at the Ekka precinct is charging ahead, including demolition of the existing Ekka station. This means that for this year, trains won't travel directly to the Ekka via Ekka station.
"In its place, Cross River Rail is delivering a new fully accessible 365 days-a-year train station at the Brisbane Showgrounds, which will service the growing entertainment, business and health precinct every day of the year – not just for special events like the Ekka.
"We know how much Queenslanders love the Ekka, so there will be plenty of other public transport options available.
"We want to make sure people can get to the Ekka safely and easily to enjoy their strawberry sundaes, woodchopping competitions, carnival rides and everything else that makes this iconic event so great.
"And in the future, people can look forward to a brand-new station that will benefit nearby residents and businesses, visitors and staff at the Royal Brisbane and Women's Hospital and the thousands of people who visit the Ekka, the Convention Centre and nearby bars and restaurants."
Quotes attributed to Cross River Rail Delivery Authority CEO Graeme Newton:
"We apologise in advance for any inconvenience caused but demolition of the old station had to happen prior to starting work on the new one, and the phasing just couldn't be avoided.
"A temporary platform was considered in an effort to open the station for Ekka, but due to a range of factors, including safety, it was not feasible.
"We're working closely with Queensland Rail, Translink and the RNA to ensure people can get to and from the Ekka as seamlessly as possible using nearby train stations, bus stops and additional shuttle services.
"Meanwhile, works are progressing really well – with the old station building and platforms demolished and 1.2 kilometres of new tracks laid, works are underway on the second rail bridge that will form part of the station building.
"Over coming months, we will see critical steel supports installed for the new station building followed by works on the new station itself, including lifts."
Quotes attributed to RNA CEO Brendan Christou:
"Public transport is one of the most popular ways to get to the Ekka, which is Queensland's largest and most loved annual event, so we're pleased the message is getting out now well in advance.
"We want our valued Ekka patrons to know that you can still catch the train to the Show from nearby stations or take advantage of high frequency bus services dropping off at neighbouring stops.
"While we would have liked the station to be operational this year, we understand the important work currently underway and thank Cross River Rail, Translink and Queensland Rail for working with us to ensure multiple public transport options are available for this year's Ekka
"We look forward to the new station opening in the future and the immense benefits it will bring to the Brisbane Showgrounds, the events sector, the community and surrounding precinct."
Quote attributed to Queensland Rail Head of South East Queensland Scott Riedel:
"Catching a train will still be a great way to get to the Ekka."
"Trains will run to and from nearby stations, such as Fortitude Valley, which are a short walk to the event.
"Our friendly Queensland Rail staff will be on hand at stations to assist customers with any questions to make sure everyone gets to enjoy that special time of year when the country comes to the city."
Quote attributed to Head of Translink Sally Stannard:
"Rest assured, there will be plenty of ways to catch a ride to the Ekka on public transport.
"As well as trains, there will also be several bus options for Ekka goers.
"You will also be able to catch high-frequency buses to and from nearby stops such as Herston station, and a dedicated Ekka shuttle will run between Woolloongabba and Herston stations.
"We are working with our bus delivery partners to finalise operations and specific information to ensure you can plan your travel will be available well in advance of the Ekka."
ENDS
Media contact: Lesley Major 0419 288 284