250MW Swanbank Battery as SEQ joins Clean Energy Hub revolution
Published Thursday, 09 March, 2023 at 09:01 AM
JOINT STATEMENT
Minister for Energy, Renewables and Hydrogen and Minister for Public Works and Procurement
The Honourable Mick de Brenni
Assistant Minister for Hydrogen Development and the 50% Renewable Energy Target by 2030
Mr Lance McCallum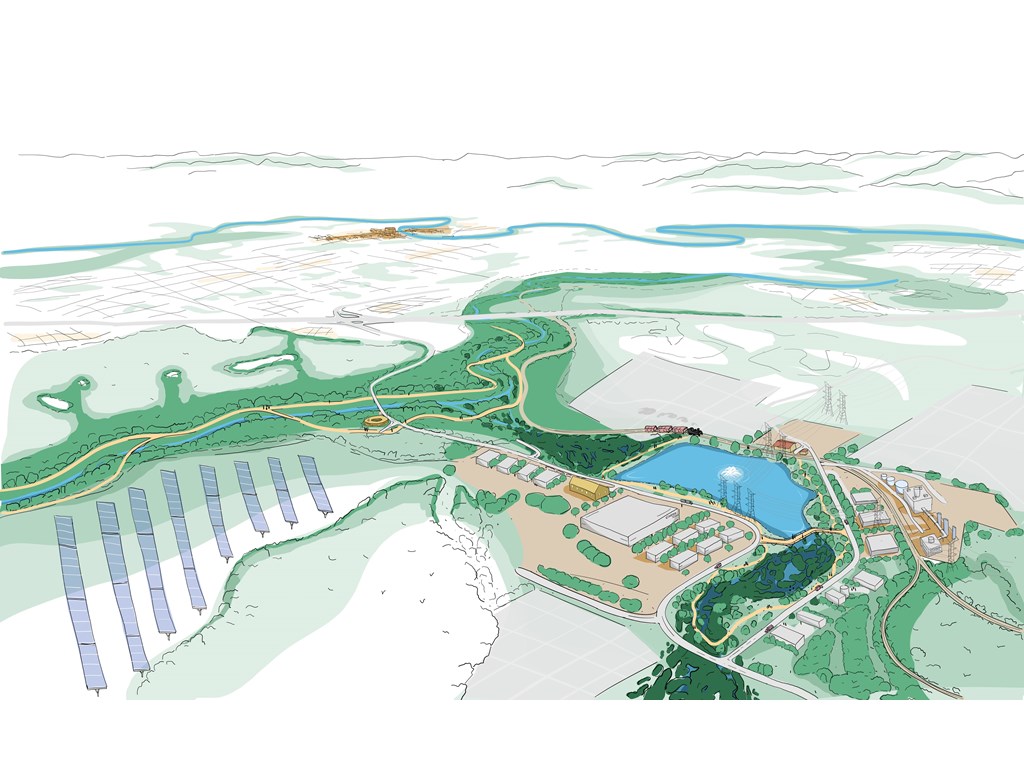 Swanbank Future Clean Energy Hub Concept Sketch
Swanbank E Combined-cycle Gas-fired Power Station is one of the most efficient and flexible, low-emission gas generators in Australia
Swanbank is located in a strong part of the Queensland network, with a grid connection capacity of up to 1.2GW
Publicly owned CleanCo Queensland has announced plans for a Clean Energy Hub future at its Ipswich-based energy precinct, including a 250MW battery and community co-design elements of the site.
CleanCo is launching an EOI process and seeking community input to assess and progress a future Clean Energy Hub at Swanbank that includes solar power, battery storage, and green hydrogen, enabled by the Palaszczuk Government's Queensland Energy and Jobs Plan.
Ipswich community input is vital as CleanCo looks to a clean energy future alongside site restoration, including an ecological corridor and recreational spaces.
This signals the start of the transformation of Swanbank to become a future Clean Energy Hub that supports more highly skilled, local jobs through clean energy that is complemented by state-of-the-art community amenities.
Attributable to Minister de Brenni:
"The Queensland Energy and Jobs Plan is all about a future of cheaper, cleaner and secure energy for Queenslanders, with 70% of it renewable by 2032," Minister de Brenni said.
"While southern states like NSW are seeing a disorderly transition, where privatisation has ripped the heart out of their energy grid, Queenslanders can be assured that their energy system will be safe, stable, and secure for the future.
"Because we've kept the system in public ownership, we can control the transition by not shutting the gate on our power stations, their workers, or communities who will play a leading role in the energy transformation."
Attributable to Assistant Minister McCallum:
"A future Swanbank Clean Energy Hub will deliver our community a precinct that creates more good jobs, enhances the environment and celebrates its rich history," Assistant Minister McCallum said.
"The Palaszczuk Government is proud to back this publicly owned energy asset for a bright, job creating future, in stark contrast to it being mothballed for sale under the previous LNP Government." he said.
Attributable to CleanCo CEO Tom Metcalfe:
"At CleanCo, energy is our core business, and we are committed to investing in our portfolio to best match the future energy needs of Queensland.
"We are progressing a 250MW battery project and are seeking expressions of interest for alternative energy options including potential hydrogen production and hydrogen use, while also exploring alternative energy storage options."
"Through an authentic co-design process, we are asking the community to reimagine the future of the Swanbank Clean Energy Hub to ensure we balance social, commercial, environmental and economic outcomes for the region."
"We will not just be asking "what do you think?" but rather, "what does the community need and value?" and "how can we collaborate to create the masterplan together and build enduring partnerships?" – and we are committed to delivering genuine outcomes from this process."
Quotes attributable to Phillip Bell, President, Ipswich Region Chamber of Commerce
"The Ipswich Chamber of Commerce welcomes this sustainable local development opportunity being offered by CleanCo," Mr Bell said.
"Swanbank holds a special place in the hearts and minds of many Ipswich locals who have personal connections with the site.
"This authentic co-design opportunity will allow Ipswich businesses and residents to establish genuine partnerships with CleanCo and develop a space that contributes to the economic and social vitality of the region.
"We are looking forward to joining CleanCo, local industry and community members to reimagine Swanbank," he said.
Explainer/fast fact and or further information:
Community members who would like to participate in the co-design process can register expressions of interest via the CleanCo website: https://cleancoqueensland.com.au/our-projects/
ENDS
Media contact (de Brenni) – Andrew Churchill 0457 600 237
Media contact (CleanCo) – Erin Oram 0431 089 686