Have your say on Queensland's AgTech Roadmap
Published Thursday, 23 February, 2023 at 11:30 AM
Minister for Agricultural Industry Development and Fisheries and Minister for Rural Communities
The Honourable Mark Furner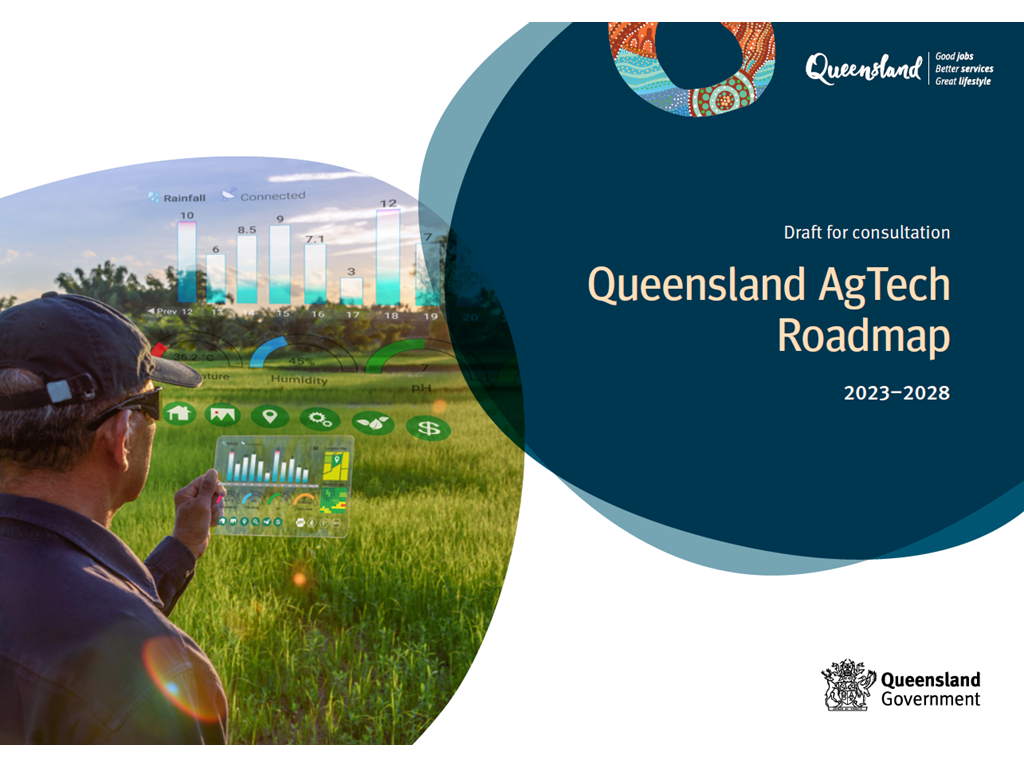 The Queensland AgTech Roadmap draft is online now for consultation.
AgTech Roadmap released for consultation
Opportunity for state's ag sector to lead world
Tech advancements to drive economic opportunities
Queensland agribusinesses are set to be at the forefront of the digital revolution with the release of a draft AgTech Roadmap.
The Roadmap outlines essential actions for producers wanting to stay ahead of the technology curve.
Queensland is a world-leader in agriculture, so it is only natural that we also be a global destination for the development and adoption of agricultural digital technology.
Farmers and industry groups are encouraged to view the draft AgTech Roadmap and have their say on this important piece of work to support the agriculture sector as it transforms into a cutting-edge AgTech and innovation powerhouse.
To give feedback on the draft Roadmap, visit daf.engagementhub.com.au/agtech-roadmap and provide your comments by 6 April 2023.
Quotes attributable to Minister for Agricultural Industry Development and Fisheries and Minister for Rural Communities Mark Furner:
"Global markets are rapidly evolving and new AgTech will underpin security for food supply chains and agricultural jobs, and ensure our world-class products meet the market expectations of tomorrow," Mr Furner said.
"That's why we're developing a roadmap for agribusinesses, producers, developers, education providers, governments and investors that sets out our plan for accelerated development and adoption of agricultural technology."
"It will strengthen our digital agriculture capabilities worldwide and grow economic opportunities statewide that builds on other Palaszczuk Government commitments on energy, good jobs and skills."
"To thrive in such a fast-changing marketplace, producers need access to AgTech solutions that meet their specific challenges, and the roadmap outlines the actions that will empower them to adopt and use those solutions."
Case studies in the AgTech Roadmap
AI solution leads to herbicide reductions: InFarm is an artificial intelligence company pioneering the development of ground-breaking drone-to-tractor weed identification technology. The company's platform is enabling large farms in south-western Queensland to achieve savings of up to 97.5% in herbicide use on farm.
On-farm app reduces work health and safety paperwork: Central Highlands Regional Resources Use Planning Cooperative is helping farmers digitise essential work health and safety (WHS) procedures. The organisation's Safe Station™ app allows agricultural property owners and operators to do away with paper-based WHS processes through an individualised safety management system.
DataFarming: Digitising agronomy and saving costs: Toowoomba-owned tech company DataFarming's Digital Agronomist™ platform is supporting 40% of Australian grain farms, covering 120,000 fields across 50 countries, and 35 million acres that have been digitally mapped. It provides global access to 10 metre satellite maps with normalised difference vegetation index (NDVI) satellite data (NDVI). NDVI is an index of plant 'greenness' or photosynthetic activity and shows the health of a crop or pasture. The satellite images allow farmers to track crop or pasture performance, with images updated every five days.
Solving connectivity with a 'towering' solution: Farmer Andrew Sevil decided to combat slow internet speeds by building and installing his own 53 metre tower on his farm, 20km north of Dirranbandi. The AgTech solution was born out of 12 months of extensive planning and the commissioning of an engineer to custom build the tower. With the tower up, once internet speeds of just a handful of megabits per second on the mobile network were propelled to 50 megabits per second.
AgTech and Logistics Hub: Connecting talent, technology and the AgTech ecosystem: The Agtech and Logistics Hub boasts the country's only agrifood business ecosystem bringing together the best talent and technology to help businesses solve their challenges, commercialise and grow. The hub's diverse ecosystem of experts is growing fast. Unique programs offered through the hub are specifically designed to give established and emerging businesses the best opportunity to thrive in challenging market conditions.
ENDS
Media contact: Bryce Heaton 0427 781 920