Taking it to the streets: Queensland launches its first neighbourhood batteries
Published Thursday, 02 February, 2023 at 01:01 PM
JOINT STATEMENT
Minister for Energy, Renewables and Hydrogen and Minister for Public Works and Procurement
The Honourable Mick de Brenni
Assistant Minister for Hydrogen Development and the 50% Renewable Energy Target by 2030
Mr Lance McCallum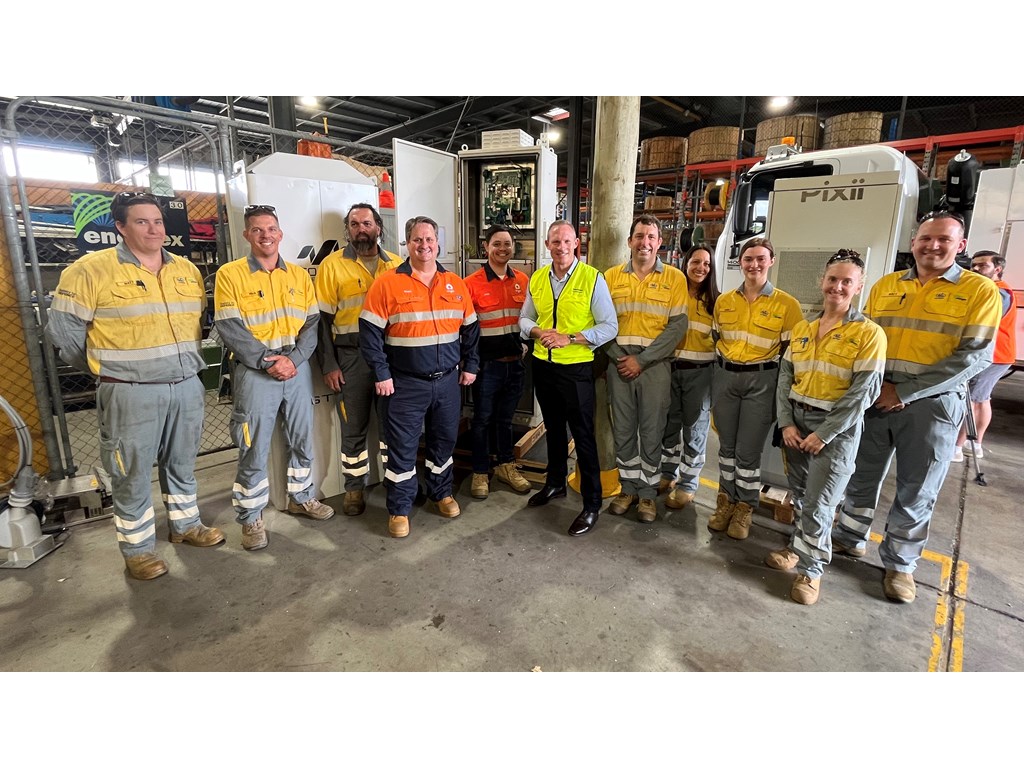 Energy, Renewables & Hydrogen Minister Mick de Brenni with representatives from Energex and Origin
Neighbourhood batteries are the latest technology being rolled out in a $10 million Queensland first initiative to deliver the renewable energy revolution in our suburbs and streets.
The partnership between publicly owned Energex and retailer Origin will deliver 35 neighbourhood batteries across Ipswich as part of the Palaszczuk Government's Queensland Energy and Jobs Plan.
Energy, Renewables and Hydrogen Minister Mick de Brenni said the neighbourhood batteries offered numerous benefits to communities including increased energy reliability, reduced energy costs, and a cleaner energy supply.
Queensland has all the ingredients needed to lead the renewable energy revolution–we're already doing it with our record amounts of rooftop solar," Minister de Brenni said.
"These neighbourhood batteries will store cheap excess energy generated by the equivalent of nearly 600 rooftop solar systems during the day.
"Critically, they will deploy that cheap electricity during peak evening periods, lowering household energy bills.
"We're also enabling local businesses to power ahead by manufacturing these batteries in Southeast Queensland at Pixii in Darra and EcoJoule in Loganholme.
"While the Queensland Energy and Jobs Plan has set a target of 70% renewable energy by 2032, these neighbourhood batteries will also help more households play a role in reducing emissions and protecting the environment," he said.
Assistant Minister for the 50% Renewable Energy Target by 2030 and Member for Bundamba Lance McCallum said the rollout would kick off in Goodna, Booval, and Redbank Plains.
"Following a successful trial at Energex's Raceview Depot, we'll see the first of these neighbourhood batteries being installed in the coming weeks, with 35 rolled out across the suburbs and streets of Ipswich," he said.
Member for Ipswich Jennifer Howard said the Palaszczuk Government's plan for cheaper, cleaner, and secure energy was made possible by putting people before profits.
"Because Queenslanders kept their energy assets in public hands, these neighbourhood batteries not only help our local communities, but they are owned by them," she said.
Origin's Anthony Lucas, Executive General Manager of Future Energy, said: "This is an exciting project that will help explore different ways to create and share the benefits of neighbourhood batteries with customers.
"The development of smart, connected, low carbon solutions like neighbourhood batteries are central to Origin's ambition to lead the energy transition through cleaner energy and customer solutions.
Queensland's Neighbourhood Batteries will:
Be installed, owned, and maintained by Energex.
Be operated by Origin in the wholesale energy market, design solutions to share value with customers.
Be made up of up to 30 power pole-mounted and 5 ground-level (equivalent batteries connected to the low voltage network.
Soak up the equivalent solar from approximately 13 household solar systems for pole mounted, or approximately 40 household solar systems for ground-level.
Explore sustainable models to enable the benefits of low voltage connected batteries to be shared between customers, retailers, and the distribution network.
Complement the large-scale network-connected batteries being rolled out across the Ergon Energy network in regional Queensland.
Are in areas with high solar penetration and potential to reduce network risks.
Been granted approval by the Australian Energy Regulator.
ENDS
Minister de Brenni: Andrew Churchill - 0457 600 237
Energex: Justin Coomber - 0437 472 442
Origin Energy: Stuart Osbourne - 0427 586 401