40,000 Families Start the Year with Free or Cheaper Kindy
Published Tuesday, 24 January, 2023 at 10:29 AM
Minister for Education, Minister for Industrial Relations and Minister for Racing
The Honourable Grace Grace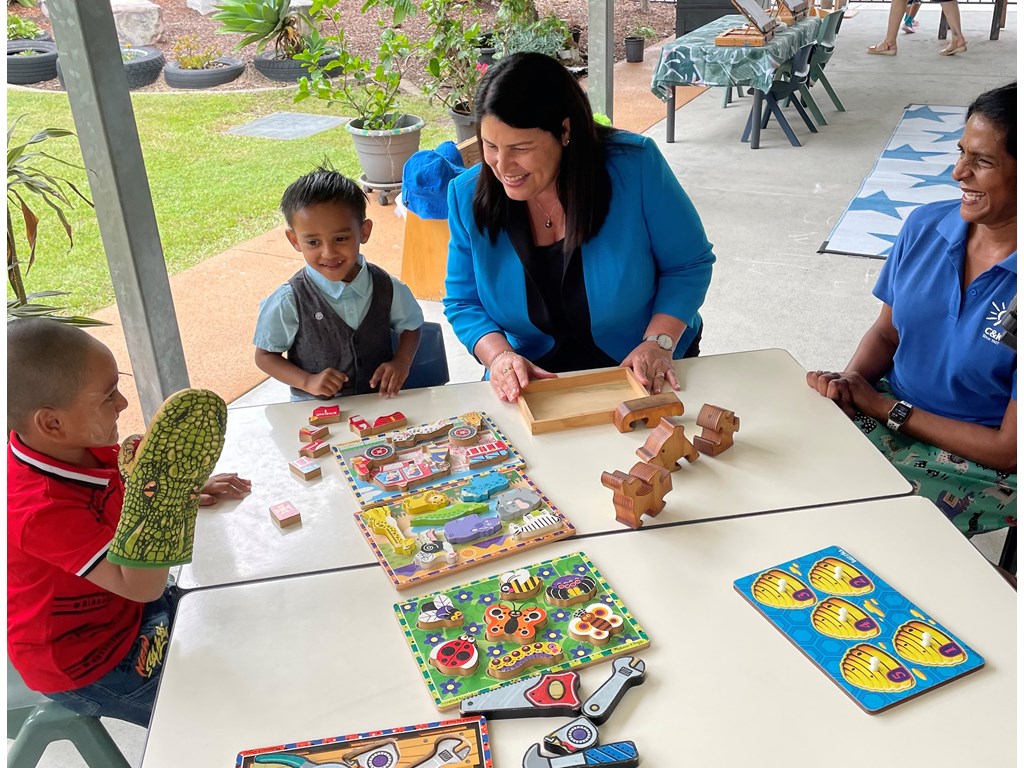 Queensland kindy families are starting the year with cost-of-living relief thanks to the Palaszczuk Government's $1 billion investment in kindergarten, with 14,000 children getting it completely free.
Education Minister Grace Grace today visited C&K Kingston Community Kindergarten, where all families will receive savings and more than 50 children are among the first to get free kindy – an annual saving of $4280 each.
"Our $1 billion kindy investment is the most significant reform for this sector in a decade," Ms Grace said.
"The early years are absolutely critical to a child's future, and we want our kindy services to be both exceptional and accessible.
"This investment means of the 58,000 families with kids in kindy, 40,000 of them – that's 70% - are now getting a reduction in their fees, including 14,000 who will get it completely free.
"For example, families that earn $60,000 and hold an Australian Government Health Care Card will benefit from free sessional kindy. That will save an average of $4,500 a year.
"A child attending kindy in a long day care, with a family income of up to $130,000 and receiving Family Tax Benefit, will save around $500 a year.
"This is significant, targeted, financial support for low to middle income families that is helping with the cost-of-living and giving more kids a great start in life."
Director of C&K Kingston Community Kindergarten Madhavi Luck said the local community was very diverse including from refugee and migrant backgrounds.
"It's important that they have equal access to quality early childhood education and care," Ms Luck said.
"The new funding program has been instrumental in increasing kindy participation for these families."
C&K CEO, Dr Sandra Cheeseman, said the kindergarten year is important for building the foundations for a happy and healthy childhood.
"Our kindergarten programs are delivered by our qualified and dedicated teachers. They are experts in supporting children's learning through play-based experiences to become thinkers, explorers, doers, movers, and active citizens in their own lives.
"As a not-for-profit, we put children first in everything we do, and want to see every child flourish no matter their background or financial situation."
The kindergarten program funding overhaul also includes:
$38.5 million to support 300 remote and regional services, including incentives to attract and retain early childhood teachers
Doubling the number of services covered by the successful Kindy Uplift program to more than 900
$19 million a year to enhance support for families with children who have a disability or are developmentally vulnerable
See your savings at www.qld.gov.au/kindysavings
ENDS
Notes: Children benefit from reduced fees regardless of whether they attend a community kindergarten or kindy in a long day care. Kindy is a part-time educational program for children in the year before Prep. Your child can start kindy in the year they turn 4 years old by 30 June, which is the year before they start school.
Media contact: Kate Talbot, 0439 803 211