Class of 2022 Year 12 results revealed
Published Friday, 16 December, 2022 at 12:27 PM
Minister for Education, Minister for Industrial Relations and Minister for Racing
The Honourable Grace Grace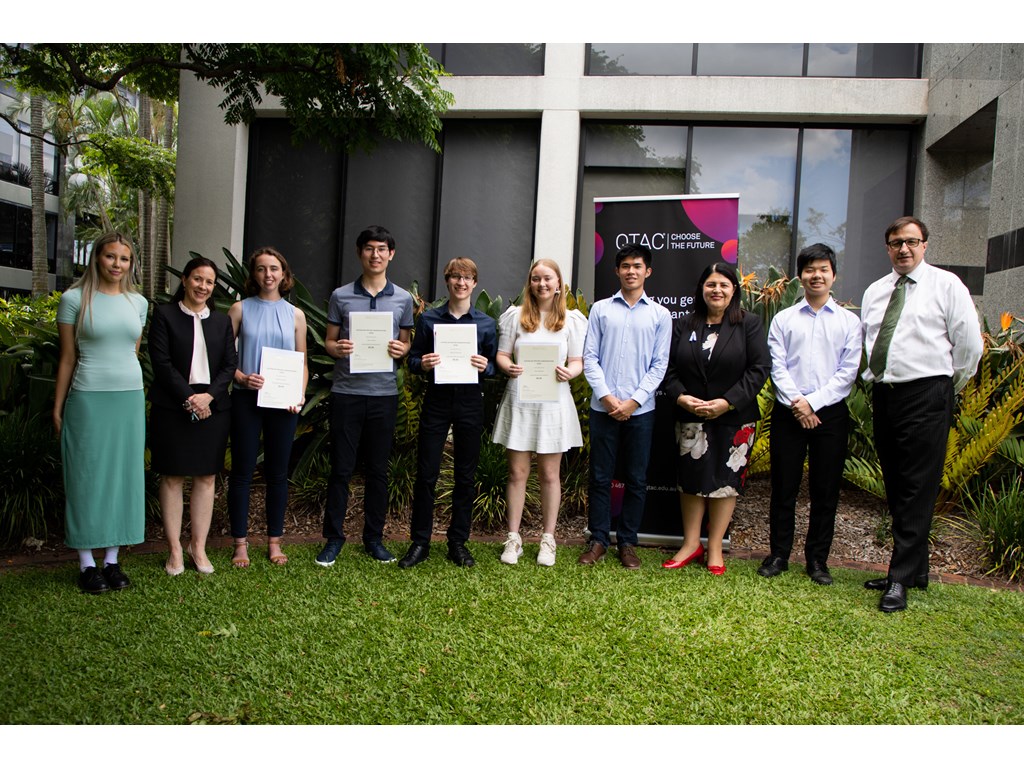 Education Minister Grace Grace, QTAC CEO Dr John Griffiths, QCAA CEO Jacqueline Wilton and high scoring ATAR students
The wait is over, with Queensland's Year 12 class of 2022 jumping online this morning to see the results of their hard work.
Education Minister Grace Grace met some of the top scoring students this morning and congratulated all 51,240 Year 12 graduates on their impressive achievements despite the challenges posed by the pandemic.
"Congratulations to our amazing and resilient school graduates, 94 per cent of whom have achieved a QCE (Queensland Certificate of Education) or a QCIA (Queensland Certificate of Individual Achievement)," Ms Grace said.
"27,245 of these students also received an ATAR (Australian Tertiary Admission Rank), with 33 achieving the highest possible result of 99.95 after studying a combination of 13 different subjects including Mathematical Methods, English, Engineering, Physics and Languages.
"Today we celebrate the success not only of these students, but also all the quiet achievers who have excelled beyond expectations, whatever their results may be.
"We also celebrate the success of our education system as a whole.
"I'd like to congratulate the teachers, principals, school staff, families and carers who have worked so hard to support all of the Year 12s on their learning journey.
"Students who didn't get the results they hoped for should remember the many education and training pathways open to them, whether they want to head to university, start a vocational course, or go straight into work.
"There's no need to be disheartened, and there are plenty of resources and people out there to support you."
QTAC Chief Executive Officer Dr John Griffiths said students who received an Australian Tertiary Admission Rank (ATAR) this morning now has key information required to progress their tertiary study options.
"Whatever the ATAR result, there are multiple ways to proceed into tertiary study, but first and foremost, graduates should be proud of all they accomplished and remember that the outcome of today doesn't define them - it's a milestone that now opens the door to further opportunity," Dr Griffiths said.
Queensland Curriculum and Assessment Authority (QCAA) Chief Executive Officer Jacqueline Wilton said while the QCE system supports a range of post-school pathways it also pushes students to achieve highly.
"Certificates of Academic Commendation will be sent to 1314 graduates who received 'A' grades in six subjects," Ms Wilton said.
"We also recognise the 406 graduates who achieved the highest result in at least one General subject or General (Extension) subject.
"In February the QCAA will announce further QCE Achievement Award winners, including Queensland's overall highest achiever."
Ms Grace said Queensland secondary schooling gave students the skills to help follow their education and career goals, whatever they may be.
"Our Next Step Survey shows that more than 90% of students who graduated in 2021 are now in further education, training, or employment – the highest rate in more than 10 years."
For more information on Next Step visit www.qld.gov.au/year12completers
Graduates with questions about their subject results can call the QCAA's myQCE hotline on 1800 804 991.
Photos and footage available here
QTAC videos with high scorers available here
Fast facts
51,240 students graduated (received a Senior Education Profile)
46,989 students (92%) achieved a Queensland Certificate of Education
1,111 students received Queensland Certificate of Individual Achievement
27,245 students received an ATAR
33 students received the top ATAR rank of 99.95
1,314 students will receive a Certificate of Academic Commendation for 'A' grades in at least six General subjects
406 students will receive a Subject Achievement Commendation for the highest result in at least one General subject or General (Extension) subject
33,773 students achieved a VET Certificate I, II, III or IV qualification
1,278 students studied a university subject while still at school
The top scoring students the Minister met this morning are:
Kate Sanderson – Australian Christian College
Chun Tsung Lee – Anglican Church Grammar School
Dennis Schachtner – Brisbane State High School
Elise Wickham – All Hallows' School
Dashiell Young – Anglican Church Grammar School
Harry Jenkins – Brisbane State High School
Kate Jordan – Somerset College
ENDS
Media contact: Kate Talbot, 0439 803 211