Coomera State Special School celebrates official opening
Published Thursday, 24 November, 2022 at 12:22 PM
Minister for Education, Minister for Industrial Relations and Minister for Racing
The Honourable Grace Grace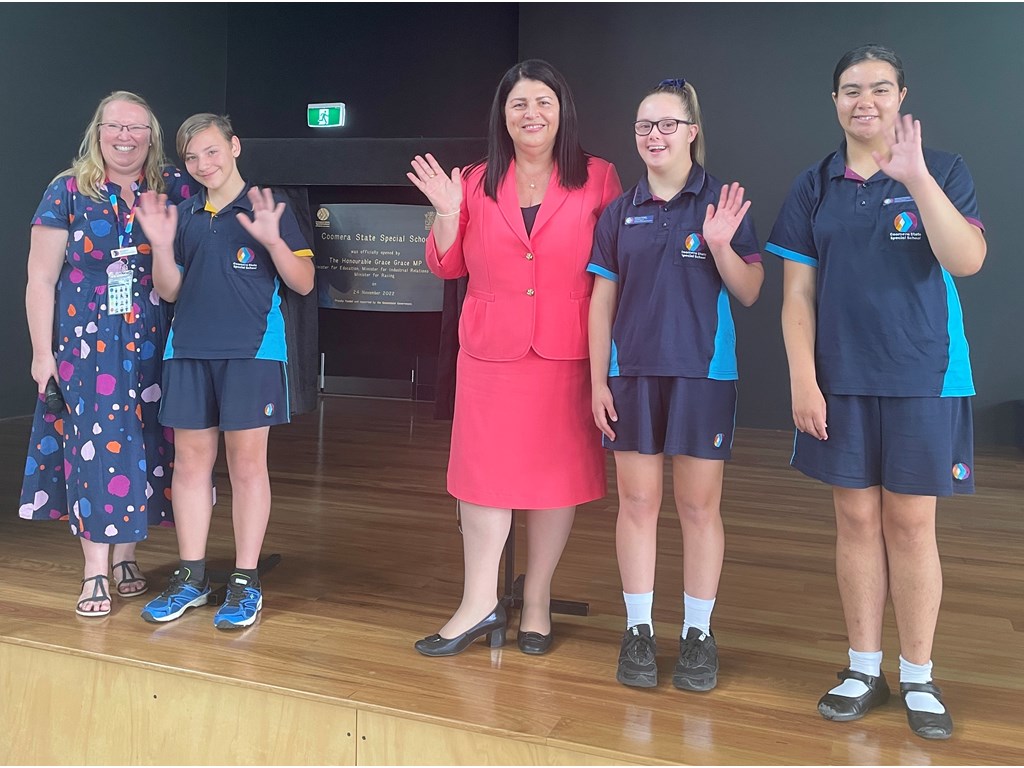 Minister Grace, Principal Kate Hucker, and students at Coomera State Special School
Education Minister Grace Grace has today officially opened Coomera State Special School, bringing good jobs and even better services to the Gold Coast.
Minister Grace said the Palaszczuk Government is investing more than $50 million to build the new school, supporting 150 good construction jobs and more than 27,000 trainee hours.
"I visited the school before the first day of term earlier this year, and it's an absolute pleasure to come back for the official opening event with the broader school community," Ms Grace said.
"I'd like to congratulate the 145 foundation students who will soon complete their first year of schooling.
"The Gold Coast is one of the fastest growing areas of our state, and delivering a new special school here provides choice and delivers an important service.
"This is the fourth school we've opened on the Gold Coast since 2018, and one of 21 we've delivered across Queensland since 2015 – a total investment of $1.3 billion."
Minister Grace said Stage One of Coomera State Special School included multi-storey junior and senior learning buildings, a resource centre, a multi-purpose hall, hospitality and central amenities, sports oval, an administration block and carpark and drop-off areas. Stage Two is due to begin in 2023.
Coomera State Special School Foundation Principal Kate Hucker said the school had a positive school culture, with staff, parents and students and members of the wider community coming together to support student success and engagement.
"Our teachers and staff here at Coomera Special School work and think as one team, supporting each other every day to create amazing opportunities for all students, and reflecting our motto, together we can achieve," Ms Hucker said.
Students at Coomera State Special School will also benefit from a new and improved disability resourcing model for state schools starting in 2023, including a new category to support students with the most intensive needs.
For more information on Coomera State Special School, visit: https://coomeraspecs.eq.edu.au/
The other new schools opened on the Gold Coast since 2018 are Picnic Creek State School (2018), Foxwell State Secondary College (2020), and Gainsborough State School (2021).
ENDS
Media contact: Kate Talbot, 0439 803 211