Sporting facilities get $75 million in disaster funding
Published Thursday, 17 November, 2022 at 10:05 AM
Minister for Tourism, Innovation and Sport and Minister Assisting the Premier on Olympics and Paralympics Sport and Engagement
The Honourable Stirling Hinchliffe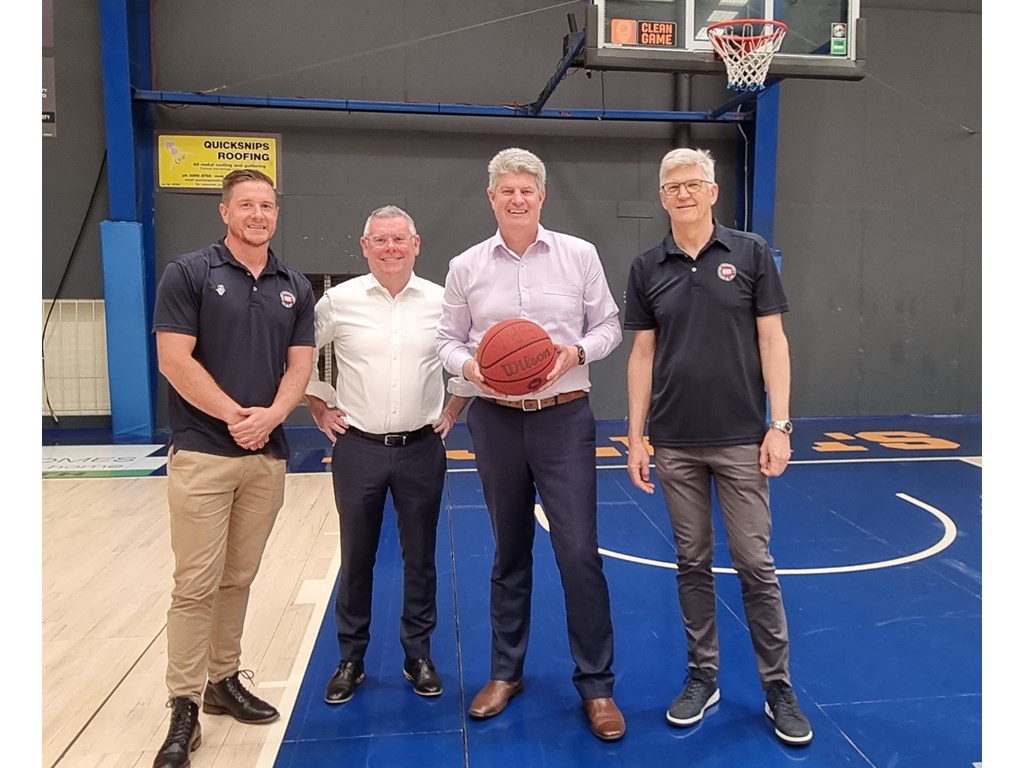 Emergency Management Minister Murray Watt and Queensland Sport Minister Stirling Hinchliffe with Hamish and Rod from Brisbane Basketball Inc at Auchenflower Stadium.
JOINT MEDIA RELEASE
Warped courts at Auchenflower Basketball Stadium are among more than 200 Queensland disaster-affected sites to share $75 million in joint state and federal recovery funding.
The $75 million in joint disaster recovery and resilience funding is in response to major Queensland flood and rain events since late 2021.
Federal Minister for Emergency Management Murray Watt said the council sites and sporting clubs will be repaired, re-built and strengthened through the Community and Recreational Assets Recovery and Resilience Program and the Sport and Recreation Recovery Grant Program.
Both programs are funded under the Disaster Recovery Funding Arrangements (DRFA).
"Sporting clubs are an integral part of many Queensland communities, and this $75 million in funding helps them re-establish operations and better cope with future severe weather events," Minister Watt said.
"These are the clubhouses, change rooms, playing fields and other important community assets that are fundamental to volunteers delivering sport and active recreation opportunities to their communities.
"I'm looking forward to seeing these funds distributed to those who need it most over the coming months, while creating jobs for local contractors whose work will directly support their communities."
Expressions of Interest opened on 13 June 2022 and closed on 8 July, with all funded projects to be completed by 30 June 2024.
Queensland Sport Minister Stirling Hinchliffe said $1.34 million in recovery funding would go to replacing two indoor courts at Brisbane Basketball's Auchenflower Stadium.
"Courts one and two at Auchenflower Stadium were warped beyond repair after being inundated earlier this year by flooding," Mr Hinchliffe said
"This funding will see two new timber courts laid by tradies to return the stadium to full playing capacity as soon as practical.
"Although the stadium has borrowed a drop-in court, 772 fewer games have been played at Auchenflower Stadium and that's just one example among 200 venues hit hard by extreme weather.
"We know the last year has been heartbreaking for players, coaches and volunteers across many parts of Queensland.
"This year, more than 150 sites in 20 Queensland Local Government Areas have been assessed for damage to make sure recovery funding goes to where it's needed most.
"Volunteers and council staff have worked incredibly hard to get sporting and council facilities back on their feet ahead of the roll out of major repairs and replacement infrastructure.
"It has been a tremendous effort that demonstrates the true resilience of Queenslanders."
Other joint Federal – State disaster recovery projects include $2.9 million to rebuild the playing surface at Mitchelton Sports Club, $2.77 million for Tansey Polocrosse Complex at Gympie, $2 million for flood repairs at Gold Crest Cricket Club, $1.44 million in oval rehabilitation, new equipment and infrastructure repairs at the Hawks AFL Club at Taigum, $1.46 million in resilience work for netball at Tewantin, $2.2 million to get the Wynnum Wolves back in the game and repairs totalling $1.46 million at Carbrook Golf Club.
For more information: www.qld.gov.au/recreation/sports/funding/disaster-recovery
Media contacts:
Minister Watt's office: Brock Taylor 0499 779 387
Minister Hinchliffe's office: Darren Roberts – 0427 475 089