Queensland SuperGrid Set to Supercharge Jobs in Gladstone
Published Wednesday, 16 November, 2022 at 11:45 AM
Minister for Energy, Renewables and Hydrogen and Minister for Public Works and Procurement
The Honourable Mick de Brenni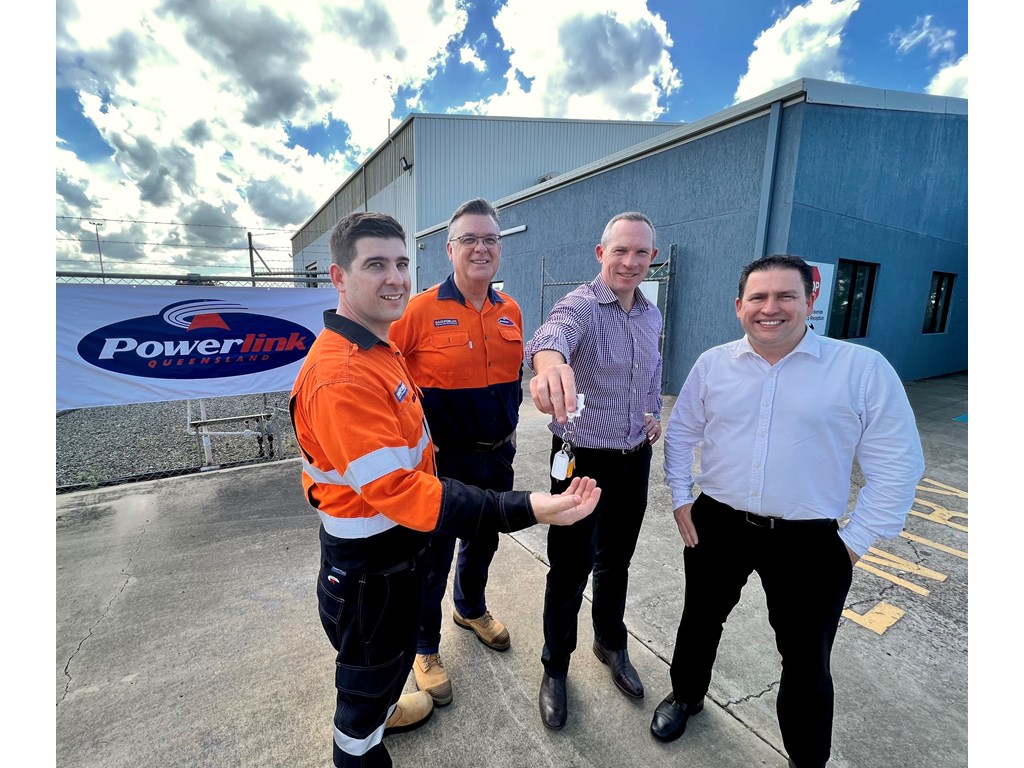 Brett Ferguson and Gary Edwards from Powerlink with Energy Minister Mick de Brenni and Mayor Matt Burnett
The Palaszczuk Government is investing $45 million to establish the first Queensland SuperGrid Training Centre and Transmission Hub in Gladstone to supercharge the delivery of the Queensland Energy and Jobs Plan.
The centre will be a purpose-built facility acting as a regional base for training energy system workers, developing an even higher skilled workforce to better meet increased demand and changing focus in Central Queensland.
Energy Minister Mick de Brenni said the Queensland Energy and Jobs Plan sets a clear path to deliver the clean, reliable and affordable energy that will provide power for generations to come.
"Building the Queensland SuperGrid is critical to unlocking 100,000 new jobs in energy generation, green hydrogen, critical minerals mining and battery manufacturing," Minister de Brenni said.
"The first of two Queensland SuperGrid Training Centre and Transmission Hubs will play a central role in the nation's future as Central Queensland's energy mix changes and grows to meet changing global demand.
"Dedicated training facilities will allow for more than 500 energy workers each year to be upskilled in a range of areas, including high voltage technical training," he said.
Minister for Regional Development, Manufacturing and Water and Member for Gladstone Glenn Butcher said the centre would continue Gladstone's proud industrial heritage for generations to come.
"The new centre will boost our local training capacity in the region, with more than 90 jobs expected to be based at the facility over the next 10 years," Minister Butcher said.
"We expect a range of roles to be located at the hub including community relations, cultural heritage relations, project management, field staff, health, safety and environment officers, training officers, engineers, support services staff and tradespersons.
"A key focus will be opportunities for apprentices to ensure we can nurture our pipeline of skilled local people as we deliver on our commitments under the Queensland Energy and Jobs Plan," he said.
Mayor of Gladstone Region Matt Burnett welcomed the announcement saying it was another vote of confidence in the Gladstone region's decarbonised future.
"We have industry knocking down the door to come to Gladstone because we have a real plan for more jobs in more industries," Mayor Burnett said.
"It's projects like this that put us in pole position to capitalise on the economic opportunities of new energy industries, while also ensuring our region maintains its industrial heritage and community vitality in a new transitioned economy.
"This centre is a clear sign that the Queensland Government's Queensland Energy and Jobs Plan will deliver a stronger future for Central Queensland," he said.
Powerlink Chief Executive Paul Simshauser said the training centre and transmission hub would drive significant benefits for Queenslanders.
"This facility will give Powerlink a local presence in Gladstone, providing a base for our people to support the energy system transformation and enable us to engage with local communities," Mr Simshauser said.
"Powerlink is moving into this interim site while it finalises the acquisition of a suitable permanent site in Gladstone, with construction expected to commence in 2024."
"The hub will also see improved emergency response times, logistics management and utilisation of regional ports to reduce road haulage," he said.
ENDS