Have your say on more M1 upgrades
Published Monday, 07 November, 2022 at 11:00 AM
Minister for Transport and Main Roads
The Honourable Mark Bailey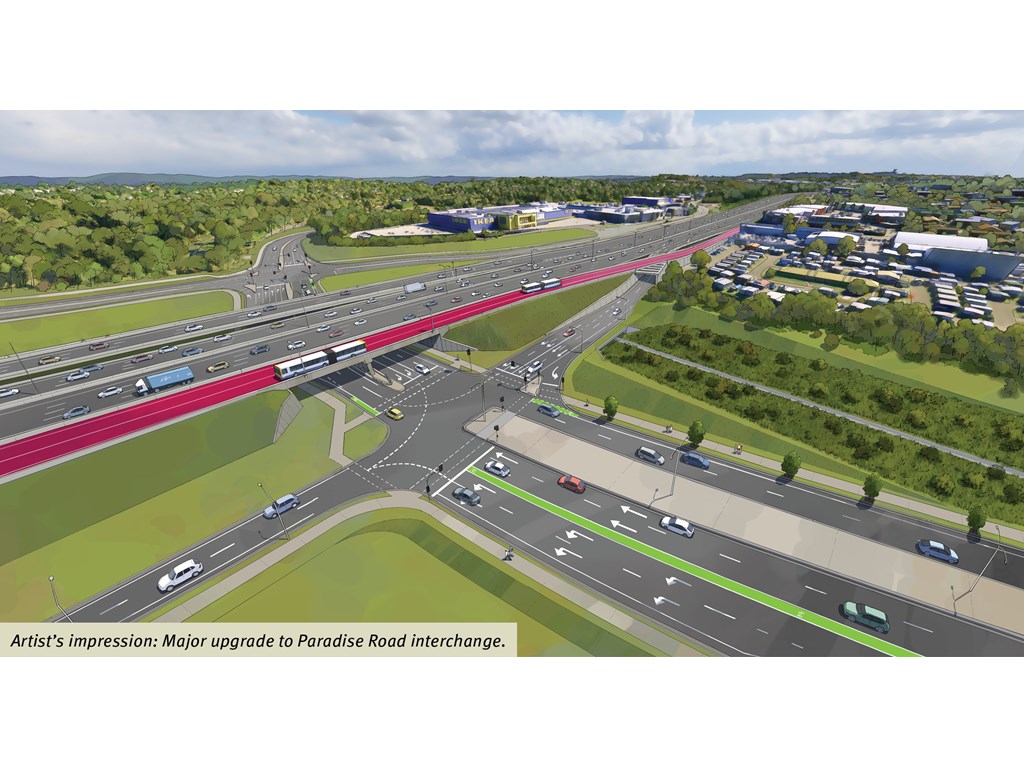 Motorists and residents between Daisy Hill and Logan are being asked for feedback on the third and final stage of the multi-billion M1 (Pacific Motorway) North upgrade program.
Stage one, upgrading the M1/M3 Gateway Merge, was completed in May 2020.
Stage two, the $750 million, Eight Mile Plains to Daisy Hill upgrade, is in construction. It includes widening the motorway, extending the South East Busway to Springwood, a new bus station and park 'n' ride at Rochdale and continuing the M1 cycleway.
Work on the business case for stage three between Daisy Hill and Logan Motorway is underway and feedback is being sought on the design concept.
The proposed upgrade includes:
Widening 10 kilometres between Daisy Hill and Logan Motorway
Extending the South East Busway from Springwood bus station to Mandew Street
Three new bus stations at Chatswood Road, Loganlea Road and Beenleigh-Redland Bay Road
Two new park 'n' ride facilities at Chatswood Road and Beenleigh-Redland Bay Road
Major upgrades to Paradise Road, Mandew Street, Grandis Street and Beenleigh-Redland Bay Road interchanges.
Proposals also include a nine-kilometre cycleway extension, providing a healthy and active way to travel between Brisbane and Logan.
$1 billion has been committed by the Australian and Queensland Governments (50:50) for the planning, business case delivery and future stages of the project.
Consultation will run from 7 November to 27 November 2022.
In addition to providing online feedback, the community is invited to attend drop-in sessions to ask questions and find out more information.
To get more information on the consultation drop-in sessions, view the concept designs, and provide feedback, visit www.tmr.qld.gov.au/daisyhilltologanmwy, call 1800 314 763 or email DH2LM@tmr.qld.gov.au.
Quotes attributable to Federal Treasurer and Member for Rankin Jim Chalmers:
"Building a better M1 is absolutely crucial when it comes to easing congestion and catering to growth in our local community.
"This is one of the most significant projects in our area and we're working closely with the state government to get it finished as soon as possible.
"It's also great for our economy – employing 550 workers during construction which delivers flow-on benefits for local businesses.
"Construction is progressing well on the $750 million upgrade between Eight Mile Plains to Daisy Hill and stage three to Logan Motorway is the missing link.
"Before we get started on the next stage, it's important that we get a better sense of what locals think about the project and what they hope it will deliver.
"I encourage anyone in our community with a view to get involved and provide feedback. This will help the Department of Transport and Main Roads to incorporate local views in the final phase of planning."
Quotes attributable to Queensland Transport and Main Roads Minister Mark Bailey:
"The Palaszczuk Government is delivering better roads and reduced congestion right along the M1, and nowhere is that more evident than through the growing Logan region.
"We know more than 27,000 trips are expected to be made between Daisy Hill and Logan each day by 2041 – without upgrades this will leave the M1 at a standstill.
"Integral to this project is the active transport improvements that are built into the design, which will see the veloway extended to 30 kilometres.
"Connecting Brisbane to the Logan Motorway via the Veloway is an important link in our vision of having a dedicated active transport corridor from Brisbane to the New South Wales border.
"This package rounds out our nearly $2 billion program of works on the M1 to the North, so I encourage local drivers and commuters alike to check out the plans and have their say."
Quotes attributable to Queensland Energy Minister and Member for Springwood Mick de Brenni:
"Our community backed me to deliver a better M1 and Busway to Loganholme, and we're delivering.
"The plans we're putting out for consultation consider and balance the needs of motorists, public and active transport as well as amenity for locals.
"We expect this upgrade to cut the average morning peak travel time to Eight Mile Plains from the Hyperdome by almost half - that's good news in my book.
"This project also represents one of the most significant urban renewal opportunities for our community since its settlement in the 70's, with better roads and public transport, we can expect to see more new and affordable housing options feature around the new busway and cycleway connections.
"I'm committed to this project because it means properly connecting our community to places like the CBD, Southbank, the Gabba, the Universities and everything in between without wasted time sitting in traffic.
"I know that people live in our neighbourhood for the lifestyle, but with this project you'll have more options to get where you're going and home sooner, and that means more time enjoying your family and Queensland's great lifestyle.
Quotes attributable to Queensland Attorney General and Member for Waterford:
"I welcome the call for community involvement in this planning, because that will help deliver the best outcomes possible for locals.
"This package of works alone will support up to 550 secure Queensland jobs – that's good for our economy, and good for the community.
"I encourage anyone who lives, or drives, in the area to have a look at the plans online or visit a drop-in session and provide feedback."
Quotes attributable to State Member for Macalister Melissa McMahon:
"This business case process is such an important step in delivering better, safer roads for Logan locals.
"The works already completed further north have made a big difference for morning commuters, and this is the next step in alleviating that bottleneck around the Hyperdome.
"Get involved and have a say to shape the future of our M1."
Quotes attributable to Member for Moreton Graham Perrett:
"This M1 upgrade will mean people in my community will be able to get home quicker, but most importantly safer."
"I would encourage anyone who wants to have a say on this important infrastructure project do so, as it will help deliver the best outcomes for everyone."
ENDS
MEDIA CONTACT: Courtney Thompson - 0433 585 570