Age-friendly future for Queenslanders
Published Tuesday, 18 October, 2022 at 11:27 AM
Minister for Seniors and Disability Services and Minister for Aboriginal and Torres Strait Islander Partnerships
The Honourable Craig Crawford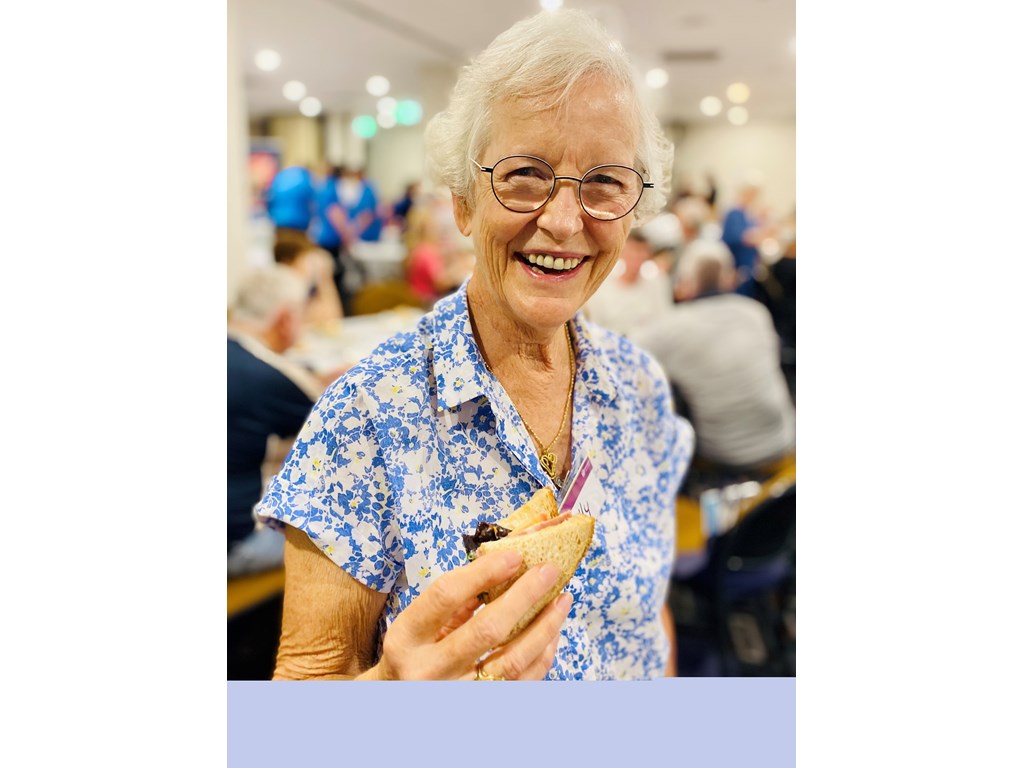 Cairns resident Sally Bayne, 73, at today's Cairns Seniors Expo
Seniors Minister Craig Crawford today launched a snapshot of an age-friendly future for Queenslanders at the Cairns Seniors Expo.
As part of Queensland Seniors Month this October, more than 100 Cairns seniors today attended the Palaszczuk Government's Seniors Expo to connect with local services over a friendly morning tea.
Seniors Expos feature information stalls supported by Queensland Government agencies, local services, and community organisations. Attendees are also invited to contribute to a statewide survey that will assist form a new Age Friendly Strategy due for release in 2023.
In the State's Future Directions Statement, launched today, Minister Crawford said latest figures show more than one in five Queenslanders will be 65 years or older by 2050.
"Every year, more people call Queensland home," Mr Crawford said.
"In March 2022, our state's population growth rate was the fastest in Australia.
"Our population is also ageing, with the 65 and over age group growing three times faster than the rest of the population over the past decade.
"The Australia Bureau of Statistics projects that more than 1 in 5 Queenslanders will be 65 years old or older (22.1 per cent or 1.8 million people) by 2050.
"That means anyone born before or in 1985, the year the Back to the Future movie was released, will be a senior citizen.''
In his Minister's statement, the Barron River MP said while an ageing population presents challenges for government to meet the needs of older Queenslanders, it was important to recognise the strengths, experience and immense contribution of older people to our communities.
"We want to make sure seniors are supported and have opportunities to continue to contribute economically and socially, whether through work, volunteering or in retirement,'' he said.
"Future Directions for an Age-friendly Queensland signals a process for planning what an age-friendly Queensland will look like across the coming years."
"Older Queenslanders are economically, politically, socially and culturally active. Every day they make a significant contribution in our communities. They deserve recognition and the opportunity to age well."
Cairns MP Michael Healy said Seniors Expos helped older Queenslanders to access the information to support them to lead full and active lives – and they can contribute by taking the survey.
"Older Queenslanders need to have a voice in what an age-friendly Queensland looks like,'' Mr Healy said.
"We will listen to and amplify their voices, as well as engage with the organisations that represent them and the service providers that work with older people.
"At Expos, Seniors are taking the opportunity to get advice on matters ranging from smoke alarms and cost-of-living savings to staying safe from scams.
"We know our concessions and rebates can save seniors thousands of dollars a year to help ease cost of living pressures, that's why Queensland Government staff will be at the expo helping seniors to access the concessions and rebates they are entitled to."
Some of the rebates and concessions provided for seniors as part of more than $725 million in 2022-23 by the Palaszczuk Government includes electricity, utility bills, rates and health related expenses.
For a copy of the Future Directions Statement visit https://www.qld.gov.au/age-friendly-future
To access the Seniors Age Friendly Strategy survey visit qchub.dsdsatsip.qld.gov.au/seniors-strategy
For more information on seniors' concessions visit https://www.qld.gov.au/seniors/legal-finance-concessions/seniors-expos
For more information on Queensland Seniors Month visit qldseniorsmonth.org.au
ENDS
Media contact: Peter Michael 0477 948 091