Sod turned on Kallangur Satellite Hospital
Published Sunday, 18 September, 2022 at 02:45 PM
Minister for Health and Ambulance Services
The Honourable Yvette D'Ath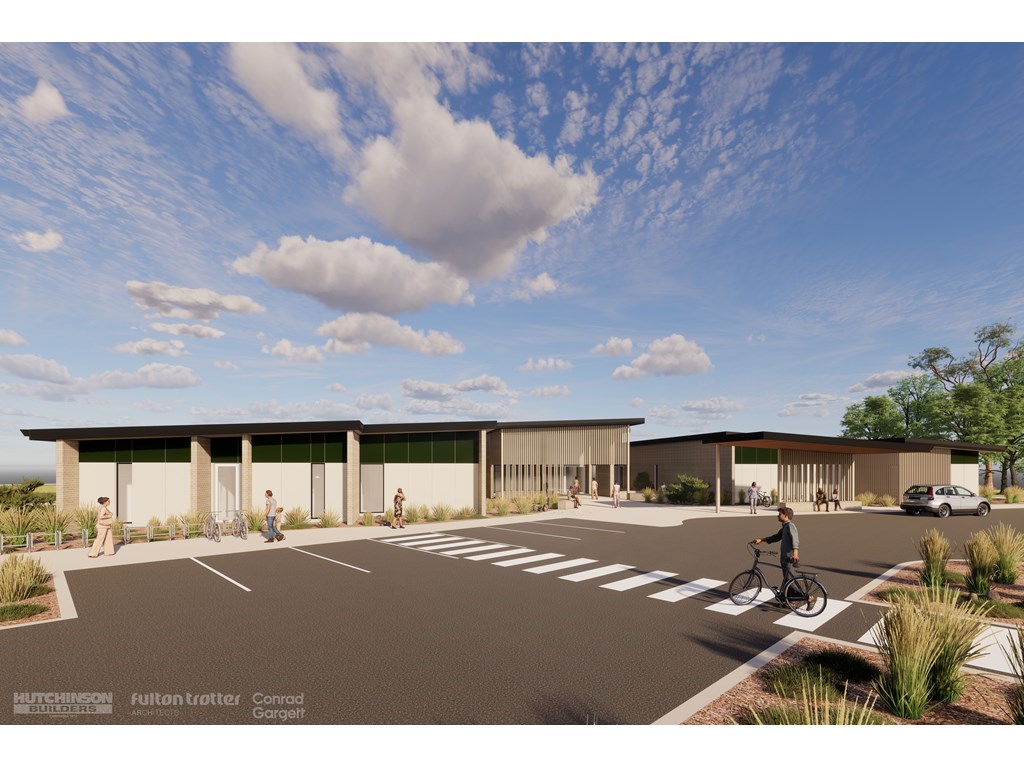 Artist's impression
Health Minister Yvette D'Ath today turned the sod on a new Satellite Hospital in Kallangur which will bring more health services closer to home for Pine Rivers residents.
The Kallangur Satellite Hospital will include a Minor Injury and Illness Clinic to take pressure off our busy emergency departments.
Additional services that will be delivered could include medical imaging, outpatient services and mental health support.
Minister D'Ath said construction would soon get underway on the new satellite hospital, with a concrete pour scheduled for later this week.
"This new satellite hospital will strengthen the local health care network for residents in this area, delivering quality healthcare closer to home," the Minister said.
"Providing community-focused services is central to the Palaszczuk Government's $280 million Satellite Hospitals Program.
"The program aims to ensure residents in some of our highest growth population centres have easy access to health services where and when they need them."
The Palaszczuk Government's Satellite Hospitals Program will deliver new facilities in Kallangur, Redlands, Eight Mile Plains, Caboolture, Ripley, Tugun and Bribie Island.
Deputy Premier and Member for Murrumba Steven Miles said:
"The Kallangur Satellite Hospital is specifically designed to deliver health care to local residents where they live.
"It will reduce travel times for residents who currently need to visit major hospitals further away.
"The satellite hospitals we're building deliver on a key election commitment and in addition to improving health outcomes, they will deliver important economic returns.
"These projects are a boon for local economies, including indirect spending at retail outlets and labour income.
"The Satellite Hospitals Program will support up to 773 construction jobs, and we'll continue to work with the managing contractor Hutchinson Builders to ensure all seven projects are built by locals, for locals and for the good of the local economy."
Member for Pine Rivers Nikki Boyd said:
"Pine Rivers is a growing community with increasing demand for health services and this new satellite hospital will help meet this demand.
"It's another sign of the Palaszczuk Government's commitment to delivering quality frontline services in communities close to where people live."
Member for Bancroft Chris Whiting said:
"The new satellite hospital is great news for local residents and for the local economy, supporting around 100 construction jobs.
"It's well located with public transport links and free onsite parking for hospital visitors."
Member for Kurwongbah Shane King said:
"Residents want to be able to access the health services they need in their own community, and that's what this new satellite hospital will deliver."
The latest State Budget includes a record $23.6 billion for health, up 55 per cent since 2015.

The Palaszczuk Government has earmarked almost $10 billion in additional capital funding over six years in the biggest investment in Queensland's history to create new and expanded hospitals along with 2,509 new beds.
"We're delivering more beds, more doctors, more nurses and more ambos," Ms D'Ath said.
"Here on the Brisbane Northside, we've provided $3.6 billion for the Metro North Hospital and Health Service in this year's Budget – an increase of 73 per cent since 2015.
"We've hired thousands of more frontline staff across the Metro North region since 2015 – including 592 more doctors, 2,013 more nurses and midwives, 115 more ambulance officers and 553 more allied health professionals.
"Investment in health means good jobs, better services and protecting our great lifestyle."
Media contact: Martin Philip 0407 675 008