Good jobs and better services delivered in major school expansion
Published Friday, 16 September, 2022 at 03:45 PM
Minister for Education, Minister for Industrial Relations and Minister for Racing
The Honourable Grace Grace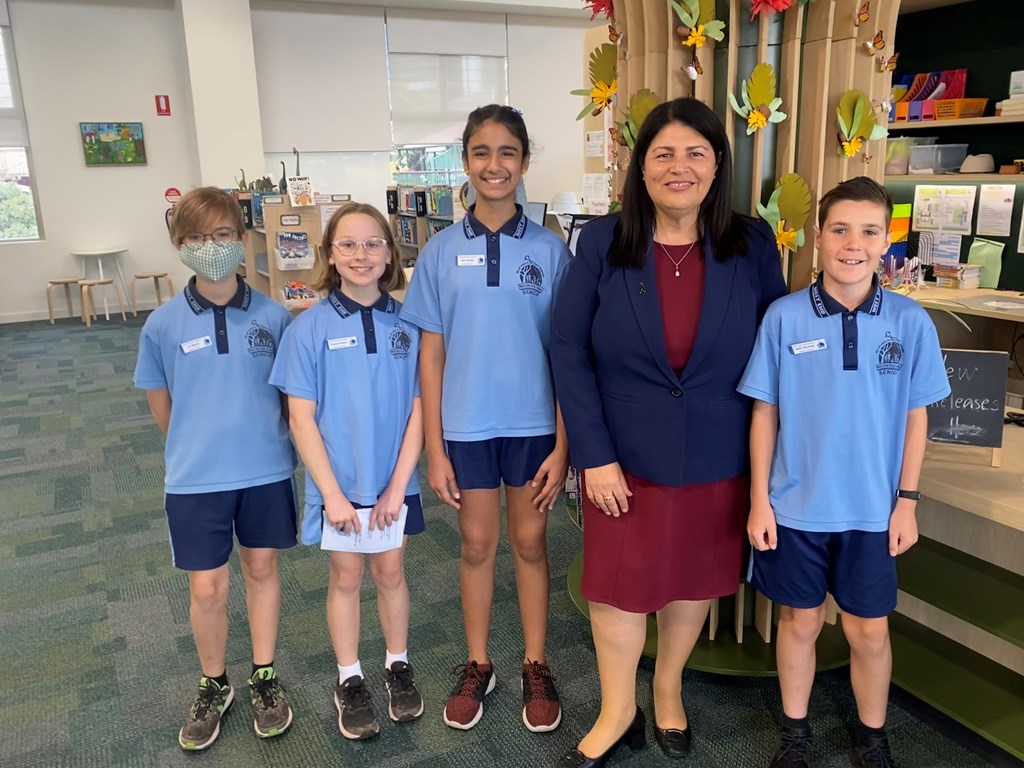 Education Minister Grace Grace touring the new resource centre at West End State School with school captains. Pictured (L-R): Leo Marsh, Kayla Semple, Avni Singh, Minister Grace and Zahn Zischke.
The Palaszczuk Government's $34 million expansion of West End State School has officially opened, with the backing track of a new school song written by former student and Bluey composer, Joff Bush.
Education Minister Grace Grace was on hand to unveil the massive Stage 2 redevelopment of the inner-city school, which now has capacity for more than 2,000 students.
"The Palaszczuk Government is passionate about ensuring all Queensland students get a world-class education in state-of-the-art facilities, and I'm pleased to say that's exactly what we've delivered for West End State School," Ms Grace said.
"Between Stage 1 and Stage 2 of this major project the Palaszczuk Government has invested $55 million into the expansion of the school.
"This Stage 2 expansion has delivered a new 18-classroom learning centre with an undercroft, and another building that is now home to a resource centre as well as staff and administration rooms.
"Stage 2 has also seen the construction of the school's first ever Performing Arts Centre with two music rooms, an auditorium that seats up to 500, a car park and a commercial grade canteen used for both events and tuckshop.
"I also thank the P&C for their efforts in contributing around $290,000 to upgrade the canteen to a commercial grade kitchen, and to create a P&C office and uniform shop.
"This expansion also includes new greenspace including a playground area with tiered seating and shady trees, and a second grassed oval for the school on Vulture Street.
"The Palaszczuk Government is all about creating good jobs and providing better services to enhance our great Queensland lifestyle, and this project has ticked all three boxes.
"About 95 jobs were supported during construction, with 52 apprentices and 4 trainees learning their trade on-site.
"Cox Architecture and Hutchinson Builders were awarded the contracts to deliver Stage 2 facilities, which I'm very pleased to say were delivered ahead of time and under budget.
"Our government is investing almost $2 billion in education infrastructure from the most recent budget, creating almost 4,200 jobs.
"I was privileged to listen to the brand-new school song today in the new Performing Arts Centre as well.
"The school created it working with West End State School graduate Joff Bush, music composer for the famous Queensland-made TV show Bluey, and Dr Shellie Morris, a Yanyuwa and Wardaman singer/songwriter."
West End State School Principal Kim McNamara said the school community was delighted that Stage 2 was now operational and was excited to today launch a new school song.
"I'm really grateful to the architects and builders who were very responsive throughout the process to the needs of our school community, which highly values creativity, flexibility and maximising the use of space to keep children active," Ms McNamara said.
Minister Grace also wished all Queensland teachers, parents and students a safe and happy school holidays on the last day of Term 3.
"I hope everyone enjoys the break and comes back to school in Term 4 ready to finish the school year strong.
"I would like to thank teachers and staff for their efforts so far this year. They have been hard-working and adaptable in the face of natural disasters and COVID disruptions in 2022."
For photos of the West End State School expansion click here
ENDS
Media contact: Bryce Heaton 0434 575 237