Jobs jump for Queensland as supercross HQ lands on the Gold Coast
Published Thursday, 08 September, 2022 at 12:45 PM
Treasurer and Minister for Trade and Investment
The Honourable Cameron Dick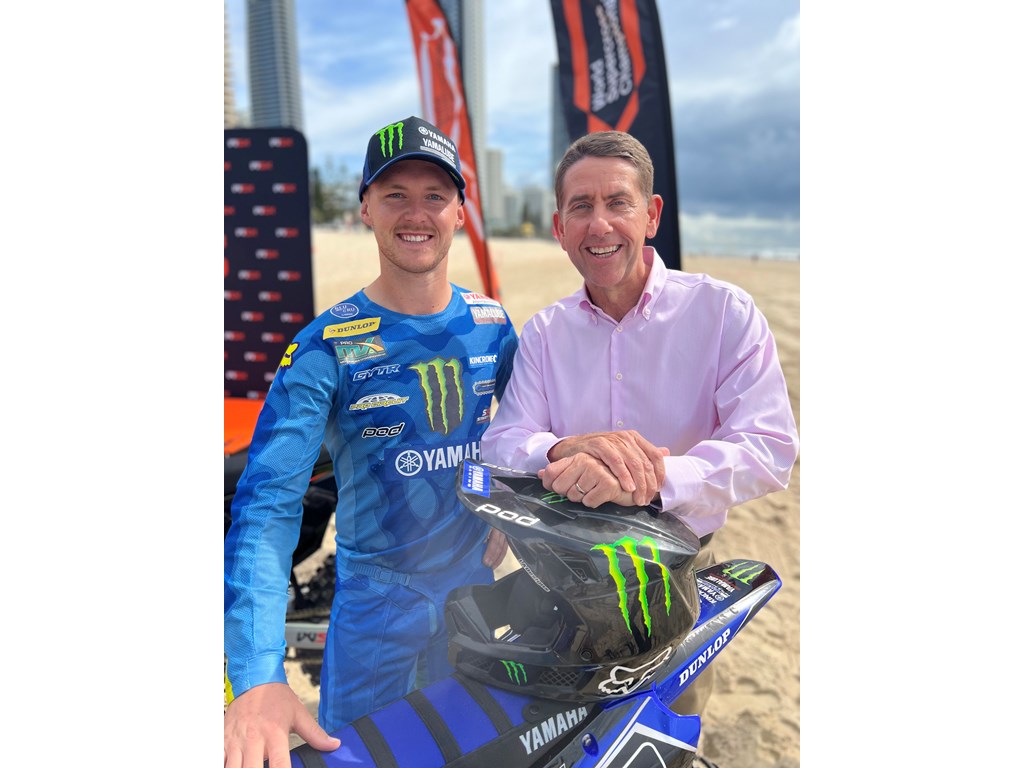 Gold Coast-based Supercross rider Aaron Tanti with Treasurer and Minister for Trade and Investment Cameron Dick at the announcement of SX Global's move to Queensland
The global headquarters of Supercross World Championship organiser SX Global Pty Ltd has moved to the Gold Coast, thanks to the support of the Palaszczuk Government's Invested in Queensland program, bringing with it more good jobs.
Treasurer and Minister for Trade and Investment Cameron Dick said SX Global's move was further evidence of the value of the Government's investment strategy.
"The latest economic data shows that Queensland's strong health response to the pandemic continues to deliver economic positives for Queenslanders," the Treasurer said.
"Queensland's great lifestyle is a big factor influencing companies to move more of their operations here.
"In December 2021, Australian company SX Global Pty Ltd secured the promotional rights for the Fédération Internationale de Motocyclisme (FIM) World Supercross Championship for 10 years.
"It is the first Australian company to be awarded the licencing rights to host the global FIM event and it will be the first time the FIM world championship will be run out of Australia.
"With the support of our Invested in Queensland program, SX Global has relocated their headquarters from Victoria to the Gold Coast.
Their move will create at least 51 new full-time local jobs within the next five years and strengthen Queensland's credentials as a global sporting administration hub.
"From their new Queensland base, SX Global will lead a global supercross championship with up to 14 supercross events per year across Asia Pacific, Europe, North and South America, starting with a pilot season to run this October and November.
"In the lead up to the Brisbane 2032 Olympic and Paralympic Games, the eyes of the sporting world will turn to Queensland and we want to maximise the long-term economic benefits and job creation opportunities for our state.
"That means using strategic, targeted investments through initiatives like our $520 million Invested in Queensland program to attract the headquarters of interstate companies, including sporting organisations like SX Global, to Queensland.
"With an experienced board led by President Tony Cochrane, who built V8 Supercars into a motoring juggernaut and is Chairman of the Gold Coast Suns, SX Global will use the Gold Coast as its new home base to manage and promote the series of global Supercross events, as well as attract a broader fanbase across the world."
"This is a massive coup for our city as we ride a wave of global interest from sporting administrators across the world," said Gold Coast Mayor Tom Tate.
"Recently, we were voted No 26 among the best Global Sports Cities. Supporting SX Global through our Business Attraction Program and having the world supercross headquarters based here will add to our stocks," said Mayor Tate.
"I applaud Tony and his team as well as our City Economy unit for delivering this outcome."
SX Global President Tony Cochrane AM said the company was thrilled to have been appointed by FIM to deliver the expansion of Supercross across the globe.
"We know the appetite that fans within Australia and around the world have for first-class Supercross and we've assembled some of the most experienced people in motorsports to make this happen, all from our new Gold Coast base," Mr Cochrane said.
"With Gold Coast's deep passion for sport and a population set to grow from around 660,000 now to one million by 2032, this is the perfect place for SX Global to attract local talent as we deliver the international World Supercross Championships."
For more information on the Queensland Government's Invested in Queensland program, visit the Queensland Treasury website.
Media contact: Geoff Breusch 0417 272 875