NQ mineral promise lures gas pioneer north
Published Thursday, 08 September, 2022 at 12:29 PM
Minister for Resources
The Honourable Scott Stewart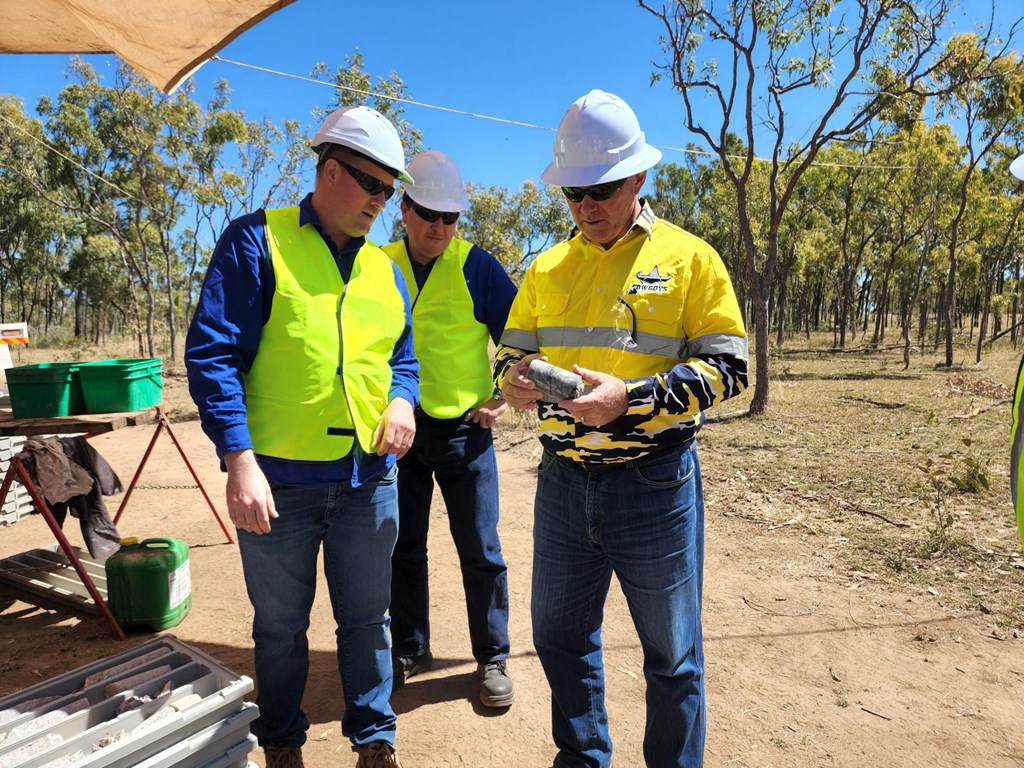 North Queensland's historic goldfields have lured an Australian-based international oil and gas explorer and investor to the tropics, which could lead to more good jobs in the region.
Tri-Star, a private, family-owned business and one of the pioneers of Queensland's $80 billion CSG-LNG industry is actively exploring for gold and copper at Ravenswood and Einasleigh in North Queensland.
Resources Minister Scott Stewart joined Tri-Star's Country Manager Andrew Hackwood and his team on site at the company's Spider Gully project near Ravenswood west of Townsville, where it has started diamond drilling and major detailed geophysical programs.
"Tri-Star is one of many companies exploring Queensland for minerals, particularly critical minerals like copper," Mr Stewart said.
"Interest in minerals exploration in Queensland is en-route to an all-time high.
"Applications for mineral exploration permits have been climbing steadily for the past couple of years.
"This is the most activity in a decade and on current trends we could hit an all-time high this year."
The latest ABS statistics show there was $334 million invested in looking for minerals in the Sunshine State in 2021-22 – an all-time high – up 44 per cent on the previous year.
Mr Stewart said this showed there was an appetite for mineral exploration in Queensland.
"Exploration is what underpins our resources sector and it's what helps drive good, secure jobs for Queenslanders," Mr Stewart said.
Tri-Star Country Manager Andrew Hackwood said although gas discovery had been the group's core business for more than 40 years, Tri-Star had diversified into minerals exploration given the dynamic evolution of energy markets and the abundance of opportunities north Queensland provided to explore prospective acreage for new economy minerals.
"We have a track record of building truly international projects from the ground up and that success has been and continues to be driven by having a long-term approach to exploration," he said.
"With significant capital, geological expertise and access to cutting-edge exploration technology, we have the ideal capability to give us every possible chance of success.
"However, just as important are the relationships we have with local communities, creating jobs, supporting events and employing highly-skilled local contractors like family-owned business Eagle Drilling for this project.
"This level of community engagement ensures we achieve the best outcomes for everyone."
Mr Stewart said Tri-Star's branching out into minerals was in tune with the theme of the Government's 30-year plan for the state's resources industry,
"Our Queensland Resources Industry Development Plan has identified diversification as critical to the industry's future as the world decarbonises," he said.
"When the world inevitably moves to renewable energy sources, away from coal and gas, Queensland's new economy mineral resources will continue to provide good, secure jobs."
Founded in 1988 and led by three generations of geological expertise, Tri-Star drilled Queensland's first commercial CSG well and is now rapidly diversifying and investing into mineral resources and exploration, with a focus on gold, copper, nickel and lithium.
As well as Queensland, Tri-Star holds mineral exploration assets in South Australia and the Northern Territory and is actively looking for new exploration investment opportunities.
[ENDS]