Good jobs supported as Beck Drive rings in major milestone
Published Thursday, 08 September, 2022 at 10:20 AM
Minister for Transport and Main Roads
The Honourable Mark Bailey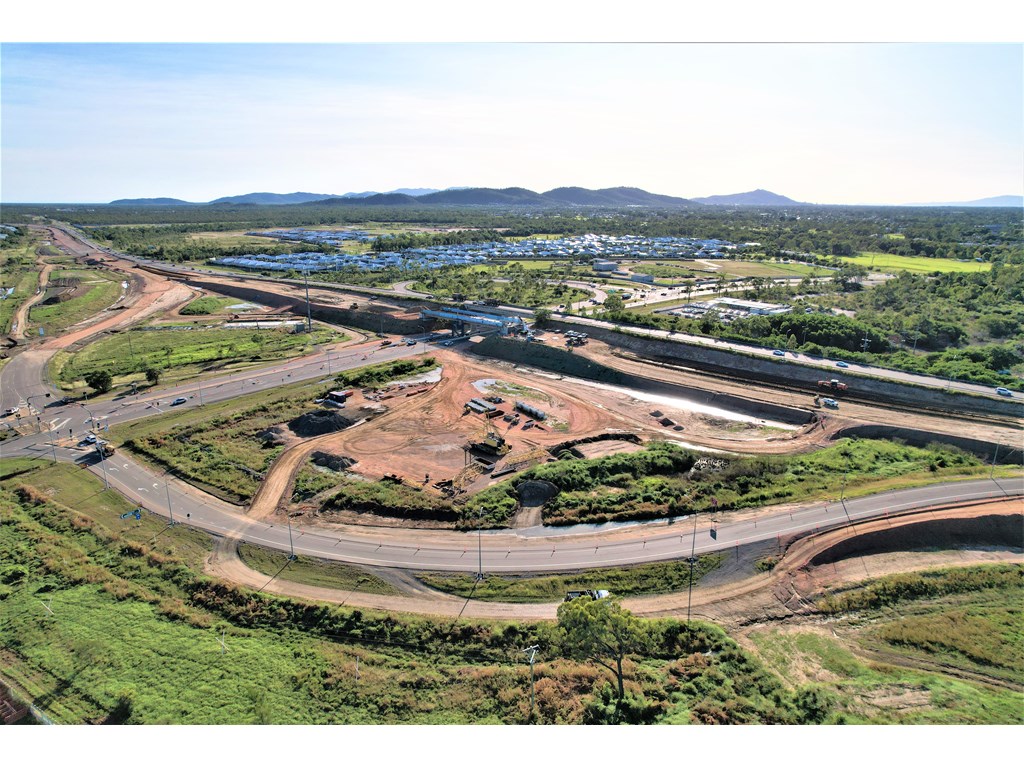 The Townsville Ring Road Stage five project has reached another milestone with the opening of a new exit ramp.
From tomorrow (September 9), the first of four ramps at the interchange connecting Beck Drive to the Ring Road will open to cars, allowing travel to Hervey Range Road and Gouldian Avenue.
The change is a massive boost for motorists in Townsville's northern suburbs who will be able to travel to Kirwan or Upper Ross communities via Beck Drive, rather than Riverway Drive.
Motorists can expect further changes from Friday 16 September, with traffic to be switched onto the new Ring Road alignment, including onto the new overpass of Beck Drive.
Once this occurs the eastbound exit ramp from the Ring Road to Riverway Drive will be permanently closed.
At the same time, a Ring Road entry ramp at Riverway Drive eastbound will be temporarily closed so it can be reconfigured to connect to the upgraded motorway.
A new Ring Road entry ramp at Beck Drive will instead provide eastbound travel access from the area, toward the Townsville University Hospital and beyond.
Work is continuing on the remainder of the project.
This includes the construction of remaining entry and exit ramps at Beck Drive, which will provide all direction access on and off the Ring Road.
These important traffic switches mark major milestones in the progress of the project, which is expected to be completed in mid to late 2023.
This $230 million investment is jointly funded by the Australian and Queensland governments on an 80:20 basis.
It's estimated to support an average of 398 jobs over the life of the project.
For more information, visit QLDTraffic.
Motorists can also contact Transport and Main Roads' Traffic Management Centres on 13 19 40, or the Northern District Customer and Stakeholder Management team on 1800 625 648 to learn more.
Quotes attributable to Federal Minister for Infrastructure, Transport, Regional Development and Local Government Catherine King:
"It's fantastic to see milestones reached on the final stage of the Townsville Ring Road project.
"Following on from the success of Stage 4 of the Ring Road, this upgrade is continuing to deliver road safety and travel time improvements for North Queenslanders.
"While there is more work to be done, the traffic switches this month show just how much progress has been made to date.
"The mammoth project includes six kilometres of road duplication, a new interchange built at Beck Drive, including a highway overpass of the local road, bridge duplications at Bohle River and Little Bohle River and other safety improvements.
"Soon motorists will enjoy a four-lane highway through Townsville (including University Drive and the Ring Road) and much safer road conditions."
Quotes attributable to Queensland Transport and Main Roads Minister Mark Bailey:
"This a major milestone for Townsville's big road project, supporting good job and better roads in the region.
"More than 17,000 people drive this section of road each day, so I'm sure each of those drivers will appreciate progress on this project."
Quotes attributable to Member for Thuringowa Aaron Harper:
"I've campaigned hard to have these upgrades underway, so I'm pleased to celebrate this milestone alongside Minister Bailey.
"The new interchange at Beck Drive will drive further economic benefit in Townsville, and see local commuters get home to their family and friends quicker.
"A big thank you goes out to the nearly 400 workers involved in this project, which is helping to reduce congestion on Townsville roads.
"Official completion of the project is on the horizon and I look forward to celebrating that next year."
Quotes attributable to Member Mundingburra Les Walker:
"This $230 million project is all about connecting communities.
"While the new changes may be different for people, I'm sure locals will adapt soon enough.
"This project is one of many being delivered by the Palaszczuk Labor Government, supporting good jobs in regional Queensland."
Quotes attributable to Member for Townsville Scott Stewart:
"This is a major project that is helping create good jobs in Townsville.
"It will also help increase the connectivity for everyone in the city while improving road safety."
ENDS
MEDIA CONTACT: Courtney Thompson - 0433 585 570