Civil construction awards recognise environmental excellence
Published Wednesday, 07 September, 2022 at 10:15 AM
Minister for Transport and Main Roads
The Honourable Mark Bailey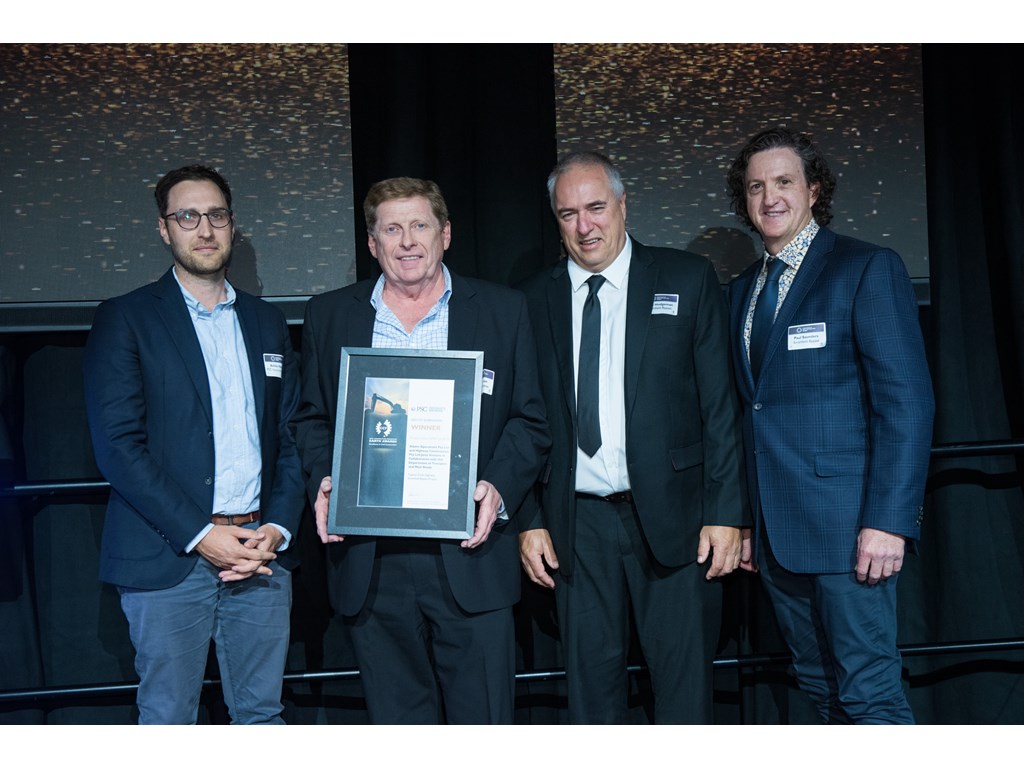 Image, from left to right: Ashley Naylor, PSC Insurance Brokers (naming sponsor), Glen Mosch, Albem Operations, Ross Hodgman, TMR and Paul Saunders, Highway Construction.
Two Transport and Main Roads projects in the state's far north have been awarded for their civil construction excellence at the Earth Awards.
The Smithfield Bypass and Yarrabah Jetty projects took out awards in their respective categories at the prestigious Civil Contractors Federation Queensland Earth Awards last weekend (August 19).
The awards, presented in seven groups according to project value, recognise the impressive engineering techniques and achievements by the Queensland civil construction industry during the past year.
The Captain Cook Highway, Smithfield Bypass Project – a collaboration between TMR, Albem Operations Pty Ltd and Highway Construction Pty Ltd joint venture– was awarded for projects valued between $75-150 million.
The project – a major alternative route to Cairns' northern beaches - scored a further five category awards on the night, the most achieved by a single project.
The 3.8-kilometre, two-lane bypass has dramatically reduced congestion, improved travel times, and restored serviceability to Smithfield roundabout since its completion in 2021.
Transport and Main Roads Minister Mark Bailey was proud to see the projects awarded for their excellence.
"The Smithfield Bypass project is notable for the first use of foam bitumen in North Queensland, which reduced wastage by up to 10 per cent," Mr Bailey said.
"Close community engagement turned a slashed paddock into an environmental legacy - a new sedge swamp attracting additional birdlife next to the major tourist attraction Cattana Wetlands.
"The project recently was presented with an Excellent IS Design Rating by the Infrastructure Sustainability Council.
"The outcomes from the design process have ensured an infrastructure project that provides a positive and sustainable legacy for Far North Queensland."
Paul Saunders, of Albem Operations Pty Ltd and Highway Construction Pty Ltd joint venture, said it was a wonderful achievement for the project team to be recognised.
"While the project presented some key challenges, not the least of which was constraints associated with COVID-19, we achieved several construction industry firsts," Mr Saunders said.
The Palaszczuk Government-funded Yarrabah Jetty, designed and constructed by Brady Marine and Civil, also found success, taking out the award for projects valued between $10-30 million.
Mr Bailey said the complex project was delivered inside the pristine Great Barrier Reef Marine Park and required environmental compliance to World Heritage Site requirements.
"This important project delivered a new 165-metre-long jetty with a floating pontoon, twin 25-metre-long gangways and associated infrastructure," he said.
"Despite weather constraints and the logistics of transporting materials and crew to the site over 17 kilometres of open sea, Brady Marine and Civil worked with the community and my department to deliver a high-quality, functional legacy project.
"This is more than just a jetty – this fantastic new infrastructure is now an iconic piece of Yarrabah and something locals can use and be proud of for many years to come."
Brady Marine and Civil project manager Kyle Roberton said the project was the first in Queensland to be delivered under the Indigenous Economical Opportunity Plan for remote communities.
"We are proud to have worked along-side TMR, Yarrabah Aboriginal Shire Council, Traditional Owners and the community, to deliver a critical piece of infrastructure for Yarrabah which will last the test of time, Mr Roberton said.
"The project directly employed 18 locals and the community was able to benefit from the local procurement of goods and services."
ENDS
MEDIA CONTACT: Courtney Thompson - 0433 585 570