Chief Scientist leaves a lasting impression
Published Wednesday, 31 August, 2022 at 03:45 PM
Minister for the Environment and the Great Barrier Reef and Minister for Science and Youth Affairs
The Honourable Meaghan Scanlon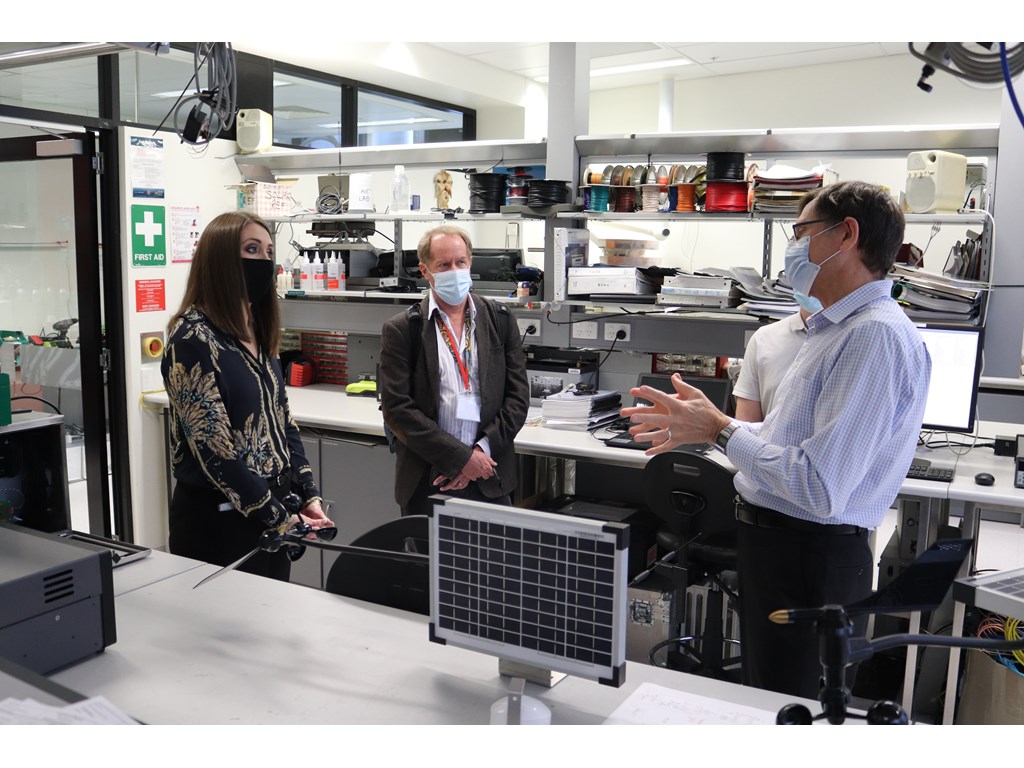 Environment Minister Meaghan Scanlon and Chief Scientist Professor Hugh Possingham on a visit to the Ecosciences Precinct
Science Minister Meaghan Scanlon has paid tributed to one of the country's most distinguished scientific minds, Professor Hugh Possingham, with the well-known figure to retire from his role as Queensland's Chief Scientist.
Minister Scanlon said Professor Possingham will hang up his boots on August 31, 2022 after becoming a driving force for the sector during COVID and providing expert advice on key scientific policies in the state.
"I know I speak on behalf of the Palaszczuk Government, the science sector and Queenslanders as a whole in saying we really appreciate his efforts and recognise the progress achieved under his guidance," Minister Scanlon said.
Minister Scanlon said the Professor's expert advice had been instrumental in shaping key policies, programs and investments in areas as diverse as crocodile management, marine parks, threatened species, disaster management and university-industry partnerships.
"In all, he led and participated in close to 30 committees or advisory boards covering a broad range of endeavours from university research, energy, climate, reef, and biodiversity and other environmental issues as well as advice to government.
"Professor Possingham has especially devoted time and energy to ensure young Queenslanders are inspired to continue their studies in STEM.
"He has presented at World Science Festival events, engaged with students and communities through the Flying Scientists program, has led numerous bird walks to introduce Queenslanders to citizen science, and facilitated key events to celebrate National Science Week."
Integral to the success of the Sustainability and Science Showcase in 2021 and 2022, Professor Possingham encouraged Queenslanders to consider being more sustainable and participate in citizen science activities that help monitor the environment.
Professor Possingham launched the popular Partner Up Queensland Regional Science and Innovation Network with hubs to provide regional Queenslanders with the opportunity to engage with science and innovation in meaningful ways throughout life.
During his time as Queensland Chief Scientist, he authored a feature piece for the Griffith Review, Power to the people: the case for citizen science and published the paper, A return-on-investment (ROI) approach for public good research investment and partnerships.
Minister Scanlon said Professor Possingham will continue his role as the independent Chair of the Native Vegetation Scientific Expert Panel and maintain his part time role with The University of Queensland as Vice Chancellor's Senior Research Fellow at the School of Biological Sciences.
The Minister said the Department of Environment and Science will now appoint an interim Queensland Chief Scientist while an open and merit-based recruitment process is undertaken for the permanent role.
ENDS
Media contact: Francis Dela Cruz - 0420 592 078