$3m for better Great Barrier Reef island access
Published Thursday, 25 August, 2022 at 01:02 PM
Minister for Tourism, Innovation and Sport and Minister Assisting the Premier on Olympics and Paralympics Sport and Engagement
The Honourable Stirling Hinchliffe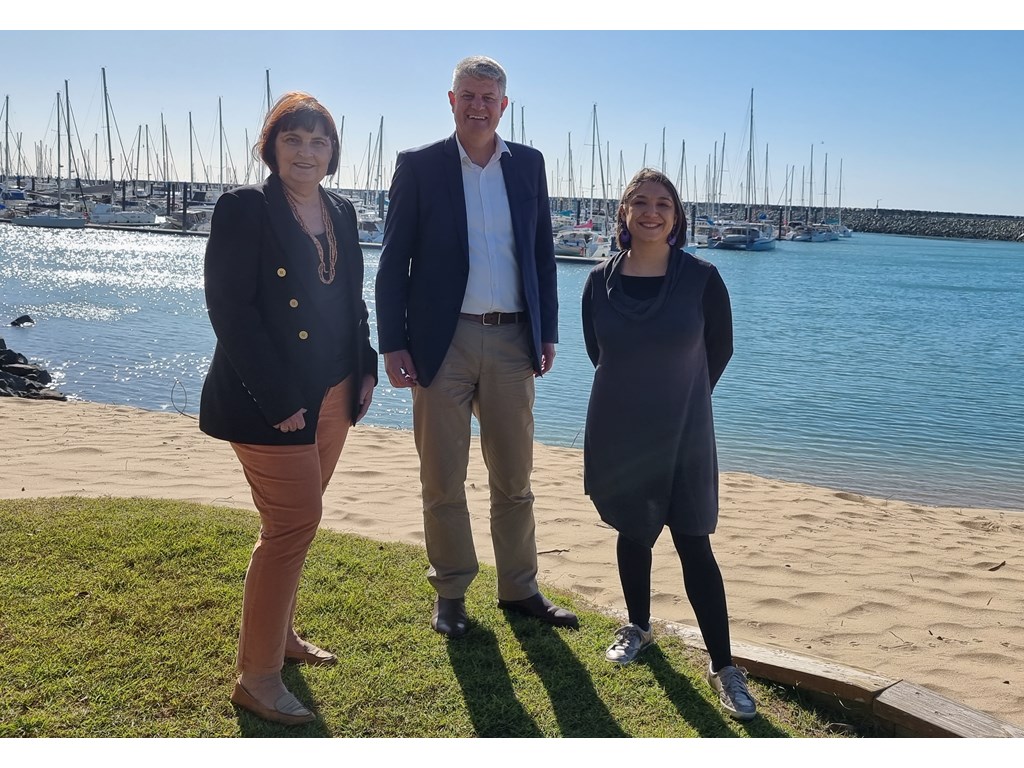 Tourism Minister Stirling Hinchliffe with Member for Mackay Julieanne Gilbert (L) and Tash Wheeler (R) from Mackay Isaac Tourism at Mackay Marina.
The Palaszczuk Government is investing $3 million to partner with the tourism industry to enhance Queensland's great lifestyle and public access to key Great Barrier Reef islands.
Member for Mackay Julieanne Gilbert said the Great Barrier Reef Island Marine Infrastructure Package was part of a wider program for private investment in island tourism.
"Our region can lay claim to some world's best tropical islands, and we want to make it even easier for Queenslanders and visitors to explore and enjoy them," Ms Gilbert said.
"The Palaszczuk Government is putting $3 million on the table to work with industry on the delivery of new island jetties for better public access and island investment.
"I'm keen to see this funding become a catalyst for private investment in new and upgraded resorts, ecotourism opportunities and unique tropical island experiences.
"Tourism is important to this region's economy, and we have a golden opportunity to build on that by showing our wonderful islands to the world ahead of the 2032 Games.
"More investment in Queensland's Great Barrier Reef islands means more tourism and more good, secure jobs for our visitor economy."
The Great Barrier Reef Island Marine Infrastructure initiative follows the Palaszczuk Government's $25 million Great Barrier Reef Island Resorts Rejuvenation Program.
Tourism Minister Stirling Hinchliffe said new nature-based island attractions were identified by the Action Plan for Tourism Recovery to position Queensland for future tourism success.
"We've already started conversations with island leaseholders about the potential to improve access," Mr Hinchliffe said.
"Applications for marine infrastructure funding are open now to Great Barrier Reef island investors.
"Leaseholders on Keswick, Long and Hook islands are the among the investors in this region looking to improve island access.
"Our priority is jetty infrastructure because we know it will drive investment in public facilities, new visitor attractions and fresh island accommodation.
"Jetties make access convenient for organised boat tours, as well as the tradies and building materials needed for resort upgrades and ecotourism developments.
"The 2032 Games are creating investment and visitor opportunities to Queensland that no other destination has.
"As we prepare to welcome the world, it's never been more important to work with industry to enhance the great lifestyle and jobs Queensland's tropical islands have to offer."
Mackay Isaac Tourism interim chief executive officer Tash Wheeler said the Mackay Isaac region offered a huge diversity of island tourism opportunities.
"With unique island landscapes, white sand beaches, tropical rainforests and native wildlife, there is something for everyone to enjoy on the islands," Ms Wheeler said.
"A particular challenge for the region is island access because of minimal maritime infrastructure, boat ramps or transportation.
"If there is good accessibility for the movement of goods, services and people, there's potential to develop the region's island tourism and economy."
Tourism Whitsundays chief executive Rick Hamilton welcomed Queensland Government's investment in the Whitsunday islands.
"This has potential to enhance the region's impressive portfolio of world class island experiences," Mr Hamilton said.
"It's about building on our existing island product offering and opening up our stunning national parks and walking trails for visitor access."
Media: 0427 475 089.