Australia's largest solar farm scores it's first century
Published Thursday, 18 August, 2022 at 11:45 AM
Minister for Energy, Renewables and Hydrogen and Minister for Public Works and Procurement
The Honourable Mick de Brenni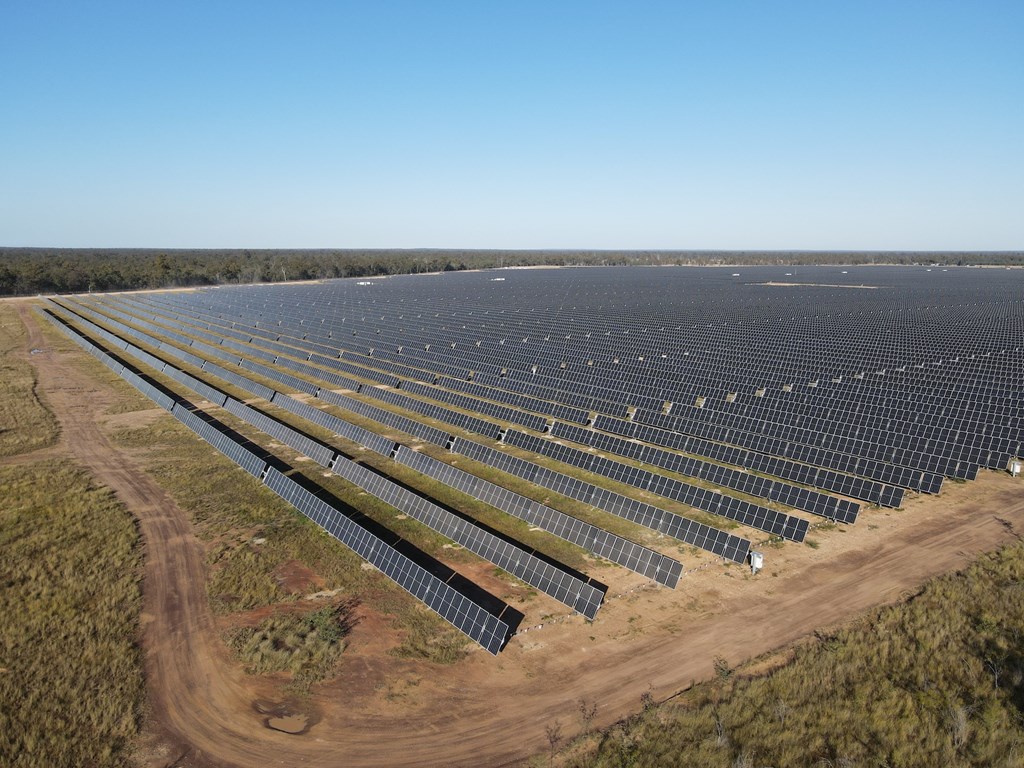 A major milestone has been reached on Australia's largest solar farm under construction with the project now able to export more than 100MW of clean energy into the nation's electricity grid.
When complete, the Western Downs Green Power Hub (WDGPH) will add 400MW of renewable energy into the grid with Queensland Government owned energy generator and retailer CleanCo signed up to take 320MW.
Minister for Energy, Renewables and Hydrogen Mick de Brenni said that the State's energy transformation is the greatest jobs opportunity in a generation.
"In an important boost for our regional communities this project has already delivered more than 450 construction jobs," Minister de Brenni said.
"We're also putting downward pressure on future electricity prices by building more cheap QLD-made energy made from our abundant natural resources.
"And because Queensland's energy network is publicly owned, it puts billions of dollars back where it belongs, into the pockets of Queenslaners," he said.
Neoen's $600 million solar farm is nearing its final stages with testing works underway in collaboration with Powerlink and the Australian Energy Market Operator.
"This solar farm, the largest of its kind in Australia, will be able to generate power for a region the size of Logan and Redlands combined," Minister de Brenni said.
"And is a major step forward for Queensland's pursuit to create more jobs in more industries through out 50 percent renewable energy by 2030 target.
"It's estimated the ongoing economic benefit of this new solar farm will be around $32 million per year for the Queensland economy," he said.
Connection works for the project were completed by Powerlink late last year including the addition of six kilometres of new transmission line and associated works at Powerlink's existing Western Downs Substation.
Neoen Australia's Managing Director Louis de Sambucy said the team was working to finish the project as quickly as possible, and to ramp up the capacity in coordination with Powerlink and AEMO.
CleanCo Board Chair Jacqui Walters said the Power Purchase Agreement CleanCo has for the solar farm, will be used to support commercial and industrial customers to push ahead with their net zero goals and build their global competitiveness with competitively-priced energy.
"CleanCo has committed to bringing 1,400MW of new renewable energy into the market by 2025 and projects like the Western Downs Green Power Hub are underpinning that, so it's very exciting to see the project coming to completion."
Powerlink Chief Executive Paul Simshauser said Powerlink was proud to play a key role in providing the essential transmission infrastructure to connect this new solar farm – currently Australia's largest – to the electricity grid.
"Our grid connection works, which supported 28 jobs, will ensure the renewable energy generated at the Western Downs Green Power Hub can be transported across the National Electricity Market," Mr Simshauser said.
The Western Downs Green Power Hub will produce more than 1,080 GWh per year, the equivalent to avoiding 864,000 tonnes of CO2 emissions.
The project is located 22km south-east of Chinchilla in the Western Downs Region, in close proximity to Powerlink's transmission network and less than 6kms from the existing Western Downs Substation.
Media Contact: 0457 600 237