Milestone moment: Mons and Maroochydore interchange upgrade making a move
Published Thursday, 04 August, 2022 at 11:30 AM
Minister for Transport and Main Roads
The Honourable Mark Bailey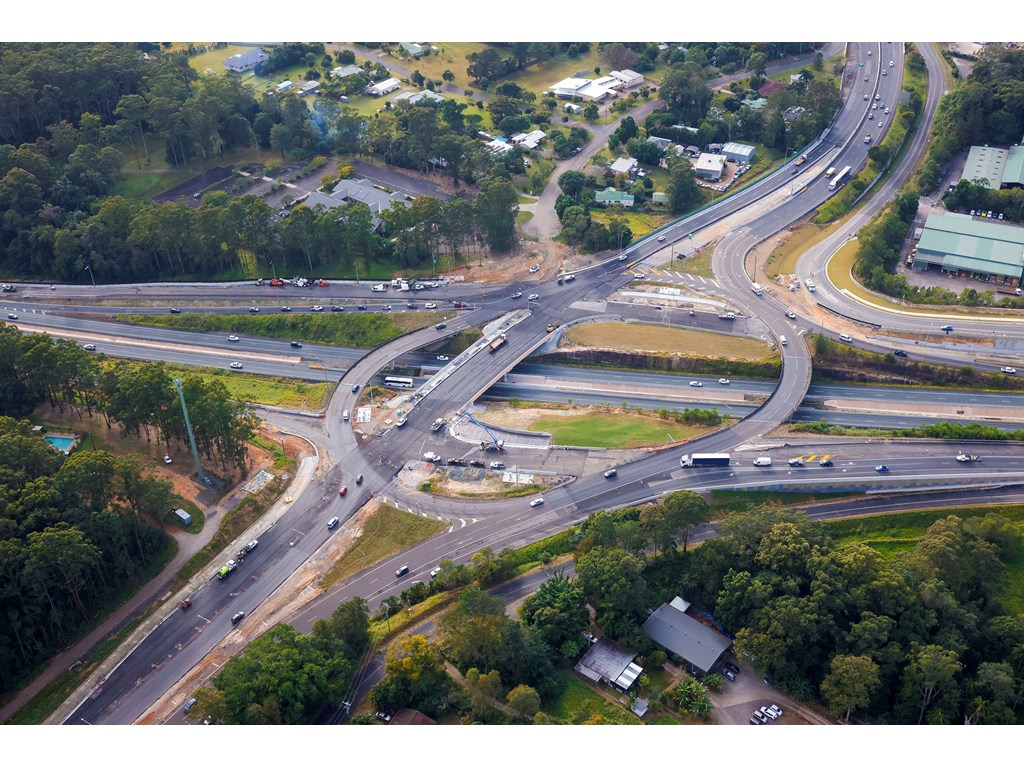 Three major milestones have been marked on the over $300 million Mons and Maroochydore interchange upgrade.
In the last month, two upgraded exit ramps and a new, four-lane concrete bridge over the highway have opened to traffic.
Northbound traffic exiting the Bruce Highway to Mons, Chevallum and Forest Glen is being directed onto the new Exit 200.
The old Exit 200 has now closed and drivers are being diverted 1.2 kilometres south to the new exit.
The new Exit 200 connects to a roundabout located at the intersection of Chevallum and Rainforest roads, which is part of a new western service road (Chevallum Road) taking shape.
Another upgraded exit has also opened for southbound traffic accessing Maroochydore Road and Nambour Connection Road from the highway. The upgraded Exit 201 is about 200m north of the old exit ramp.
Both upgraded exits are significantly longer and wider than the old ramps to provide more queuing space for traffic.
Meanwhile, traffic travelling from Maroochydore Road to Nambour Connection Road has been diverted onto the newly-built Maroochydore Road interchange bridge – this temporary diversion will allow works to occur on the existing westbound bridge.
The parapets of the new bridge abstractly depict local references, including the nearby Big Pineapple, a Bunya Nut tree, and local indigenous history.
Synchronised traffic signals have also been installed at the Maroochydore and Nambour Connection Roads roundabout to improve safety and regulate traffic flow.
The signal phasing will be carefully monitored and adjusted over the coming months to ensure optimal safety and efficiency.
The temporary traffic switch will be in place for about three months, weather and construction conditions permitting.
New two-way service roads are also taking shape on the eastern and western sides of the highway for local traffic as part of the upgrade.
This project is jointly funded by the Australian and Queensland governments on an 80:20 basis, with the Australian Government contributing $241 million and the Queensland Government contributing $60.25 million.
The project is expected to be completed in mid-2023, weather and construction conditions permitting).
For more information and to register for project updates, visit https://www.tmr.qld.gov.au/projects/bruce-highway-maroochydore-road-and-mons-road-interchanges.
For up-to-date information on road closures and conditions across the state, visit www.qldtraffic.qld.gov.au, call 13 19 40 or download the QldTraffic app.
Quotes attributable to Federal Infrastructure, Transport, Regional Development and Local Government Minister Catherine King:
"The Australian Government is continuing to invest in projects to make Queensland roads safer and more efficient.
"It's terrific to see work progressing so well on this major infrastructure project, which will make it safer and more efficient for people traffic to and from the Bruce Highway.
"Building a new bridge in a live traffic environment is no small feat, so I'm pleased to see work now complete and the bridge in use to the benefit of local motorists."
Quotes attributable to Queensland Transport and Main Roads Minister Mark Bailey:
"The Palaszczuk Government is proud to be delivering this project that helps drive not only good local jobs, but continues the progress made for our roads network by progressive record transport budgets.
"This year's budget saw our seventh record $29.7 billion road and transport plan handed down.
"Right here at the Mons and Maroochydore roads interchanges, the new Exit 200 and Exit 201 are significantly longer and wider making it safer when exiting the highway and reduce queuing.
"It's because of the hard work and advocacy from our strong local MPs that we can deliver better roads for the people of the Sunshine Coast."
Quotes attributable to Member for Nicklin Robert Skelton:
"What a great day to be a Sunshine Coaster when we can celebrate major infrastructure milestones like this.
"The new Exit 200 is thanks to the feedback provided by the local community when it was identified that the original northbound exit was of concern to drivers.
"Now, we're well underway with construction and supporting about 380 good jobs right here on the Sunshine Coast.
"This is great news for contractors and suppliers in the region, and even better news for our booming local economy."
Quotes attributable to Member for Caloundra Jason Hunt:
"The Palaszczuk Government is investing in roads and transport like never before, and nowhere is that investment more evident than on the Bruce Highway.
"Our $13 billion, 15-year pipeline of work will keep Queensland moving and get locals home safer and sooner.
"Work is already underway on the major upgrade of the Bruce between Caboolture-Bribie Island Road and Steve Irwin Way (at Exit 163), and early works are progressing on Stage 1 of the Beerburrum to Nambour rail duplication.
"These are major investments, and proof of the Palaszczuk Government commitment to better mobility, efficiency, and safety, all across Queensland."
ENDS
MEDIA CONTACT: Courtney Thompson - 0433 585 570