Queensland renewable energy to power Westfield centres
Published Tuesday, 02 August, 2022 at 12:14 PM
Minister for Energy, Renewables and Hydrogen and Minister for Public Works and Procurement
The Honourable Mick de Brenni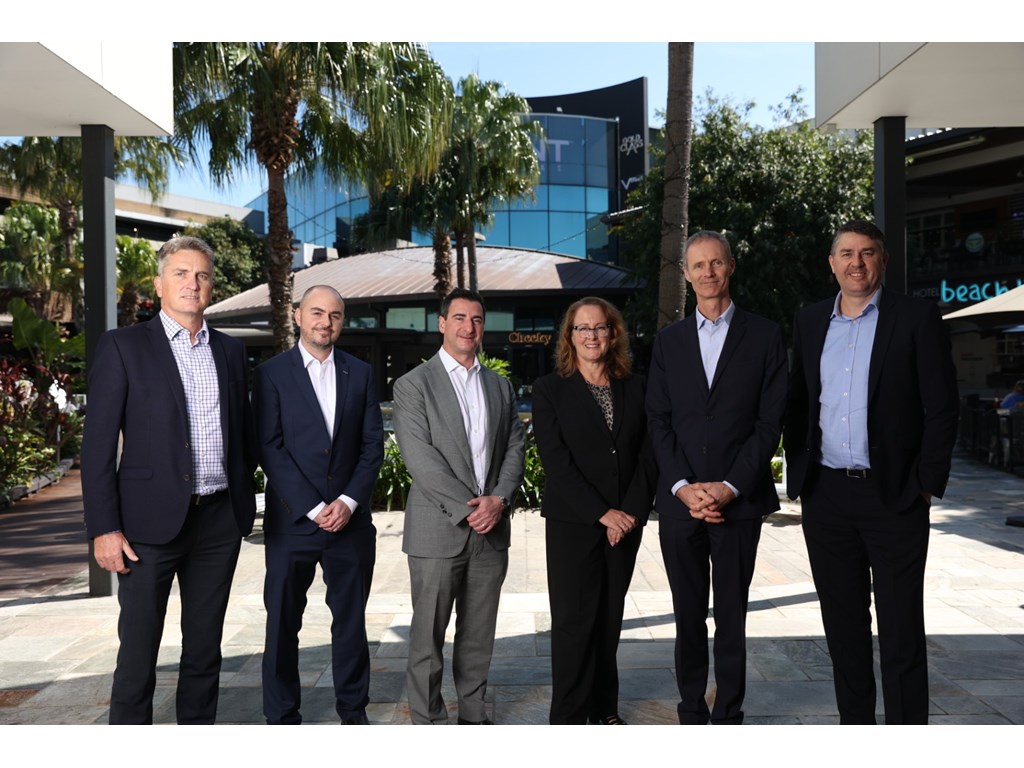 Left to right: Greig Partridge, CleanCo Business Origination and Product Manager, Michael Larner – CleanCo C&I Customer Manager, Elliott Rusanow – Scentre Group CEO-Elect, Jacqui Walters – CleanCo Board Chair, Tom Metcalfe – CleanCo CEO, Craig Parr – Scentre Group Head of Energy and Renewables
Queensland's publicly-owned energy generator and retailer CleanCo has struck a major agreement with the Scentre Group, to provide renewable energy for its Westfield centres across the state.
Minister de Brenni said the deal, which is the first of its kind for Scentre Group in Australia, was another major step for renewable energy made and delivered in Queensland.
"The Palaszczuk Government has a target to reach 50 per cent renewable energy generation by 2030 and we congratulate Scentre Group for joining us on this journey," Mr de Brenni said.
"Every time Queenslanders visit a Queensland Westfield, they will be supporting Queensland jobs and Queensland's net zero goals.
"CleanCo is unique in its remit – a government owned corporation that is leading the energy transformation in Queensland from the beginning to end of the supply chain – building and investing in projects and selling electricity to customers at the other end."
Renewable electricity will be provided for Scentre Group primarily from the Western Downs Green Power Hub, Kaban Green Power Hub, and the Dulacca Wind Farm, where CleanCo has power purchase agreements in place.
"Combined, these projects support more than 850 jobs, many in regional areas. So, every time a person shops in a Queensland Westfield, they can know they're doing their part to help Queensland reach net zero, while also supporting economic growth in the state," Mr de Brenni said.
"This deal is further proof of how our publicly-owned CleanCo is getting on with the job of connecting businesses in Queensland to clean, reliable energy from Queensland renewables and helping decarbonise our economy."
The announcement with Scentre Group follows a similarly large deal struck by CleanCo with Australian retail giant Wesfarmers in March, to provide renewable energy to Kmart, Target, Bunnings and Officeworks.
CleanCo CEO Tom Metcalfe said the company was proud to be supporting Scentre Group to achieve its net zero aspirations.
"This deal is another example of how businesses are leading the way to help the state reach net zero, and how CleanCo is supporting businesses meet their own targets," Mr Metcalfe said.
"Agreements like this one with Scentre Group underpin our own target of bringing 1,400MW of new renewable energy into the market by 2025, while supporting the Queensland Government's 50 per cent renewable energy by 2030 target.
"This agreement is a win for Queensland, a win for Westfield centres and a win for the environment."
Scentre Group CEO-Elect Elliott Rusanow said sustainability was a key part of the company's strategy and growth.
"We have a strong track record on sustainability, having already reduced our emissions by 30% since Scentre Group was established in 2014," Mr Rusanow said.
"The agreement with CleanCo will enable us to deliver our 50% emission reduction target by 2025 and is part of our plan to get to net zero by 2030."
Ends
About the Western Downs Green Power Hub
The Western Downs Green Power Hub is a large solar farm project located 22km south-east of Chinchilla which will produce 400MW of renewable energy. CleanCo Queensland has a Power Purchase Agreement for 320MW of the energy produced at the solar farm.
About the Kaban Green Power Hub
Kaban Green Power Hub is the first wind farm for the Northern Queensland Renewable Energy Zone located near Ravenshoe in far north Queensland. CleanCo Queensland has a Capacity Purchase Agreement for 100 percent of energy produced at the 157MW wind farm.
About the Dulacca Renewable Energy Project
Located just east of Dulacca in Queensland's Western Downs region, the Dulacca wind farm will generate 180MW. CleanCo has an agreement to purchase 126MW or 70 per cent of the renewable energy generated by the wind farm.
About CleanCo Queensland
CleanCo Queensland is a government-owned electricity generator and retailer supporting commercial and industrial customers in Queensland to decarbonise. Our ambition is to harness Queensland's abundant natural resources to offer reliable, globally competitive low-emissions energy services to customers, catalysing a sustainable and prosperous future for all Queenslanders. We have a target to support 1,400 MW of new renewable generation by 2025 and our activities will contribute to the achievement of Queensland's 50% renewable energy target by 2030.
About Scentre Group:
Scentre Group (ASX: SCG) owns and operates 42 Westfield Living Centres across Australia and New Zealand encompassing approximately 12,000 outlets. Scentre Group's Queensland destinations include Westfield Coomera, Westfield Chermside, Westfield Mt Gravatt, Westfield North Lakes, Westfield Carindale and Westfield Helensvale. In 2021, these centres attracted 66.5 million customer visits.