Logan business to help Queenslanders wear Queensland made
Published Tuesday, 02 August, 2022 at 08:00 AM
Minister for Energy, Renewables and Hydrogen and Minister for Public Works and Procurement
The Honourable Mick de Brenni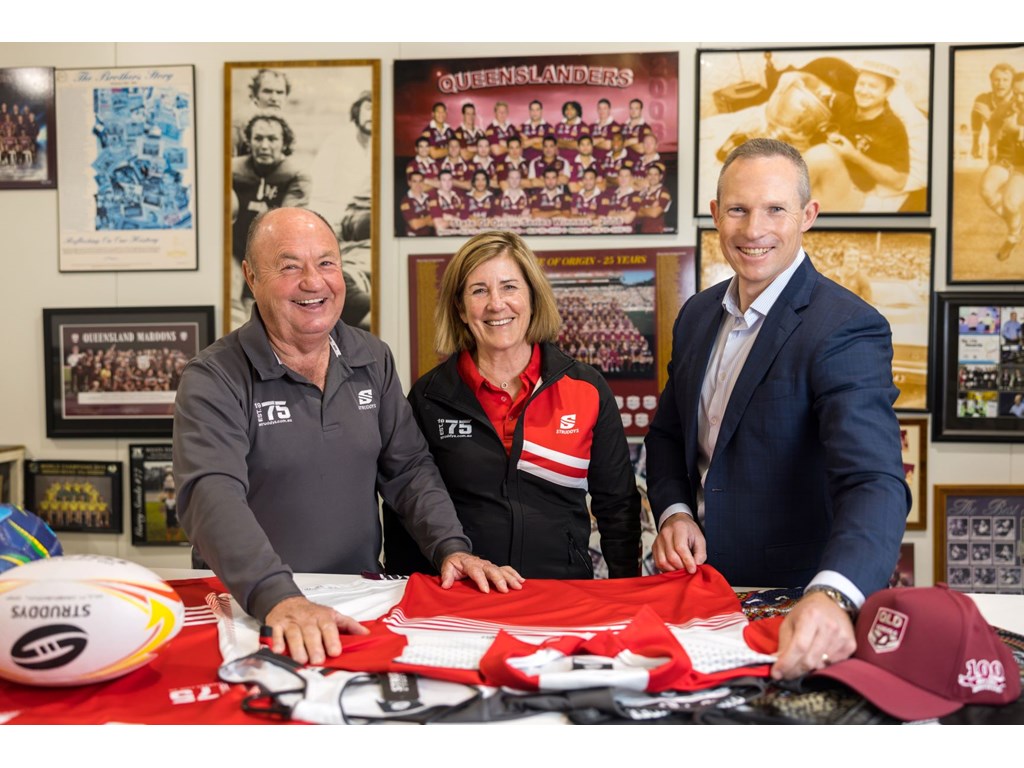 Minister for Procurement Mick de Brenni with local legends Ross and Lisa Strudwick
Iconic Logan sportswear manufacturer, Struddys, has achieved preferred supplier status with the Queensland Government, thanks to its "Buy Queensland" procurement approach to doing business.
Struddys, one of the last of a handful of Australian-based uniform manufacturers, will now be ready to supply to the Queensland Government and its agencies.
Around $18.5 billion is invested each year by the Queensland government on goods and services, and the Buy Queensland approach seeks to invest as much of this as possible with local businesses like Struddys.
Minister for Procurement Mick de Brenni said the government had cut application red tape, making it easier for local businesses to be awarded government contracts.
"I'm proud to see another iconic local company, now able to put Queensland's frontline workers in Queensland-made garments. And in the runway to Brisbane 2032 we want the eyes of the world to see Queenslanders wearing Queensland made," Mr de Brenni said.
"Struddys is a Queensland born company, that each year is manufacturing for thousands of Australia's best sporting teams.
"What sets this business apart, is their commitment to local products and a local workforce, plus their major support for Queensland indigenous communities."
Minister for Regional Development and Manufacturing Glenn Butcher said Struddys was another example of the Palaszczuk Government supporting Queensland businesses to manufacture onshore.
"Struddys began 45 years ago as a single clothing store in Sunnybank, Brisbane, and they have evolved to employ almost 100 locals, making clothing for Australian sporting teams," Mr Butcher said.
"Manufacturing contributes more than $20 billion a year to Queensland's economy - we know it's far more than the traditional industry it once was and Struddys is a fantastic example of that.
"I hope to see many more of these products on the backs of Aussie sporting teams for years to come."
Struddys' General Manager Michael Rasmussen said the company believed that by supporting Queenslanders, Queenslanders would support them.
"Buy Queensland makes so much sense - it helps keep Queensland dollars circulating in Queensland, boosting businesses like ours – and that's good for everyone," Mr Rasmussen said.
"We're aiming for a workforce of somewhere between 150-200 within 4 to 5 years, which is a doubling of our current staff, and we expect to be able to achieve that with the support of Buy Queensland.
"Being able to supply to the Queensland Government opens so many doors for us and being on the preferred supplier list also shows the public we are a reputable, reliable, quality supplier that's doing its best for Queenslanders.
"And with the Olympics coming to Brisbane in 2032, we expect interest in our products to boom, and we stand ready to deliver for Queensland."