Solar power target smashed at Fraser Coast state schools
Published Thursday, 28 July, 2022 at 10:36 AM
Minister for Education, Minister for Industrial Relations and Minister for Racing
The Honourable Grace Grace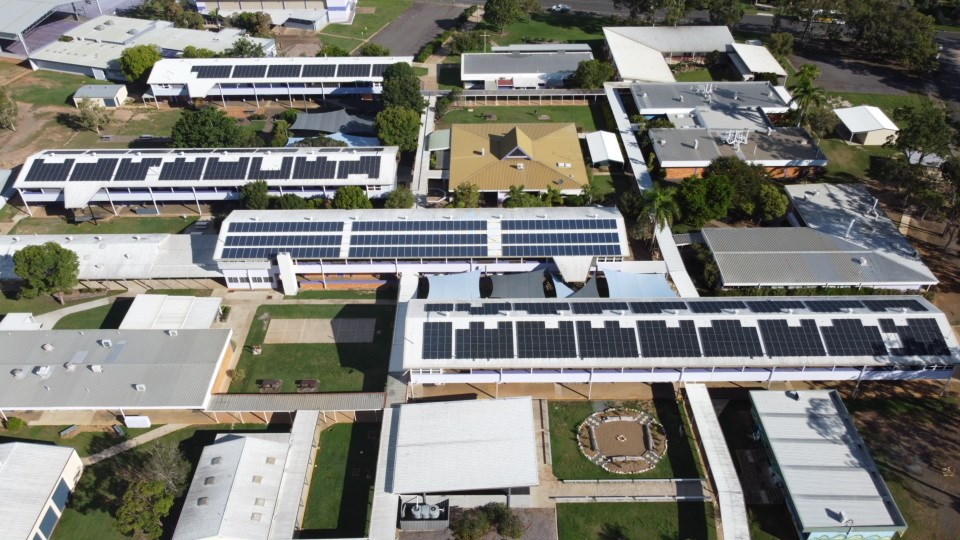 Maryborough's Aldridge State High School had 533 solar panels installed
More than 3,300 solar panels have been installed at state schools across the Fraser Coast to help slash electricity costs and cut carbon emissions.
Education Minister Grace Grace said the Advancing Clean Energy Schools (ACES) program was expanded in February 2022 and had exceeded targets to deliver more panels at more schools than originally planned.
"The completion of the $168 million ACES program is a testament to the Palaszczuk Government's strong focus on creating good jobs and better services to enhance our great Queensland lifestyle," Ms Grace said.
"I am particularly proud that we exceeded our original target of 180,000 panels at 872 schools and have instead delivered 200,000 panels at 912 schools.
"This equates to a $26 million saving on energy bills every single year and is enough renewable energy to power 25,000 homes – that's more than all the households in the Gladstone region.
"The ACES program also supported about 1,000 jobs and kept Queenslanders working through the height of the pandemic."
Member for Hervey Bay Adrian Tantari said the completion of the ACES program follows the Palaszczuk Government's delivery of air conditioning for every classroom, staff room and library in Queensland state schools.
"In April, our government announced the completion of the $477 million Cooler Cleaner Schools Program in time for staff and students to enjoy air conditioning in every Queensland state school for the start of Term 2," Mr Tantari said.
"That was two months ahead of schedule and six years ahead of the LNP's proposal.
"Now the ACES program is complete, the solar panels we have delivered for more than 900 Queensland schools are helping to offset the added electricity costs of air conditioning."
Member for Maryborough Bruce Saunders said the program was good news for schools and great news for the Palaszczuk Government's renewable energy target.
"ACES is making a significant contribution to the Palaszczuk Government's 50% renewable energy target by 2030, with the 200,000 solar panels on state school rooftops expected to generate an average of 280MW of electricity per day," Mr Saunders said.
"The 3,300 panels in the Fraser Coast region alone can generate around 4,800kW of electricity every day.
"This is another example of the Palaszczuk Government's commitment to delivering state-of-the-art facilities to our world-class schools and ensure a bright future for our children by taking action on climate change."
Aldridge State High School had 533 solar panels installed which will offset the costs of air conditioning and other energy costs in a $390,000 investment.
Principal David Burns said the school is delighted with their new solar panels, which can generate an average of around 780 kW of electricity every day.
"This investment has offset a significant percentage of the school's annual electrical costs and has enabled the school to demonstrate an alignment with a clean and green energy future.", Mr Burns said.
Minister Grace said the Palaszczuk Government was committed to providing quality facilities to schools right across Queensland.
"In the 2022–23 budget alone, we are delivering an overall infrastructure investment portfolio valued at nearly $2 billion, driving the Queensland economy by supporting nearly 4200 jobs," Ms Grace said.
Click for high quality stills and drone footage for solar panels on schools throughout Queensland.
Footage of Minister Grace speaking about this in parliament will be available available at https://tv.parliament.qld.gov.au/
ENDS
Media contact: Kate Talbot 0439 803 211