$1.5 million to grow Queensland's workforce
Published Thursday, 28 July, 2022 at 02:00 PM
Minister for Employment and Small Business and Minister for Training and Skills Development
The Honourable Di Farmer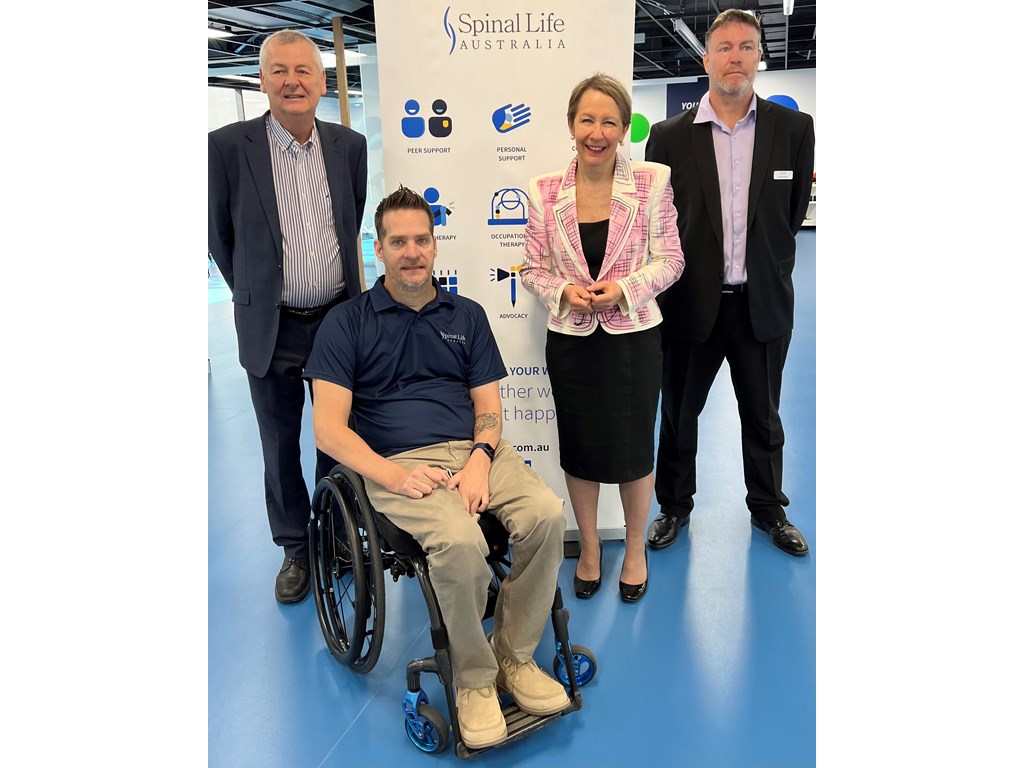 Spinal Life Australia (SLA) CEO Mark Townsend with advocacy officer Nate Greenfield, Employment and Small Business Minister Di Farmer and SLA Executive Manager Ross Duncan
Nine industry and community groups are the first recipients of the Queensland Government's $1.5 million Growing Workforce Participation Fund, to support ongoing employment for jobseekers from identified groups.
Minister for Employment and Small Business and Minister for Training and Skills Development Di Farmer said the organisations will receive grants of up to $200,000 to trial new programs that will help jobseekers and employers to connect.
"The Palaszczuk Government's Growing Workforce Participation Fund will support Queensland employers to address the labour and skills shortages they are facing, by improving the ways they engage with disadvantaged people who are looking for work," Minister Farmer said.
"This may be through job-matching services, pre-employment pathways or other innovative resources and programs, which will be delivered across regional Queensland and in the Ipswich, Lockyer Valley, Logan, Moreton Bay, Scenic Rim and Somerset local government areas in the South East corner."
Spinal Life Australia is one of the first groups to receive funding with its EnABLED Business Program which works to bridge the gap between people with a disability and businesses to increase opportunities for both parties.
"This program will help to break down the barriers faced by people with disability to participate in the labour market by helping small- to medium-sized enterprises to understand the needs of people with disability and introduce strategies to make sure those needs are met," Minister Farmer said.
Spinal Life Australia's CEO Mark Townend said funding for the EnABLED Businesses Program will help businesses to build 'disability confidence' and secure more staff in this tight labour market — leading to better economic outcomes in the Moreton Bay Region."
"With Australia experiencing record levels of employment — now is the perfect time to help build confidence of employers and employees alike when it comes to employment of people with disability."
"Our EnABLED Businesses Program will provide awareness training and one-to-one business mentoring to identify and undertake practical actions to welcome employees with disability into their business. This will help to create a level playing field for people with disability, making the labour market truly accessible for all," Mr Townend said.
Minister Farmer said young people seeking stable employment in ICT would also be supported through Energy Skills Queensland's pilot program 'The Future is Cyber'.
"Recognising that one-in-four jobs of the future will have an ICT skill requirement, Energy Skills Queensland will assist young people and in particular, provide additional support and connection to people with Autism Spectrum Disorder (ASD) to unlock their potential," Minister Farmer said.
David Cross, CEO Energy Skills Queensland said the funding recognised the critical role digital skills will play in the workforce of the future.
"This pilot program will enable Energy Skills Queensland to provide community-based opportunities and an exciting pathway for disadvantaged jobseekers," Mr Cross said.
"It is especially important for those who face social anxiety; those who traditionally find gaining employment more difficult than most. Individuals with ASD are repeatedly presented with significant barriers; their strengths often misunderstood, and too often perceived as weaknesses.
"The cybersecurity skill set training offers a chance for them to shine; unlocking talent and opportunities to assist local companies and their communities to become more digitally aware and resilient."
They join other groups awarded funding such as the Australian Red Cross, Balonne Shire Council, Bowen Gumlu Growers' Association, Cairns Chamber of Commerce, Queensland Council of Social Service, Queensland Hotels Association and Toowoomba and Surat Basin Enterprise who will be supported to pursue new programs and innovative ideas to address current workforce shortages across the state.
"Supporting industries to develop new ways to recruit and retain workers, including reaching out to young people, the long-term unemployed, First Nations people and people with disability, is an exciting prospect because each industry group knows where the opportunities and needs are across the state," Minister Farmer said.
Through the Growing Workforce Participation Fund the Queensland Government is supporting employers as well as a range of jobseekers across the state.
The Fund was launched at the Queensland Workforce Summit in March this year.
For further information visit: https://backtowork.initiatives.qld.gov.au/growing-workforce-participation-fund/
ENDS
Media contact: Emma Renwick 0456 604 189