Cbus Stadium gets the big picture
Published Thursday, 14 July, 2022 at 12:30 PM
Minister for Tourism, Innovation and Sport and Minister Assisting the Premier on Olympics and Paralympics Sport and Engagement
The Honourable Stirling Hinchliffe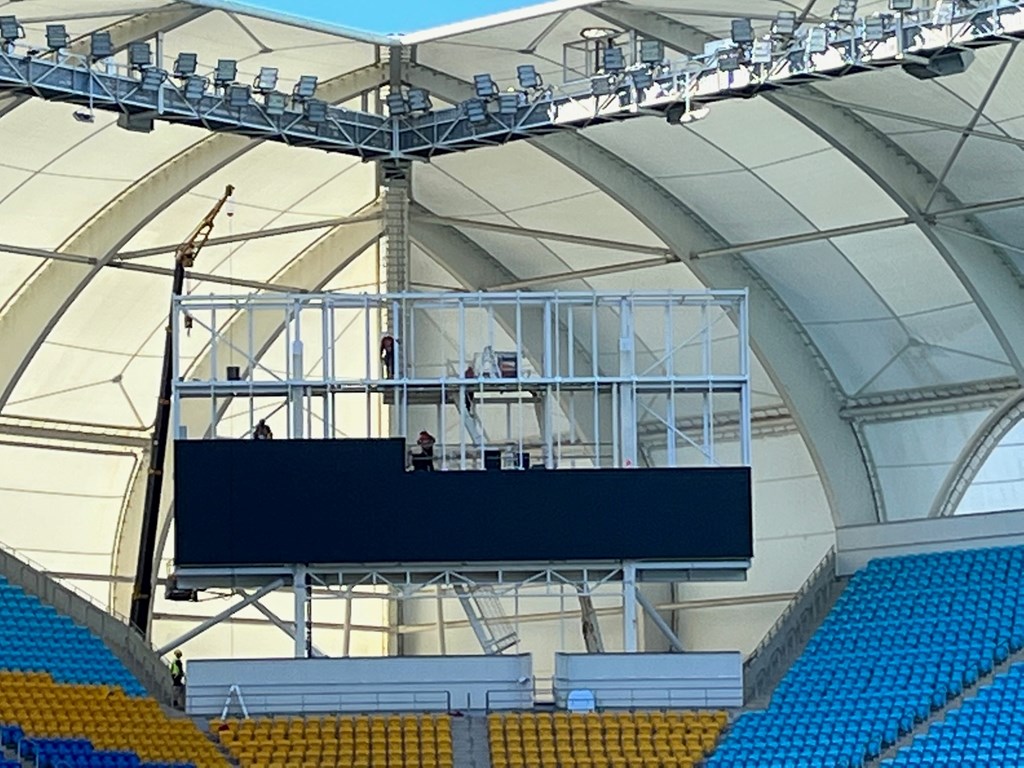 New 175m2 jumbo screen at Cbus Super Stadium
Queensland Champions Cup spectators at Cbus Super Stadium tonight will be the first to witness the big picture with the delivery of a new jumbo-sized video screen.
Sport Minister Stirling Hinchliffe said at 175m2, the Gold Coast stadium's new LED screen was almost three times the size of the original.
"The jumbo screen is hooked up and ready to shine for tonight's first match of the Queensland Champions Cup, featuring the EPL's Leeds United," Mr Hinchliffe said.
"It will deliver a larger than life, high-definition experience for Cbus Super Stadium's action replays of the Leeds United and Brisbane Roar match.
"Cbus Super Stadium has installed the first of two new big screens two weeks early for the three-game Queensland Champions Cup, starting tonight on the Gold Coast.
"The screen's installation supported 20 jobs for South East Queensland tradies.
"Investing in the new screen infrastructure gives sporting codes and event promoters more big opportunities to inspire spectators.
"Up-sized screens at Cbus Stadium are part of the Palaszczuk Government's plan for delivering more significant sporting events on our green and gold runway to 2032."
Cbus Super Stadium's new 175m2 screen in the north eastern corner will consume less energy than the ageing 60m2 model it replaces.
A second 120m2 screen in Cbus Super Stadium's south west will be installed during October to reduce event disruption.
Cbus Super Stadium Manager Kristian Blundell said the installation of such a large piece of technology required careful planning.
"It's absolutely huge, in fact we're encouraging fans on social media to guess how many panels are in the screen, for the chance to win four tickets to an upcoming match," Mr Blundell said.
"It was quite the undertaking, we needed a 16-ton crane and a 14-ton mini crane to lift parts in safely, but we went from steel structure to screen within about three days."
The old screens and their steel framing will be recycled.
Time lapse video: https://www.dropbox.com/sh/pnz1pm9dvyyx01v/AABB0e261OgeP7Pq_BvuvZCLa?dl=0
Media: 0427 475 089