$75 million for CQ schools
Published Wednesday, 06 July, 2022 at 02:44 PM
Minister for Education, Minister for Industrial Relations and Minister for Racing
The Honourable Grace Grace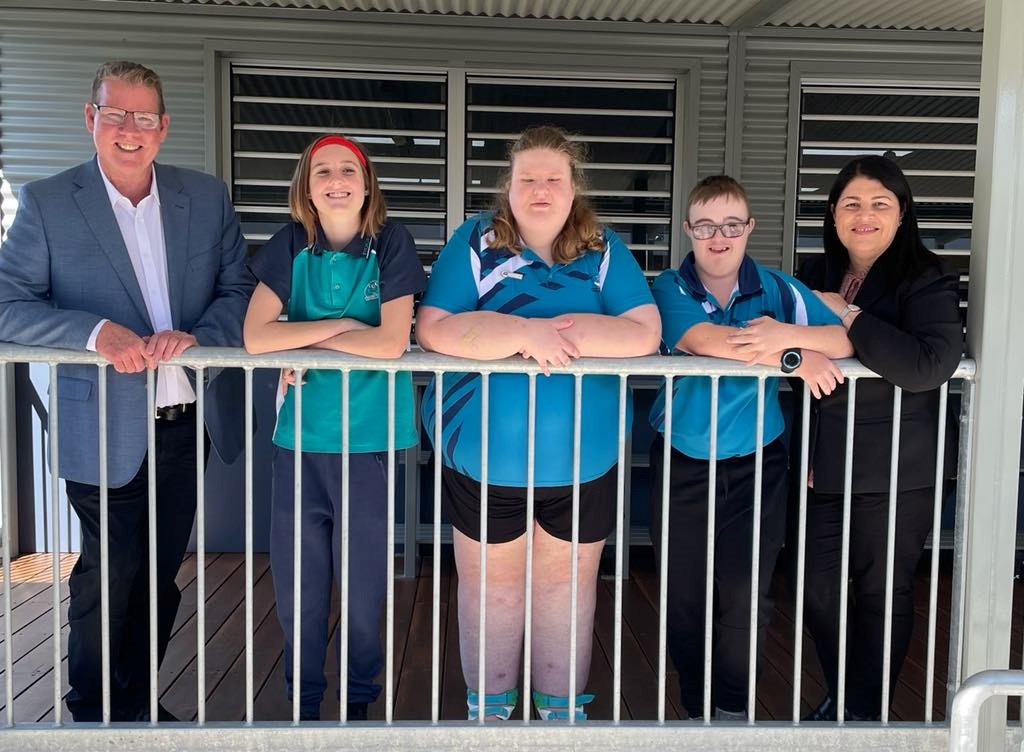 (L-R) Member for Rockhampton Barry O'Rourke, Rockhampton Special School student leaders Isabella Budarick, Kimberley Raatz & Matt Aitken, and Education Minister Grace Grace at Rockhampton Special School, where the Palaszczuk Government is investing $12 million in new classrooms and refurbished learning spaces.
More than $75.6 million will be invested in 2022/23 to maintain, improve, and upgrade schools across Central Queensland as part of the record breaking $16.5 billion education budget.
Education Minister Grace Grace today visited Rockhampton Special School with local member Barry O'Rourke, before visiting Keppel Sands State School.
Nearly $12 million will go to Rockhampton Special School for new classrooms and refurbished learning spaces, and $500,000 will build new specialist classrooms at Keppel Sands State School.
Education Minister Grace Grace said she was proud of the record education budget and what it delivered for Central Queensland.
"This budget is all about good jobs, better services, and enhancing our wonderful Queensland lifestyle," Ms Grace said.
"Budgets are about values, and with our record-breaking investment we're showing just how much we value the education of our young Queenslanders.
"I know these upgrades are going to make a huge difference for the teachers and students.
"They're part of a $2 billion investment in education infrastructure this year alone, supporting 4,200 jobs across Queensland."
Member for Rockhampton, Barry O'Rourke, said he was delighted with the investment in Rockhampton.
"The new two storey learning building at Rockhampton Special School is going to provide new classrooms and transform the school, and we are also refurbishing some existing classrooms," Mr O'Rourke said.
"The project will also include a redesign of the front of the school, including a new drop and go facility.
"These new facilities will support the school to accommodate significant growth, with enrolments rising from 60 to 80 over the last few years.
"It's not just the big-ticket projects that will make a difference. For example, we're investing $165,000 at Glenmore State High School and $110,000 at Waraburra State School for access and amenities for people with disability, which is going to have a big impact."
Rockhampton State Special School Principal Erin King said the school community welcomed the investment in its facilities.
"These new facilities will support our growing school community and help us to continue our focus on providing quality education for our students," Ms King said.
"We are always working to provide equity in education and to ensure our students reach their full potential.
"As an older school, this investment will give our facilities a very welcome refresh and upgrade."
While at Rockhampton Special School Minister Grace also discussed the major changes to the disability resourcing model for state schools to be phased in over 2023 and 2024 which includes dedicated extra support for an extra 30,000 students with disability; a focus on Prep students to give them a great start; a new Extensive Plus resourcing category for students with the most intensive needs; and an easier, streamlined, single process for families without the need for additional medical or specialist reports.
Assistant Minister for Education and Member for Keppel Brittany Lauga said the new specialist classrooms at Keppel Sands State School were warmly welcomed by the principal.
"It's a great part of my job to be able to call up schools and let them know what investment is coming their way, and Principal Conway was very excited to hear about these new classrooms!
"The upgrade and extension of the tuckshop will include a commercial kitchen, which is great news for the home economics students."
Minister Grace said there were other new and ongoing investments across Central Queensland.
"Mount Morgan SHS will get $200,000 to start the planning and design work for new administration spaces, while Bouldercombe State School will get $300,000 to resurface two multi-purpose courts.
"Further west, there's nearly $10 million for new classrooms at Emerald State High School, $1.7 million for new classrooms and upgrades at Springsure State School, $600,000 for new shade structures at Emerald North State School, and $440,000 for new covered multipurpose courts at Denison State School.
"We are also continuing to fund projects that have already been announced, including $10.5 million for new classrooms at Yeppoon State High School and $6.6 million for administration upgrades at Parkhurst State School, as well as a new hall at The Hall State School, training facilities at Rockhampton State High School, and upgrades at Capella and Emerald State Schools."
Crescent Lagoon State School and Berserker Street State School will both benefit from the $5.6 million in the budget to support the ARTIE Academy Program.
All state students in the region will also benefit from other education budget announcements including:
675 extra teachers and nearly 200 extra teacher aides in 2022-23 as part of an ongoing commitment to employ more than 6,100 new teachers and 1,100 teacher aides
$20 million for playground and tuckshop upgrades
The $100 million, four-year Go for Gold Fund for new and upgraded sports infrastructure for schools across the state
$80.6 million to support schools to transition to a new resourcing model for students with disability
$15.5 million for respectful relationships education
$13.3 million to expand the partnership with Queensland-based charity Share the Dignity, giving all state schools the opportunity to install a vending machine that provides free period products
Additional funding as part of the government's kindergarten funding reform package worth more than $1 billion over the next five years
ENDS
Media contact: Kate Talbot, 0439 803 211