Queensland's rail revolution on track
Published Sunday, 19 June, 2022 at 02:46 PM
JOINT STATEMENT
Treasurer and Minister for Trade and Investment
The Honourable Cameron Dick
Minister for Transport and Main Roads
The Honourable Mark Bailey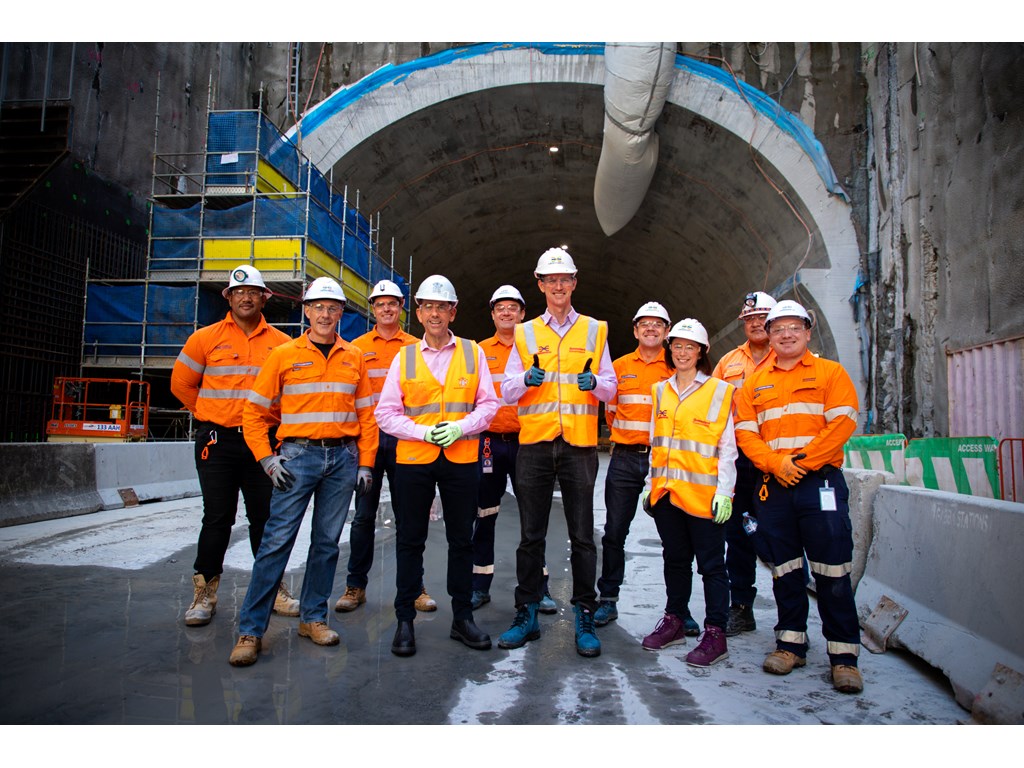 Queensland Treasurer Cameron Dick and Transport Minister Mark Bailey with Cross River Rail workers at the Woolloongabba station site.
In 2022, the Palaszczuk Government's rail revolution is on track, with this year's budget delivering a $3.5 billion pipeline of new rail projects, over and above Cross River Rail, as Queensland's population booms.
Treasurer and Minister for Trade and Investment Cameron Dick said the Palaszczuk Government's rail revolution will support more than 5000 jobs and deliver better services for Queenslanders.
"Investing in rail gets Queenslanders to work sooner, and it gets them back home to their family sooner as well," the Treasurer said.
"But by making trains here in Queensland, it also supports traditional manufacturing, and skilled jobs in the many small and medium businesses that are part of the supply chain.
"We want to see more of these skilled jobs here in Queensland, which is one of the reasons we recently finalised the purchase of the Rockhampton Railyards.
"That will enable us to encourage suppliers into the rail manufacturing supply chain to relocate to Queensland."
Transport and Main Roads Minister Mark Bailey said the $3.5 billion rail investment will transform transport, drive Queensland's future growth and support jobs.
"We're transforming transport in Queensland to support the massive population boom we are seeing, and rail is a big part of our future transport network," Mr Bailey said.
"Queenslanders know that our $5.4 billion investment in Cross River Rail is the Governments most significant single infrastructure investment.
"But this budget shows we are not just building a new underground line, with significant investments in freight and passenger services across our state we are transforming the network.
"This investment is headlined by projects like the Beerburrum to Nambour and Kuraby to Beenleigh track duplications, Gold Coast Light Rail stage three, station upgrades across all of Queensland, plus the manufacturing of 65 brand new trains in Maryborough.
"Bringing all of these projects together is the rollout of our brand new ETCS technology, a world leading program used across much of Europe, which will allow us to run more services, more often, all while improving safety," he said.
"That's why we've committed more than $500 million in this year's state budget for the installation of technology on the NGR trains that talk to the Cross River Rail Platform Screen doors and the ETCS fitment program, to further expand its rollout across the network."
Mr Bailey said while there are billions of dollars in new funding for major rail projects, the transformation of the network was well underway with the first train tracks now laid in Cross River Rail's tunnels.
"We finished the 5.9km twin-tunnels on Cross River Rail last year, and now we are building the underground stations and laying the tracks," he said.
"In really exciting news for Queenslanders, the first 50 metres of track has now been laid from just south of the future Albert Street station back towards the future Woolloongabba station."
Mr Bailey said the budget delivers further upgrades to Queensland train rollingstock.
"Cross River Rail will have automatic doors at our underground stations, similar to what people may have experienced in Singapore and Tokyo, which will improve safety, temperature control and ease of exiting and entering trains," he said.
"But these automatic doors also mean we need the trains to stop with absolute precision at our underground stations, and the only way to do this is through our digital technology rollout.
"That's why we've committed more than $500 million dollars in the budget towards a further upgrade to the New Generation Rollingstock program which will allow these trains to work with the automatic doors at our underground stations.
"The unfortunate reality is, we are still cleaning up the mess made by the Newman Government which ordered overseas made, non-compliant trains, and fitting them with the right technology to operate on the network is critical for safety.
"ETCS signalling and technology also allows us to safely run trains a lot closer together across the network, meaning we can deliver more services, more often, and reduce travel times and delays, all while improving safety."
Mr Bailey said the level of rail funding in the budget was a reflection of the Palaszczuk Government's commitment to deliver for Queensland despite market pressures.
"It's no secret construction costs have been skyrocketing over the last two years during the pandemic," he said.
"The prices of concrete, steel and timber have all risen, while the labour market is red-hot due to the infrastructure boom going on across Queensland.
"This is not just a Queensland issue though, with every state in Australia and many countries globally facing the same challenges.
"Unlike other state and local governments, we aren't cutting projects, putting them on hold or descoping them – we know Queensland is growing like never before and that means we need to deliver the infrastructure to support that growth.
"The Palaszczuk Government is committed to delivering more infrastructure even in these challenging times for the construction sector."
The $3.5 billion worth of funding is contained in the Queensland budget forward estimates for new rail projects over the next four years, which includes many projects that will be delivered over the next decade.
Major projects:
The QTRIP 2022-23 to 2025-26 includes rail investments:
$924 million towards the $1.22 billion Gold Coast Light Rail Stage 3, Broadbeach South to Burleigh Heads (jointly funded by the Australian Government, Queensland Government and City of Gold Coast)
$876 million towards the $2.6 billion Logan and Gold Coast Faster Rail (Kuraby to Beenleigh) upgrade (jointly funded with the Australian Government)
$489 million towards the $550.8 million Beerburrum to Nambour Rail Upgrade Stage 1 (jointly funded with the Australian Government)
$265 million towards the $374.1 million New Generation Rollingstock, European Train Control System fitment, install new signalling
$261 million towards the $275.7 million New Generation Rollingstock, Automatic Train Operations and Platform Screen Doors interface
$263 million towards the New Generation Rollingstock program
$212 million towards the $600 million Queensland Train Manufacturing Program which forms part of $7.1 billion to boost the state's train manufacturing industry and build and operate 65 trains
$107 million towards the $120 million commitment for the construction of three new Gold Coast railway stations at Pimpama, Hope Island and Merrimac. Project cost and timing subject to further planning
$92.5 million towards the $95.1 million Loganlea train station relocation (jointly funded with the Australian Government)
$30 million Loganlea train station park 'n' ride upgrade (jointly funded with the Australian Government)
$4.8 million towards the $6 million commitment to Beerwah and Maroochydore rail extension planning
ENDS
Media contacts:
Geoff Breusch 0417 272 875 (Treasurer)
Joe Ogilvie 0423 184 412 (Minister Bailey)