Budget boost to help secure Queensland's biomedical manufacturing
Published Thursday, 16 June, 2022 at 11:46 AM
Treasurer and Minister for Trade and Investment
The Honourable Cameron Dick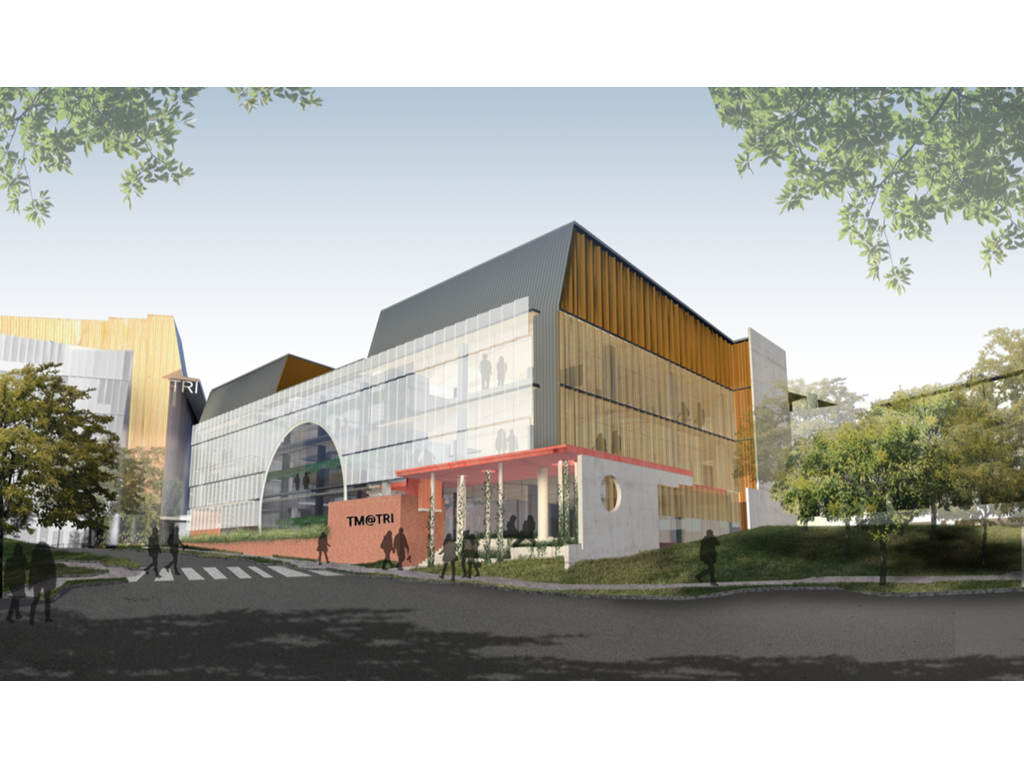 Artist impression of the planned TRI Translational Manufacturing facility.
The Palaszczuk Government will invest an additional $35.5 million to support the development of a locally-based vaccine manufacturing industry in Queensland, through the world-leading Translational Research Institute.
Treasurer and Minister for Trade and Investment Cameron Dick said the new investment meant Queensland would be contributing three-quarters of the $80 million cost of the TRI's Translational Manufacturing facility.
"COVID-19 taught us many lessons, but among the most important was the need for Queensland to have as much of our own sovereign manufacturing capability as possible," the Treasurer said.
"This is especially true when it comes to the production of vaccines and other medical treatments.
"The Translational Manufacturing facility at the Translational Research Institute (TM@TRI) would give Queensland researchers and biomedical companies the capacity to more easily achieve the production quantities they need for clinical trials.
"This is one of they key steps in taking new medical treatments from benchtop to bedside."
The Treasurer said funding in the 2022-23 Budget builds on last year's initial announcement under the $3.34 billion Queensland Jobs Fund.
"Queensland researchers have been behind some of most important medical breakthroughs we've seen," he said.
"Look no further than TRI's own Professor Ian Frazer and the lives he has changed around the world with Gardasil.
"Our government has recognised the importance of ensuring Queensland ideas and knowhow get turned into commercial products in Queensland.
"That's why we backed Vaxxas, another TRI success story, to ensure their manufacturing facility will be here and not overseas.
"Building on Queensland's strengths from early-stage research to our internationally recognised clinical trials capabilities, TM@TRI will support Queensland's growing pipeline of startups."
"We are providing an avenue for the pipeline of innovative biomedical products in development to be manufactured locally, retaining local companies and talent as well as attracting new companies looking to set up in the Asia-Pacific region."
TRI CEO Professor Scott Bell said the state government's announcement would see the manufacturing facility become a reality.
"Last year the Queensland Government announced $20 million towards this facility," Professor Bell said.
"That put us within striking distance of building Queensland's first agile and multifunctional scale-up manufacturing facility capable of producing a broad range of vaccines and medical products
"With today's announcement, this facility is now fully funded.
"The state government is shoring up Queensland's sovereign manufacturing capabilities, and in particular our ability to develop new vaccines and medical treatments locally."
TRI estimates the facility could support up to 500 industry jobs over 10 years and provide hands-on training in clean room processes and advanced manufacturing to build a job-ready biomedical workforce for Queensland's future.
Backed by The University of Queensland, the Queensland University of Technology and Mater Medical Research Institute, this is a leading example of university, government and industry working together to make innovative medical technology a reality.
The project aligns with the government's Queensland Biomedical 10-Year Roadmap and Action Plan to make Queensland a globally competitive Asia-Pacific biomedical hub.
ENDS
Media contact: Geoff Breusch 0417 272 875