Gkuthaarn and Kukatj people's place to call home
Published Wednesday, 15 June, 2022 at 02:11 PM
Minister for Resources
The Honourable Scott Stewart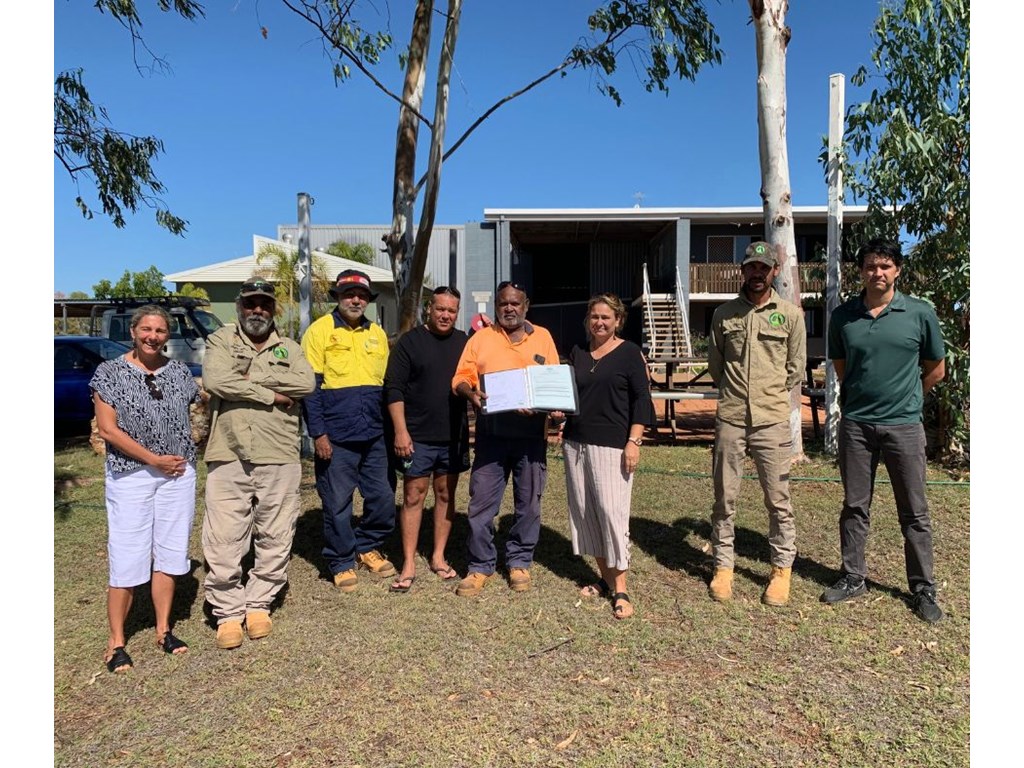 Kylie Eddie (Department of Resources), Paul Richardson, Lawrence George, Clayton Snow, Desmond Callopie, Leanne Edwards, Linton George, all from the RNTBC, and Mark Langford (Department of Resources) at the land handover ceremony.
The Gkuthaarn and Kukatj people will own their own country forever following a small, but significant ceremony in Normanton in the Gulf of Carpentaria yesterday.
The Traditional Owners received title deeds and freehold ownership of 155 hectares of land on Normanton's outskirts: part of the 16,000 square kilometres of land where they already hold native title.
Gkuthaarn woman Leanne Edwards said the Gkuthaarn and Kukatj people were progressively seeking freehold title to areas within their traditional lands, potentially to use for housing, and future economic development.
Ms Edwards' family, including the families of her two adult daughters, are now residing on one of the first parcels of Aboriginal land transferred last year.
"Having our native title recognised in 2020 gave us the opportunity to care for and sustainably manage country for the future," she said.
"Gaining freehold title means we can now own and live on the lands of our forefathers.
"It was a very emotional time when my family moved in to live on our traditional lands.
"I felt very proud, and humbled, because along the way we have lost many of our Elders who started this."
Ms Edwards said home ownership opportunities would be "a very big thing" for local Gkuthaarn and Kukatj families, who mainly live in rental accommodation, and could potentially draw back families who had moved to larger centres from Normanton.
The handover was made under Queensland's own land rights legislation – the Aboriginal Land Act.
Minister for Resources Scott Stewart said the Gkuthaarn and Kukatj people now hold the land as inalienable freehold title, which means it can't be sold and is held forever for future generations.
"These land transfers demonstrate the Palaszczuk Government's ongoing commitment to recognising the rights, history and culture of our First Nations peoples and the deep connection they continue to hold to the land and to their ancestors," Mr Stewart said.
"Ownership of this land gives the Gkuthaarn and Kukatj people the ability to manage the environmental and cultural values of the land while providing economic opportunities for present and future generations."
Aboriginal and Torres Strait Islander Partnerships Minister Craig Crawford said this was a significant milestone for Gkuthaarn and Kukatj people.
"Land transfers are an important step on the path to truth-telling, healing and true reconciliation," Mr Crawford said.
"Our government is proud to work alongside First Nations people who continue to hold deep connection to country after more than 60,000 years."
The Gkuthaarn and Kukatj people's native title was formally recognised by the Federal Court in September 2020, at the height of the COVID-19 pandemic.
The area covered includes lands west of the Norman River including Normanton as far as the Leichhardt River.
ENDS
Media contact:
Ruby Wallace 0415 476 743