Eight new Queensland Greats in 2022
Published Monday, 06 June, 2022 at 09:11 PM
Premier and Minister for the Olympics
The Honourable Annastacia Palaszczuk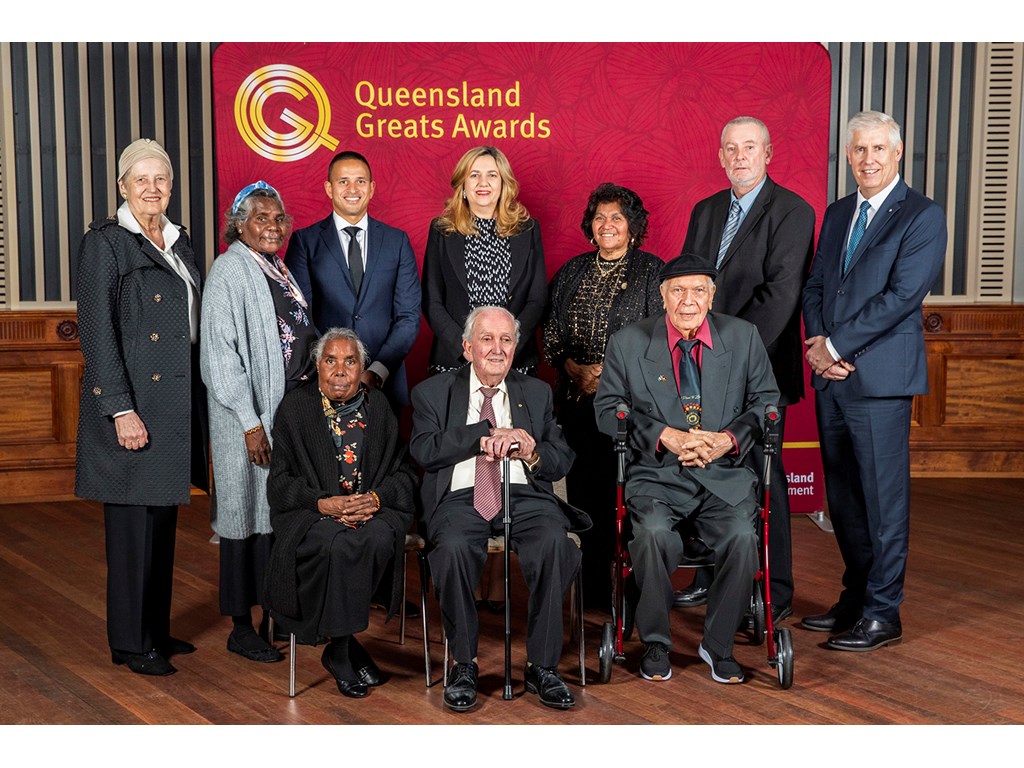 Seven remarkable individuals and the state's 160-year-old museum network have joined the illustrious ranks of Queensland Greats, honoured for their social, scientific, health, environmental and cultural contributions to Queensland.
Presenting the 22nd Queensland Greats Awards at Brisbane City Hall, Premier Annastacia Palaszczuk paid tribute to their achievements, advocacy, creativity, and community spirit.
The 2022 Queensland Greats are:
Queensland Elder Uncle Albert Holt
Cricketer and youth and multicultural advocate Usman Khawaja
Burns treatment pioneer Emeritus Professor Dr Stuart Pegg AM
Trailblazing engineer Else Shepherd AM
First Nations health and human rights advocate Professor Gracelyn Smallwood AM
Koala conservationist Professor Peter Timms
Queensland artist, the late Mirdidingkingathi Juwarnda Sally Gabori
Natural and cultural history institution Queensland Museum Network
"I'm proud to acknowledge the inspiring lives of these great Queenslanders," the Premier said.
"They have improved indigenous education and justice, used sporting prominence to assist young migrants, pioneered burns management, and had extraordinarily productive technical careers.
"They've advocated for better health for our First Nations Queenslanders, made landmark scientific contributions to wildlife protection, impressed the world with local indigenous art and curated our state's scientific and cultural history.
"Their contributions to health and research, science and technologies, the arts and education have provided pathways for disadvantaged communities, and pioneered life-changing developments."
123 individuals and 18 institutions have now been honoured as Queensland Greats since the awards began in 2001 and are honoured with a commemorative plaque at Roma Street Parkland.
"I thank all of our 2022 Queensland Greats for their outstanding commitment to a better Queensland," the Premier said.
"I also encourage people to think about other individuals and organisations to nominate for next year."
For more about the 2022 Queensland Greats Awards recipients and to submit a nomination for the 2023 Awards visit www.qld.gov.au/qldgreats
Nominations close Monday 31 January 2023, with recipients announced as part of next year's Queensland Day celebrations.
ENDS
Media contact: Chris O'Brien 0419 774 004
Uncle Albert Holt Queensland Elder
Born in 1936 on Barambah Mission, now known as Cherbourg, Uncle Albert Holt heralds from the Bidjara Nation of Queensland. He was the first Senior Indigenous Queensland Police Liaison Officer, joining the force in 1995, and most notably helped establish the Queensland Murri courts in 2006, advising magistrates on cultural issues, assisting defendants to understand the court processes and accessing Elders to support and rehabilitate Indigenous offenders. His contribution to education is also significant, having founded Hymba Yumba Independent School, an institution deeply committed to the traditions of Indigenous culture, spirituality and identity. For two decades, he lobbied for Queensland schools to be more inclusive and transparent of a shared and unafraid Aboriginal history in the curriculum. He was pivotal in the establishment of the Inala Indigenous Health Service which works towards closing the health and wellbeing gap in one of Australia's highest populated First Nations metropolitan communities. Uncle Albert Holt has blazed a formidable trail advocating for community justice, health and higher education of race, gender, class equality, enriching lives for all Queenslanders.
Usman Khawaja Cricketer and youth and multicultural advocate
Usman Khawaja was born in Pakistan and emigrated to Australia with his family at the age of five. Prior to moving to Queensland in 2012, Khawaja made his first-class cricket debut for New South Wales before playing his first international match for Australia, becoming the first Muslim and first Australian of Pakistani origin to represent the country in cricket. He has led the Queensland Cricket team to many victories since his appointment as Captain in 2015, and is well-known for his class, maturity and respect both on and off the field. He founded The Usman Khawaja Foundation, which runs programs that assist youth from refugee, immigrant, Indigenous, rural, remote and low-socio economic backgrounds, through introductory cricket and educational-support programs. The Foundation provides pathways to set these young Australians on the road to fulfilling their aspirations and plays an important role in Australia's future.
Emeritus Professor Dr Stuart Pegg AM Burns treatment pioneer
Emeritus Professor Dr Stuart Pegg is a pioneer of burns management and has been widely recognised for his achievements in developing and providing life-saving treatment for critically ill burns patients. During his career, he was a constant advocate for burns patients and better training and facilities for staff. In the 1960s Dr Pegg travelled to leading burns centres around the world to gather information to return home and treat patients in Queensland. In a time when women were actively discouraged from entering the surgical field, he fostered and fought for equal opportunity allocations for female resident doctors into surgical specialities. In 1977 he was appointed Director of Surgery at the Adult Burns Unit of the Royal Brisbane and Women's Hospital which was later named The Professor Stuart Pegg Adult Burns Centre. The exemplary and inspirational qualities demonstrated by Dr Pegg include leadership and mentorship, humility, innate kindness and the deepest compassion.
Else Shepherd AM Trailblazing engineer
Else Shepherd was one of the first women to graduate in Electrical Engineering in Queensland. During her career she has fought for opportunities for the full participation of women in the engineering profession. She chaired Powerlink Queensland for 17 years and has been Chairman or Director of a number of organisations over her career. She is an Honorary Fellow of Engineers Australia, a Fellow of the Academy of Technology and Engineering and is a Member of the Order of Australia. As a role model for future Science, Technology, Engineering and Maths professionals and leaders, she breaks unconscious bias that can hinder motivation to have a successful career in STEM. Her story highlights her technical and leadership strengths as well as her persistence and resilience, inspiring the next generation of engineers and leaders. She also has a degree in conducting and has played a significant role in the development of community music opportunities in Queensland.
Professor Gracelyn Smallwood AM First Nations health and human rights advocate
Professor Gracelyn Smallwood is a Bindal, Birrigubba, Kalkadoon and South Sea Islander woman living in Townsville, regarded as one of the most prominent First Nations health and justice experts in Australia. She is a published author, an internationally renowned health and human rights advocate and a former consultant for the World Health Organisation. She has been involved in the Rights of Aboriginal peoples and Torres Strait Islander peoples since 1968 and is known for providing continued assistance, even at a personal expense, to many Indigenous families and children. After growing up in North Queensland in an era with few options available for Aboriginal girls, Professor Smallwood became a registered nurse and midwife, delivering care in communities across Queensland and remote Australia for 50 years. She became the first Indigenous Australian to receive a Masters of Science in Public Health at James Cook University for her groundbreaking work on HIV education in North Queensland Indigenous communities. She was involved in the development of the cultural curriculum for the School of Nursing at JCU. Professor Smallwood has been awarded with several accolades including Queensland Aboriginal of the Year in 1986; Member of the Order of Australia in 1992, and National NAIDOC Person of the Year in 2014.
Professor Peter Timms Koala conservationist
Professor Peter Timms has made landmark scientific contributions related to the major infectious disease threats to koalas, including Chlamydia and Koala Retrovirus, where he is recognised as the leading research authority. Professor Timms is leading the race to develop vaccines to safeguard this Australian icon from extinction—championing the underpinning science, its trialling and translation, and giving further to Queensland by supervising PhD students, mentoring early career researchers and working with numerous local koala carer/rescue groups. Professor Timms is passionate about koala science and advocates this regularly through his community engagement.
Mirdidingkingathi Juwarnda Sally Gabori Queensland artist
Mirdidingkingathi Juwarnda Sally Gabori (circa 1924-2015) was born on Bentinck Island in the Gulf of Carpentaria off the coast of far north Queensland. She was a celebrated contemporary Queensland Indigenous artist who made a significant international impact in the art world. She represented a living connection to the ancestry and geography of her people across an exceptional output of paintings, and left a legacy of culturally important paintings that are in the collections of national and international galleries, helping to inspire the next generation of Indigenous Australian artists. She was one of the last surviving keepers of Kaiadilt language, traditions, stories and culture. Her language name, Mirdidingkingathi, means 'born at Mirdidingki', her country on Bentinck Island, and Juwarnda means 'dolphin', her totem.
Queensland Museum Queensland's storyteller
Queensland Museum Network (QMN) is the storyteller of Queensland. The museums' scientists and curators collect, preserve and share the natural and cultural history stories of this state and contribute to the knowledge economy through ground-breaking research and discovery. Since 1862, QMN has also brought the world to Queensland through award-winning exhibitions, public programs and major events such as World Science Festival Brisbane. Its statewide network, outreach programs and digital platform break down barriers and connect communities, fostering a society inspired by knowledge and equipped to make informed decisions for the future.