$8.6m to revegetate, protect Brigalow Belt for koalas
Published Tuesday, 31 May, 2022 at 12:30 PM
Minister for the Environment and the Great Barrier Reef and Minister for Science and Youth Affairs
The Honourable Meaghan Scanlon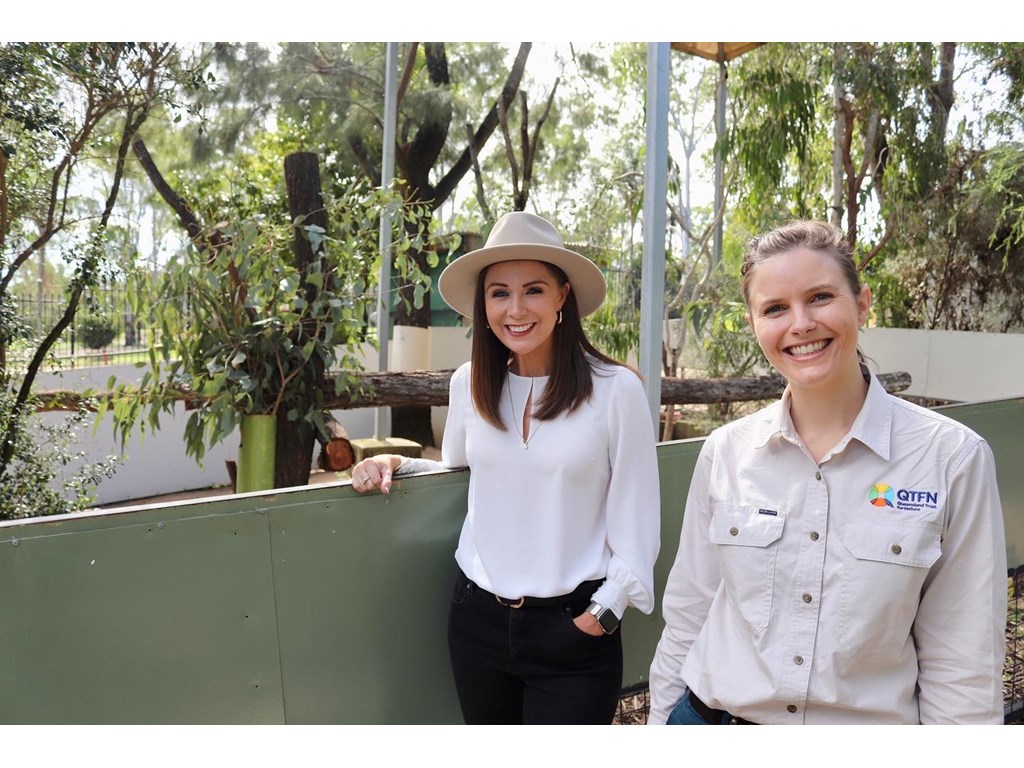 The Palaszczuk Government has announced an $8.6 million partnership with Queensland Trust for Nature (QTFN) to restore and protect key koala habitat in the vast northern Brigalow Belt, west of Rockhampton and Mackay.
Speaking in Rockhampton today, Environment Minister Meaghan Scanlon said the multi-million dollar investment would see previously-cleared land revegetated to create a self-sustaining forest with koala food and shelter trees, while important land management like fire, weed and feral pest treatment would be carried out on existing koala habitat.
It comes as the Minister also announced expressions of interest were open for projects in south east Queensland to share in a further $2.7 million through the government and QTFN's Koala Habitat Restoration Partnership Program.
"Protecting and restoring habitat is crucial in order for Queensland's native species to thrive – it's why we're investing $1.4 billion in the environment to expand and maintain our protected areas, for wildlife care and ongoing research," Minister Scanlon said.
"This most ambitious koala project this region has ever seen. And it adds to a swathe of initiatives aimed at protecting species like koalas, including the addition of more than 1.2 million hectares in Queensland to our protected area estate since 2015.
"With the funding now locked in, the Palaszczuk Government and QTFN will now be able to identify land for restoration and important land management so koala populations can thrive."
Minister Scanlon said in addition to ensuring positive environmental outcomes, the project would also help to drive the Palaszczuk Government's COVID-19 Economic Recovery Plan in the region with jobs to be supported in land management and revegetation.
QTFN is an independent, not-for-profit organisation focused on protection of Queensland's biodiversity and natural landscapes. It was created in 2004 through a Deed of Trust and seed funding grant of $5 million from the Queensland Government.
QTFN works across Queensland to develop innovative conservation projects and partnerships for environmental sustainability, and has protected more than 111,470 hectares of threatened species habitat.
QTFN CEO Dr Liz O'Brien said the organisation was proud to work with the Queensland Government to protect and restore the northern Brigalow Belt's koala habitat.
"Habitat conservation is key to the survival of this iconic Australian marsupial, and we want to support restoration efforts to increase habitat quality and connectivity.
"We are particularly pleased to be working in Brigalow country as it is an important region not only for koalas but also other threatened species such as the Poplar box and squatter pigeon.
"We look forward to working in partnership with land holders to help support delivery of outcomes from this project," Dr O'Brien said.
Minister Scanlon said more broadly great strides had been made to achieve positive conservation outcomes for koalas in Queensland.
"The South East Queensland Koala Conservation Strategy 2020-2025 annual report, released today (31 May), found implementation actions are well underway, with 32 of the 46 actions recommended by the independent Koala Expert Panel are already underway and three actions have been completed," Minister Scanlon said.
"One of the highlights of the strategy has been the introduction of the strongest protections for koala habitat that Queensland has ever seen, using state of the art mapping to measure its success.
"New koala habitat protections have increased both by size and level of protections for koala habitat areas across SEQ.
"Since the latest update in 2021 more than 714,040 hectares are mapped as koala habitat including more than 332,278 hectares within koala priority areas.
"The $2.7 million we've also announced today for south east project will restore more koala habitat and adds to the $2 million we've already invested in the Koala Habitat Restoration Partnership Program."
The South East Queensland Koala Conservation Strategy 2020-2025 annual report is available on the DES website at www.des.qld.gov.au
ENDS
Media contact: Francis Dela Cruz – 0420 592 078