Grant supporting Kowanyama to run community night patrols
Published Friday, 20 May, 2022 at 10:07 AM
Minister for Seniors and Disability Services and Minister for Aboriginal and Torres Strait Islander Partnerships
The Honourable Craig Crawford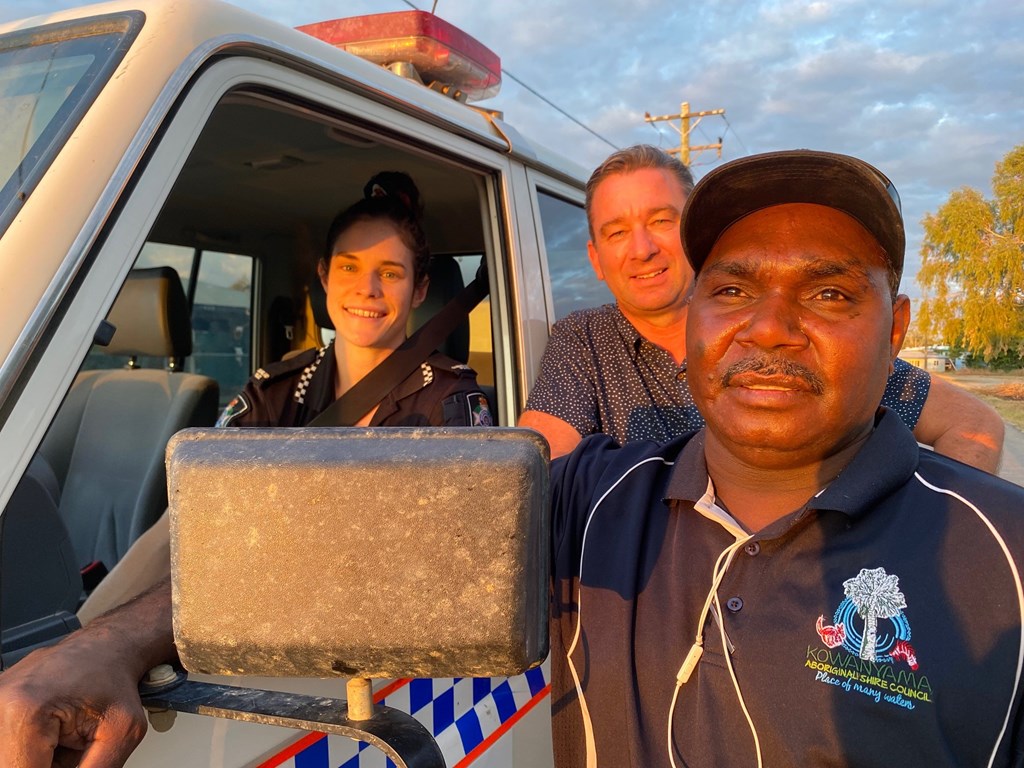 Police constable Emily Dunell, DATSIP Minister Craig Crawford and Kowanyama Councillor Jacob Josiah on community night patrol in the 1200-strong Western Cape York Aboriginal township.
New night patrols run by a community-led service are set to improve public safety in Kowanyama.
Aboriginal and Torres Strait Islander Partnerships Minister Craig Crawford this week visited the isolated Aboriginal township on western Cape York to announce a $165,000 grant for a 12-month pilot program.
"Council security officers will engage with at-risk people aged 15 years and over to build positive relationships and intervene early, diverting them to culturally safe activities and support services,'' Mr Crawford said.
"Kowanyama's established Community Police Program, which is currently self-funded by Council, has been a success and this investment allows it to expand into a standalone security enterprise that includes a community night patrol."
Mr Crawford said the program was one of several community safety initiatives developed by the Kowanyama community as part of Kowanyama Aboriginal Shire Council's Community Safety Plan.
"The new night patrol is one of those locally led initiatives, that will make the community safer by connecting people who are at risk with the supports they need, when they need it," he said.
"Community Safety Plans are developed in partnership with local leadership, and because that approach is embedded in every part of the process, they draw on local strengths to develop solutions and support local aspirations, to grow stronger, safer communities."
It will be delivered through the second round of the Palaszczuk Government-funded Social Reinvestment Grants.
Kowanyama Aboriginal Shire Council Mayor Robbie Sands said the social reinvestment grant would build upon the safety and wellbeing programs currently on offer within Kowanyama.
"The investment ensures a community led approach to economic participation through a business incubation framework," Mayor Sands said.
"The Kowanyama Aboriginal Shire Council appreciates the ongoing partnership with the Department and looks forward to continuing to improve community safety."
Member for Cook Cynthia Lui said the funding will make a difference to people's lives and make the Kowanyama community stronger.
"Investing in initiatives that are led by communities and designed to meet community needs, leads to improved social and economic outcomes, which in turn reduces demand on government funded services," she said.
"That means funding can be redirected into initiatives that support local aspirations, supporting communities to truly thrive."
Minister for Police and Corrective Services and Minister for Fire and Emergency Services and Ministerial Champion for Kowanyama, Mark Ryan MP, said the funding was delivering on the Palaszczuk Government's commitment to a new way of working with Aboriginal and Torres Strait Islander peoples and communities.
"Council security officers will work in close partnership with the Queensland Police Service to target the service to times and locations where they're most needed, and will receive training in de-escalation techniques," he said.
"By working in partnership with the Kowanyama Aboriginal Shire Council and the Kowanyama community, together we are strengthening local leadership and delivering positive change on Queensland's path to reconciliation."
Department of Seniors, Disability Services and Aboriginal and Torres Strait Islander Partnerships' Social Reinvestment Grants are under the Local Thriving Communities reform to enable local community decision-making in Aboriginal and Torres Strait Islander communities in Queensland.
For more information visit www.qld.gov.au/thriving
ENDS

Media contact: Peter Michael 0477 948 091