Cairns hosts LGBTIQ+ Seniors Expo
Published Thursday, 19 May, 2022 at 12:49 PM
Minister for Seniors and Disability Services and Minister for Aboriginal and Torres Strait Islander Partnerships
The Honourable Craig Crawford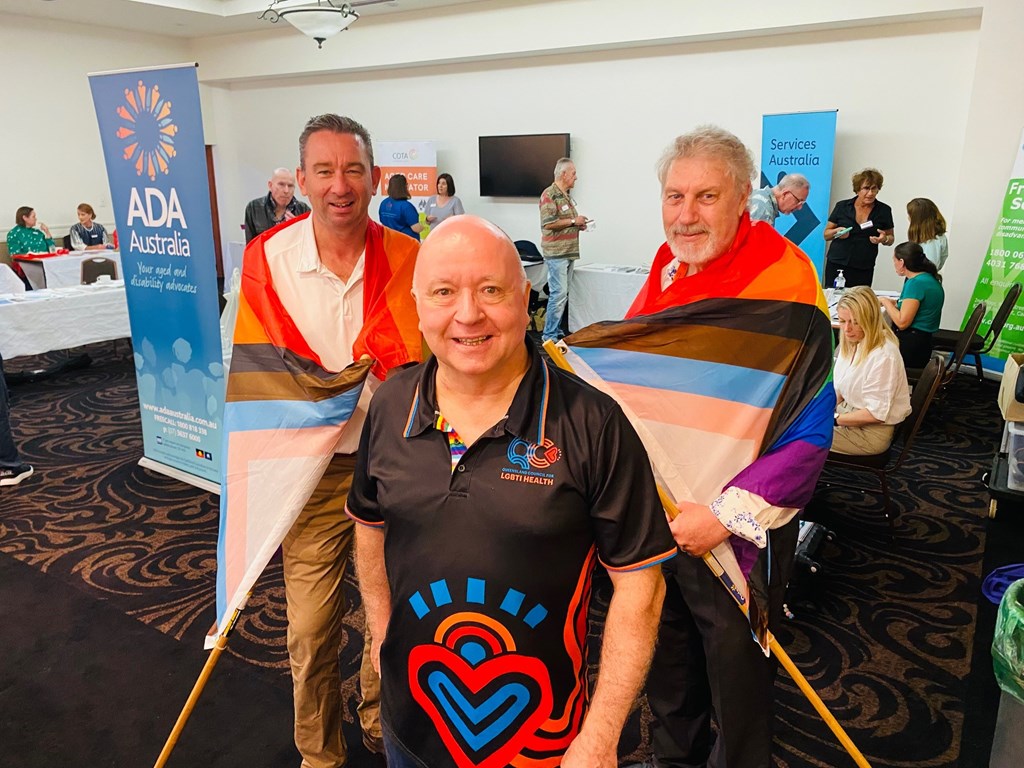 Seniors Minister Craig Crawford, LGBTI Health's Gary Hubble and Council on The Ageing chief executive Mark Tucker-Evans fly the flag at the LGBTIQ+ Seniors Expo in Cairns.
Queensland's first LGBTIQ+ Seniors Expo was today held in Cairns to help locals overcome discrimination and access cost-of-living discounts, healthcare, residential and support services.
Minister for Seniors Craig Crawford said it was important all Queensland seniors can access support and information to lead full and active lives, including older people who identify as LGBTIQ+.
"Many LGBTIQ+ seniors have faced significant discrimination and challenges accessing services over their lifetimes, including within healthcare, residential and support services - even within their own families," Barron River MP Mr Crawford said.
"That makes it all the more important that LGBTIQ+ seniors can access services they can be confident will respect them, their identities and their health needs, and nurture the important relationships in their lives.
"We want every Queenslander to have what they need to live full and active lives in their senior years, as valued members of the community."
Seniors Expos feature stalls from a range of Queensland Government agencies along with inclusive local services and community organisations who support and connect older Queenslanders.
"The Cairns LGBTIQ+ Seniors Expo builds on successful Seniors Expos held across the state, and we're proud to be holding it in Cairns," Mr Crawford said.
The next Seniors Expo will be held in Bundaberg on 1 June followed by the Capricornia Coast Seniors Expo in Yeppoon on 14 June.
"It's a chance for older Queenslanders, their families and support people, to learn about local inclusive services that respect and support their identity and experiences.
"It's also an opportunity for government to connect with seniors and hear more about their needs and aspirations.
"This will inform our state's next aging strategy and help build a more inclusive, age-friendly Queensland."
As well as providing more than $423 million in 2021-22 for important concessions and rebates for seniors and other members of the community, the Palaszczuk Government is also committing $4.9 million each year for elder abuse prevention, seniors legal and support services, financial protection advice and a scams and fraud protection service.
For more information visit https://www.qld.gov.au/seniors/legal-finance-concessions/seniors-expos
[ENDS]
Media contact: Peter Michael 0477 948 091