'Welcome' celebration of friendly battles
Published Monday, 09 May, 2022 at 03:00 PM
Minister for Tourism, Innovation and Sport and Minister Assisting the Premier on Olympics and Paralympics Sport and Engagement
The Honourable Stirling Hinchliffe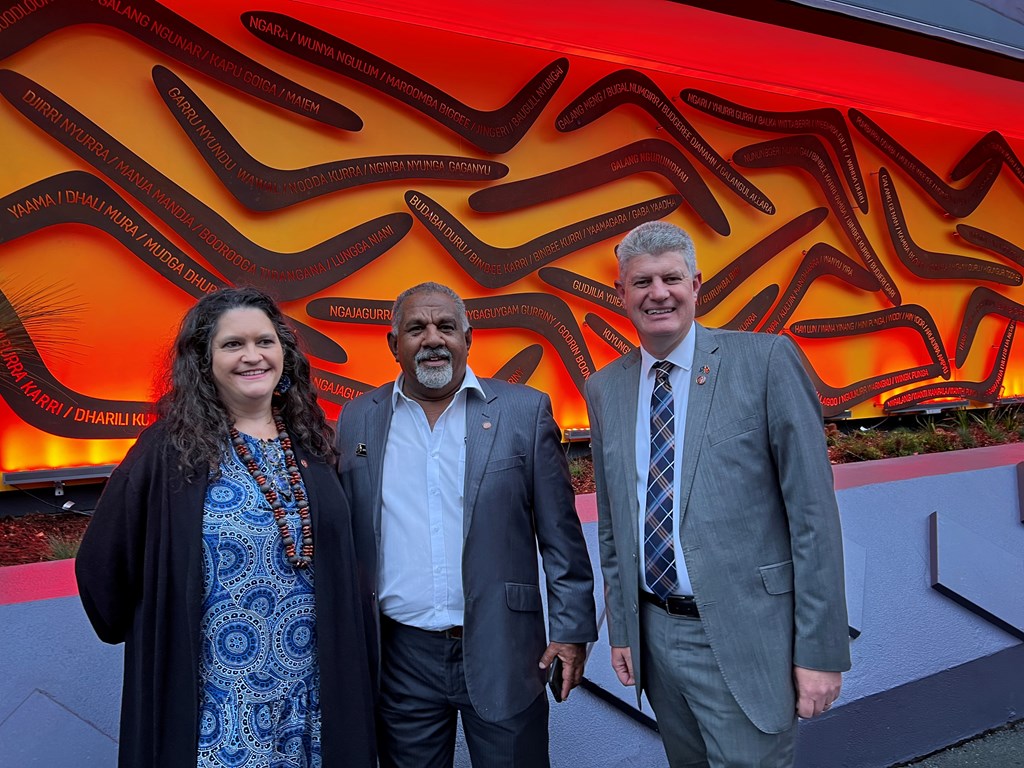 Sport Minister Stirling Hinchliffe with artist Dr Bianca Beetson and Adrian Coolwell in front of 'Welcome' at Suncorp Stadium.
Welcome, an Indigenous artwork recognising Suncorp Stadium's heritage as a gathering place for friendly battles has been unveiled ahead of this weekend's NRL Magic Round.
The artwork, featuring 25 laser-cut steel hunting boomerangs with welcome greetings in Aboriginal and Torres Strait Islander language dialects, was today unveiled at Suncorp Stadium's Gate F entrance.
At Welcome's unveiling, Sport Minister Stirling Hinchliffe said the Suncorp Stadium precinct and surrounding area had a long history as a meeting place.
"For more than 100 years, this place has brought together sporting spectators from far and wide," Mr Hinchliffe said.
"As Suncorp Stadium, this is a well-known gathering place for local, national and international sporting and entertainment events.
"It's believed this area was where Aboriginal clans from around South East Queensland met and were entertained with friendly displays of combat.
"Welcome - the artwork created by Dr Bianca Beetson – celebrates Suncorp Stadium as a contemporary gathering place.
"The artwork has been revealed ahead of this weekend's NRL Magic Round where 130,000 Queenslanders and visitors will gather for three days of friendly on-field battles."
Artist Dr Beetson is a Gubbi Gubbi/Kabi Kabi (Sunshine Coast) Waradjuri (NSW) woman and the niece of Queensland rugby league great Artie Beetson who is honoured with a bronze statue at the stadium's Caxton Street entrance.
Dr Beetson said Welcome's 25 boomerangs and Aboriginal and Torres Strait Islander greeting messages recognise Queenslanders' connection with Suncorp Stadium as a place where 'all mob feel welcome'.
"These words of greetings translate to 'G'day', 'Hello', 'Are you good?', 'Good morning', 'How are you?' and 'Welcome'," Dr Beetson said.
"What's important is acknowledging all mobs across Queensland."
Welcome is located at Suncorp Stadium's Gate F entry where it will be seen by spectators on game days and the wider community on non-event days.
Media: 0427 475 089.