More IT jobs on the Gold Coast as Westpac opens new hub
Published Thursday, 05 May, 2022 at 01:24 PM
Treasurer and Minister for Trade and Investment
The Honourable Cameron Dick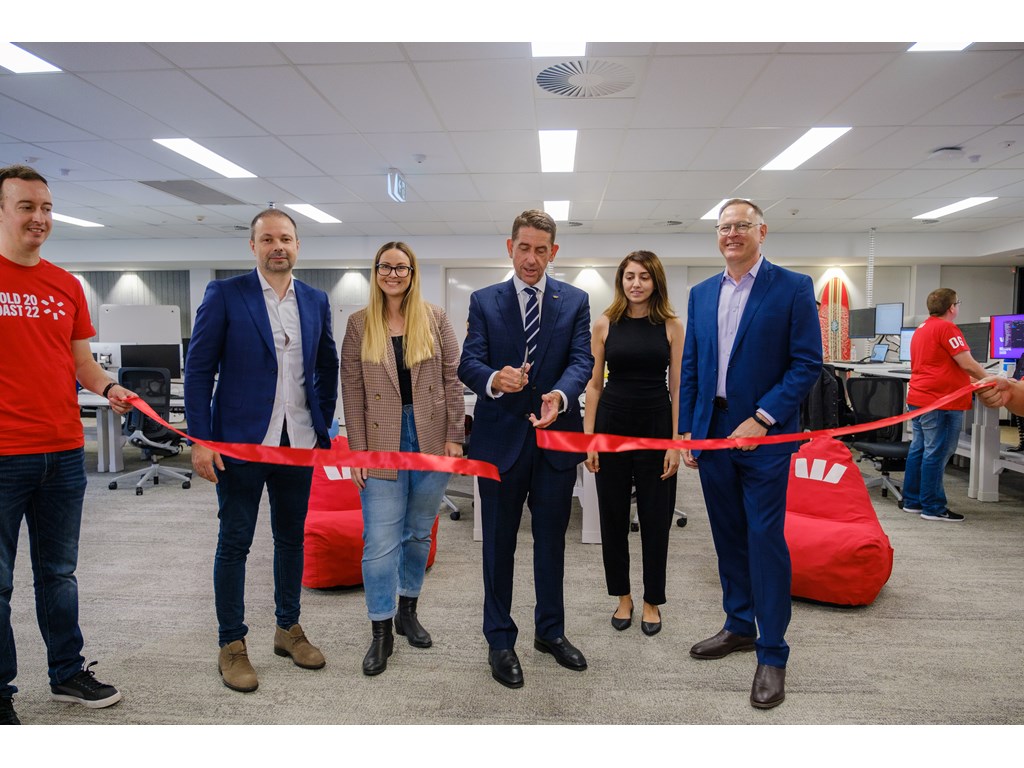 Queensland Treasurer Cameron Dick, Westpac Chief Executive Consumer & Business Banking Chris de Bruin and Westpac CIO Paul Bari with some of the Westpac team who will be working at the company's new Gold Coast hub.
The Gold Coast's legendary lifestyle and pool of talent have snared a big win, with Westpac opening a new multi-million dollar IT hub in the heart of Surfers Paradise, bringing with it 200 new jobs.
Officially opening the new facility, Treasurer and Minister for Trade and Investment, Cameron Dick said Westpac's decision to choose the Gold Coast was a glowing endorsement of the Palaszczuk Government's investment strategy.
"The last two years have shown us the importance of having a diversified economy," the Treasurer said.
"While most people recognise the Gold Coast for its beaches, theme parks and screen industry, today's announcement demonstrates there is so much more to our second largest city than just glitter.
"If there's any company that knows about investment decisions, it's Westpac.
"And at the heart of Westpac's decision to invest on the Gold Coast are two factors: the extraordinary lifestyle and the wealth of talent readily available.
Westpac Chief Executive Consumer & Business Banking Chris de Bruin said the Gold Coast offers great lifestyle benefits for people seeking a sea change.
"The Gold Coast is a globally connected city with one of the fastest-growing economies in Australia," Mr de Bruin said.
"The creation of the new tech hub in Surfers Paradise will enable us to expand our technology agenda and attract world-class talent, while also creating employment, training, and development opportunities in Queensland.
"The hub will focus on bringing together software engineers, technologists and data specialists who can work in partnership with our digital teams to make banking simpler and faster for our customers and bankers through new technologies.
"It also gives residents the opportunity to join a large-scale organisation and build a career in the banking sector."
Applicants can visit the Westpac careers page for details on how to apply.
ENDS
Media contact: Ben Doyle 0400 775 561