Land locked in to deliver more social and affordable housing in SEQ
Published Wednesday, 04 May, 2022 at 01:00 PM
JOINT STATEMENT
Treasurer and Minister for Trade and Investment
The Honourable Cameron Dick
Minister for Health and Ambulance Services
The Honourable Yvette D'Ath
Minister for Communities and Housing, Minister for Digital Economy and Minister for the Arts
The Honourable Leeanne Enoch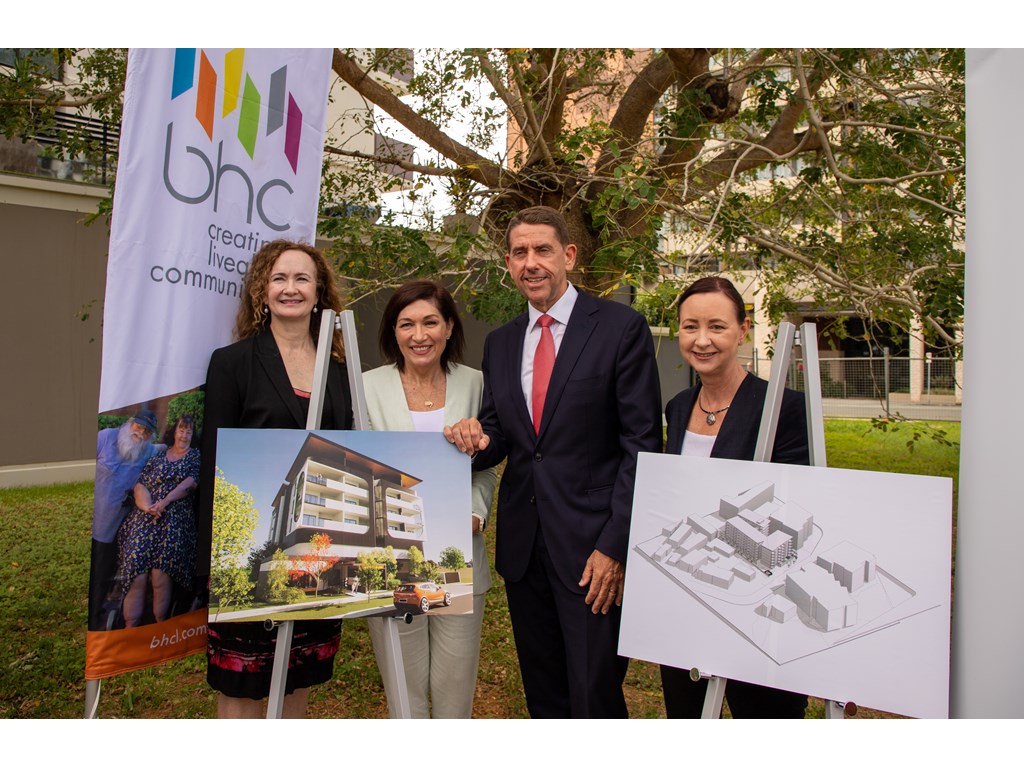 Treasurer Cameron Dick, Minister for Communities and Housing Leeanne Enoch, Member for Redcliffe and Minister for Health Yvette D'Ath and BHC CEO Rebecca Oelkers at the Sutton Street site, Redcliffe.
There will be 118 new social and affordable homes built on Brisbane's northside under the Palaszczuk Government's $1 billion Housing Investment Fund.
Treasurer and Minister for Trade and Investment Cameron Dick said the projects at Sutton Street, Redcliffe and Ethel Street, Chermside were part of the largest investment in social and affordable housing in Queensland's history.
"Having a roof over your head and a safe place to sleep is one of the most fundamental human needs," the Treasurer said.
"Our government is committed to delivering social and affordable housing through a range of fit-for-purpose initiatives, and the Housing Investment Fund is just the latest of these.
"This project at Redcliffe will comprise 84 single bedroom apartments in a combination of affordable and social housing.
"They'll be aimed at seniors and empty nesters looking to downsize, which is exactly the right market here on the peninsula.
"That will then free up more properties for larger families, increasing the benefit provided by the HIF," he said.
"These projects will also generate more construction jobs for our state, with the two builds to support a combined 128 jobs."
The Chermside development will offer a different mix to suit a different area, with 28 one-bedroom and six two-bedroom units.
"These developments at Redcliffe and Chermside are just the first of many that will be delivered under the HIF," the Treasurer said.
"And the HIF will keep delivering funding every year through its management by the Queensland Investment Corporation."
The Redcliffe development will start early works later this year, with tenants able to move in from September 2024.
Construction on the Chermside site will begin before the end of the year, with first tenants to move in by September 2023.
Minister for Communities and Housing Leeanne Enoch said the projects would be delivered by leading community housing provider BHC.
"BHC has a proven track record developing secure and affordable homes in Queensland for two decades," Ms Enoch said.
"Our strong working partnerships like this are vital for providing Queenslanders with more affordable housing options.
"The Palaszczuk Government is backing the largest concentrated investment in social housing in Queensland's history – $2.9 billion in funding, including $1.9 billion over four years for the new Queensland Housing Investment Growth Initiative (QHIGI).
"The Queensland Housing Investment Growth Initiative is a key component of the Action Plan and will deliver accelerated supply of 7400 social and affordable housing homes."
Member for Redcliffe and Minister for Health Yvette D'Ath said her local development will target seniors and downsizers.
"We're focused on delivering housing for Queenslanders who need it most," Ms D'Ath said.
"This affordable housing project will help hundreds of Queensland seniors, allowing them to maintain independence while reducing cost-of-living pressures.
"It will also benefit plenty of local families by creating strong, secure construction jobs here in Redcliffe.
"Today's announcement is the start of something truly positive for our community and state."
BHC Chief Executive Officer Rebecca Oelkers said the state government's support for these projects was crucial to bringing them to life.
"These new social and affordable homes will help to provide stability and hope for Queenslanders in housing need," Ms Oelkers said.
"BHC recognises the important investment made by the state government under the Housing Investment Fund, and we're proud of our partnership on these two developments."
Member for Stafford Jimmy Sullivan said building more affordable and social housing was an ongoing focus of the Palaszczuk Government.
"Locating developments like this in communities such as Chermside will help alleviate the housing supply pressures we're currently facing," Mr Sullivan said.
"Our government is committed to more housing and more jobs."
The Palaszczuk Government's Housing Investment Fund is a billion-dollar investment to increase social and affordable housing supply in Queensland.
Development proponents can register their interest to be part of the initiative via the Housing Investment Fund portal.
ENDS
Media contact: Ben Doyle 0400 775 561