Unveiled – mosaics 125 years in the making
Published Wednesday, 20 April, 2022 at 12:31 PM
Minister for Agricultural Industry Development and Fisheries and Minister for Rural Communities
The Honourable Mark Furner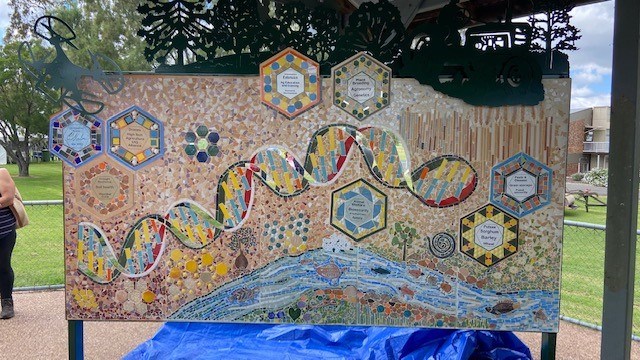 Queensland's oldest agricultural research facility has unveiled two mosaics celebrating its proud heritage of supporting science and the community for 125 years.
Minister for Agricultural Industry Development and Fisheries and Minister for Rural Communities Mark Furner said the mosaics were part of an upgrade to the visitor information hut at the Department of Agriculture and Fisheries' (DAF) Hermitage Research Facility at Warwick to celebrate the facility's 125th anniversary.
"The mosaics are part of a package, including mosaicked picnic chairs and tables crafted from Yangan sandstone, which has been designed to encourage visitors to learn about Hermitage's contribution to food production," Mr Furner said.
"This spectacular art installation is the result of a truly collaborative effort to capture the essence of how agricultural research, and traditional foods and food production systems have sustained people today and for the past 60,000 years.
"Local artist Chris Hulme has worked closely with Southern Downs Regional Council residents, councillors, past and present Hermitage staff, local Elders, and Indigenous students from Scots PCG College to craft these spectacular and inspiring pieces.
"These fabulous additions to Hermitage Research Facility have been made possible through a Regional Arts and Development Fund grant, the Queensland Alliance for Agriculture and Food Innovation, and DAF."
Hermitage Research Facility 125th Anniversary mosaics by the numbers:
1 exceptionally talented artist
2 tonnes of Yangan sandstone
3 community workshops
8 gifted Indigenous students
44 passionate community members
200 hours of creative endeavour
125 years of supporting science and the community
60,000 years of traditional food knowledge
2 stunning mosaics
Media contact: Fidelis Rego 0403 707 547
Images: https://www.dropbox.com/sh/atsj2i2wvqjen35/AADePAkzlurmvlWPkBS1k6URa?dl=0