Queensland tech shining in global COVID vaccination push
Published Tuesday, 12 April, 2022 at 12:12 PM
JOINT STATEMENT
Treasurer and Minister for Trade and Investment
The Honourable Cameron Dick
Minister for Education, Minister for Industrial Relations and Minister for Racing
The Honourable Grace Grace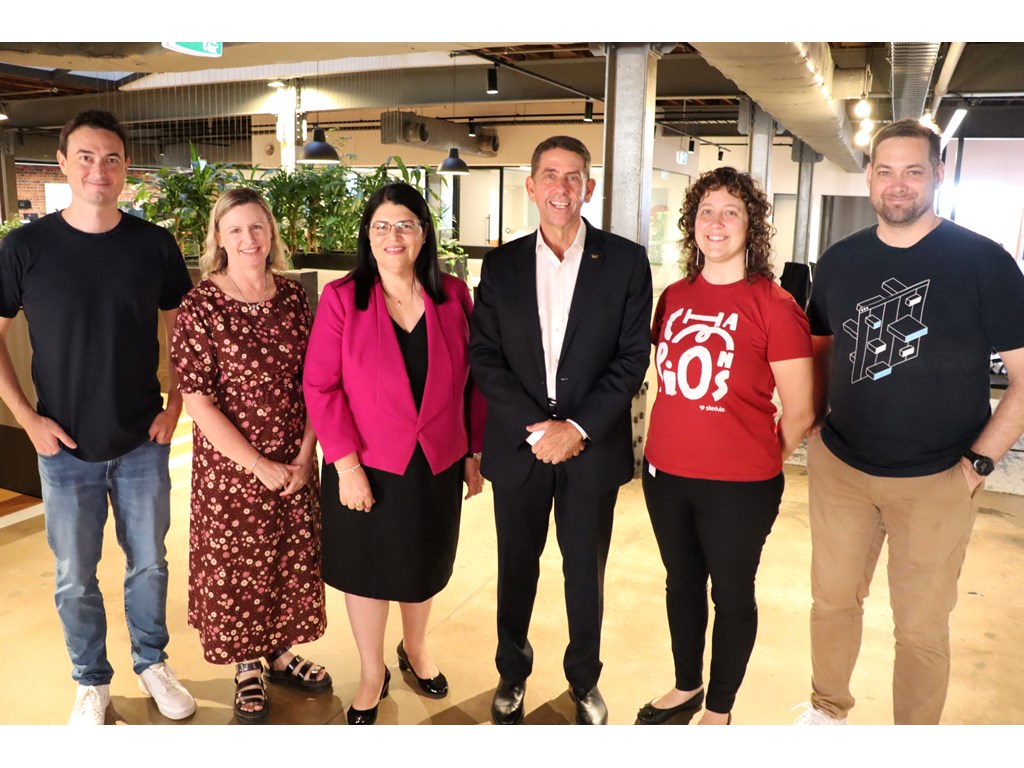 Treasurer Cameron Dick and Education Minister Grace Grace with members of the Skedulo team at their Fortitude Valley office.
Queensland startup Skedulo have put their software to pointed use during the pandemic, facilitating 10 per cent of all COVID-19 vaccinations in the United States.
Founded in Brisbane in 2013 by QUT grad Matt Fairhurst, Skedulo technology has become the global benchmark for digital scheduling and task management services.
And now the company is geared up to take their operations to the next level with support from the Palaszczuk Government's $100 million Business Investment Fund, managed by QIC.
Treasurer and Minister for Trade and Investment Cameron Dick said the state's investment is about creating more high-value tech jobs for Queenslanders.
"Skedulo have demonstrated significant success in recent years, and our government is excited to partner with them and contribute to their next phase of growth," Mr Dick said.
"Our stake in Skedulo will allow the company to expand its Fortitude Valley-based team by 50 per cent, from 70 staff to an expected 105 within the next 18 months.
"Even with five offices across the world now, including San Francisco, London, Ho Chi Minh City and Sydney, Skedulo continue to recognise the benefits of doing business in Queensland.
"By investing in Skedulo's future, locally, we're ensuring more homegrown talent stays in the Sunshine State."
When the US Government was working out how to provide COVID vaccinations to hundreds of millions of people, they turned to Skedulo.
Mr Dick said that success led to major sports leagues like the NBA and NFL, and services such as the US public education system, choosing Skedulo to coordinate their vaccine roll-outs.
"With their cloud-based scheduling software, Skedulo provide an end-to-end solution that improves the user experience and strengthens the supply chain," he said.
"As well as the health sector, Skedulo software is trusted in disability and aged care, disaster recovery, first aid training, with home solar panel installation, and for any mobile workforce."
Member for McConnel Grace Grace said the Palaszczuk Government has always backed Queensland businesses to shine on the international stage.
"We know Queenslanders have the skills and expertise required to excel in highly technical fields, and it's fantastic to see a company like Skedulo kicking goals from right here in Fortitude Valley," Ms Grace said.
"Skedulo have created high-quality local jobs in our community, and our government is proud to be investing in their sustained success through the Business Investment Fund."
Skedulo CEO Matt Fairhurst said the Queensland Government's investment through its Business Investment Fund will enable future growth while retaining the company's strong connection to Brisbane.
"As we keep expanding internationally our biggest team is still in Brisbane, leading our engineering and product development," Mr Fairhurst said.
"We're extremely passionate about our Australian heritage as a company and what it means to be a great company in Brisbane.
"Investing in Australian technology is critically important for our future economy as we pursue opportunities in innovation and education.
"Companies like Skedulo have a tremendous responsibility to figure out our part to play in that transition and return value to Australia as much as we can."
Skedulo is the fourth investment made from the QIC-led Business Investment Fund, following deals struck with Gilmour Space Technologies, Buildsafe and VALD.
The Business Investment Fund is part of the Queensland Government's $3.34 billion Queensland Jobs Fund and includes a range of programs to entice businesses to move or expand their operations in Queensland.
ENDS
Media contact: Ben Doyle 0400 775 561