Crack Detection Tech Ignites Ideas
Published Saturday, 02 April, 2022 at 12:16 PM
Minister for Tourism, Innovation and Sport and Minister Assisting the Premier on Olympics and Paralympics Sport and Engagement
The Honourable Stirling Hinchliffe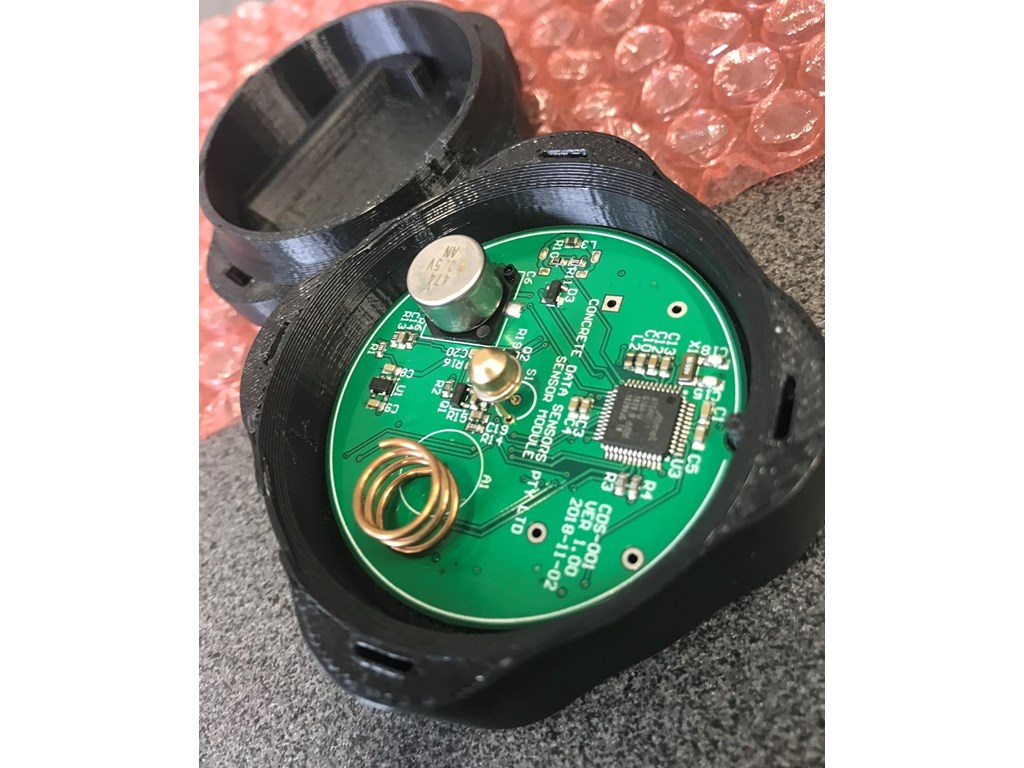 Concrete data sensor
Crack detection technology for high-rise buildings is among 21 Queensland innovations sharing $2.4 million in Palaszczuk Government Ignite Ideas funding.
Innovation Minister Stirling Hinchliffe said the Ignite Ideas program had invested $100,000 in the technology of Clontarf-based Concrete Data Sensors.
"Ignite Ideas and innovators like Concrete Data Sensors are a significant part of our Covid-19 Economic Recovery Plan," Mr Hinchliffe said.
"Concrete Data Sensors has developed instruments embedded in concrete foundations, soil and walls to monitor movement of high-rise buildings, tunnels, and bridges in real time.
"A rock-solid partnership with the Palaszczuk Government's Ignite Ideas is helping Concrete Data Sensors grow their business.
"The company has already put on four new staff to help generate millions of dollars for Queensland's innovation led economic recovery."
Member for Redcliffe Yvette D'Ath said it was wonderful to see a Peninsula business launching home-grown technology internationally.
"This early warning system has many global applications and tremendous potential to save lives," Ms D'Ath said.
"Innovation is important for the Moreton Bay Region's jobs of the future, and this is one Redcliffe Peninsula business off to a flying start."
Concrete Data Sensors Director Andrew Cathcart said owners and tenants can be notified of their building's safety anywhere in the world.
"This system provides peace-of-mind that structural elements are performing safely as designed and not showing signs of fatigue," Mr Cathcart said.
"Our technology is way ahead of anything else on the market and are the world's only sensors that can be cast into concrete, rock or soil.
"Fully wireless and blast resistant, the sensors run at least seven years without a continuous electricity connection."
Edge Engineers Chair Tim Peters said the technology's ability to present real-time data was a potential life saver.
"If this technology had been embedded in the 12-storey Miami Tower, last year's collapse might have been prevented," Mr Peters said.
Advance Queensland's Ignite Ideas Fund supports small-to-medium Queensland businesses to launch nationally and internationally to create new jobs.
Mr Hinchliffe said the latest round of Ignite Ideas was predicted to generate up to 100 jobs.
"Ignite Ideas supports Queenslanders to take their innovations to the next level by tapping into new markets and helping to attract investment," Mr Hinchliffe said.
"This round also includes funding for a sea rescue marine drone, AI technology for mine and major infrastructure inspections and a robot system that picks and packs fruit and vegetables."
Round eight Ignite Ideas recipients include:
| | | |
| --- | --- | --- |
| Embrayse, Wishart | $97,000 | Aged care meal management app |
| Ops (Australia), Longreach | $99,560 | Smart remote water monitoring and control system |
| Brancher, Newstead | $100,000 | Virtual mentoring and career development platform |
| Aeromech, Brisbane | $100,000 | Autonomous marine search and rescue device |
| World's Biggest Garage Sale, Morningside | $100,000 | Retail returns recycling platform |
| Span Engineering, Emerald | $100,000 | Scalable, app-connected agricultural equipment |
| Lyro Robotics, Eight Mile Plains | $100,000 | Intelligent pick and pack robots for fruit and vegetables |
| Earthoffset, Newstead | $100,000 | Organic waste recycling technology |
| Spatial Innovation, Brighton | $78,000 | Local Government flood information portal |
| Hero Software, Maleny | $100,000 | Home energy rating and optimisation software |
| Jennifer McKee, Etty Bay | $92,000 | Horticultural compliance management software |
| Sendfx, Southport | $99,990 | Foreign exchange payments platform |
| Kova Australia, Fortitude Valley | $100,000 | Cryptocurrency tax reporting and portfolio management software |
| Simulation Training, Bardon | $100,000 | Virtual firearms training platform and smartphone mount for military and law enforcement applications |
| Hoops CRM, Warana | $100,000 | Business management software for print, promotion and decorated apparel |
| Geobotica, Wilston | $99,996 | 3D cognitive mapping for mining and major infrastructure asset inspection |
| Lixia, Townsville | $200,000 | Power pole sensor monitoring for grid safety and extended asset life |
| Urpla Software, Southport | $195,000 | AI technology to simplify building and development applications |
| Tomkat Global Solutions, Kurrimine Beach | $150,000 | Packing solution for cold chain shipments |
| Nu Flow Technologies 2000, Molendinar | $200,000 | Water main rehabilitation and repair technology |
Concrete Data Sensor pics are here: https://www.dropbox.com/sh/kkicuu1etajc25m/AAAnwvI8vyAhd1VqklLPTEPda?dl=0
For more information about Ignite Ideas: https://advance.qld.gov.au/ignite-ideas-fund-round-8-recipients
Media: 0427 475 089