Queensland's clean energy company signs up major new retail customers
Published Thursday, 31 March, 2022 at 03:00 PM
Minister for Energy, Renewables and Hydrogen and Minister for Public Works and Procurement
The Honourable Mick de Brenni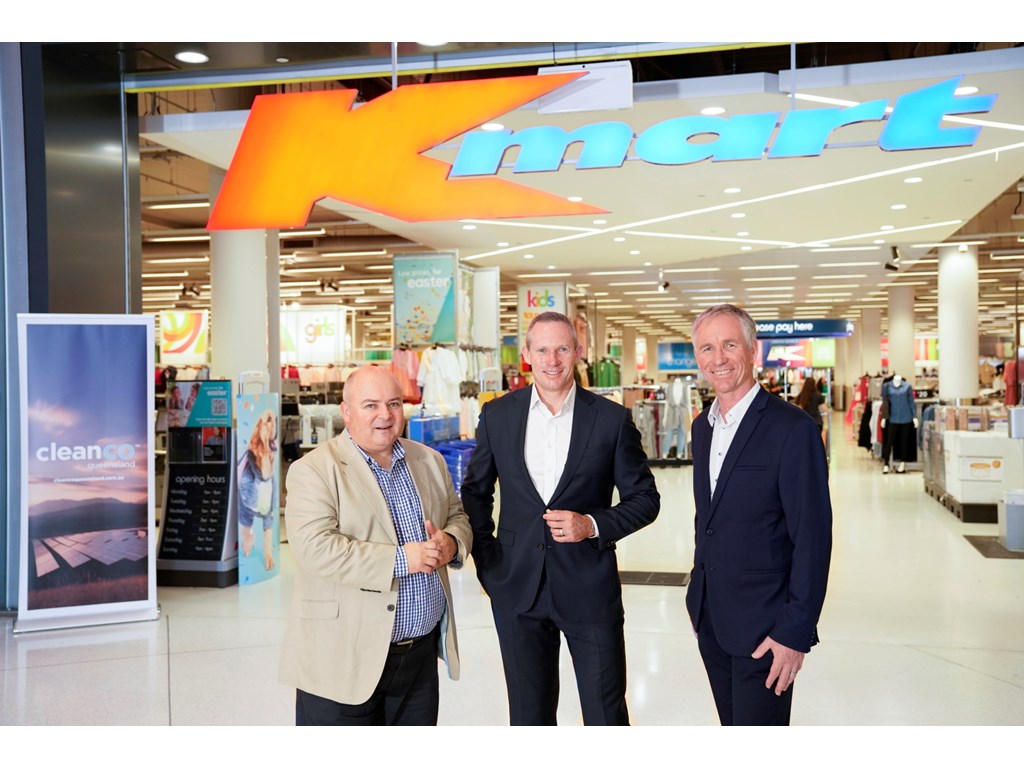 Queensland Energy Minister Mick de Brenni has announced today that publicly-owned energy generator and retailer CleanCo has struck a deal with Australian retail giant Wesfarmers to provide renewable energy to a number of its major subsidiaries - Kmart, Target, Bunnings and Officeworks.
Minister de Brenni says the deal represents a major step forward for renewable energy made and delivered in Queensland.
"This is proof our publicly-owned CleanCo is getting on with the job of connecting businesses in Queensland to clean, reliable energy from Queensland renewables and helping decarbonise our economy," Mr de Brenni said.
"Every time Queenslanders visit these iconic retailers - whether to Bunnings for mowers, Officeworks for school supplies or Kmart or Target for clothes for the kids - they are now supporting Queensland renewables jobs.
"They join CleanCo's growing portfolio of partners, leading to further opportunity for our publicly owned renewables, low-emissions and hydro business, to now grow its footprint of built, owned and operated assets.
"CleanCo is unique in its remit – a government owned corporation that is leading the energy transformation in Queensland from the beginning to end of the supply chain – building and investing in projects and selling electricity to customers at the other end.
"This agreement with the Wesfarmers' companies represents a win-win for Queensland with CleanCo providing renewable energy at a competitive price, on the back of jobs growth in regional Queensland.
"The Queensland Government has a target to reach 50 per cent renewable energy generation by 2030 and we congratulate Wesfarmers for joining us on this journey."
CleanCo has been steadily building its customer base since its establishment just three years ago and Interim CEO Darryl Rowell says Wesfarmers is a great partnership to strike with its businesses committed to 100 per cent renewables by 2025.
"Kmart, Target and Officeworks are contracted to take our energy and large-scale generation certificates (LGCs) to the end of 2030, while Bunnings is currently signed up to 2027.
"We will be providing this energy and LGCs in part from Neoen's Western Downs Green Power Hub solar farm, from which we have a power purchase agreement to take 320MW, and in part from the Macintyre Wind Farm when it comes online in late 2023.
"Deals such as these allow us to support business and industry to reduce their carbon footprint with affordable, reliable green energy.
"We are proud to be supporting Wesfarmers to meet its renewable energy targets for its selected businesses across Queensland", he said.
Bunnings Group Managing Director Michael Schneider said partnering with CleanCo is an exciting step in their sustainability journey, as Bunnings continue to make progress towards our commitment to source 100 per cent renewable electricity by 2025.
"This builds on the work we have already done to increase our renewable power use by installing solar PV systems at 88 sites across Australia, generating the equivalent capacity to power over 4,600 households," Mr Schneider said.
"While we've made positive headway, we recognise we have a lot more to do in this space, and we look forward to pursuing more initiatives to reduce our footprint."
Managing Director Kmart Group (Kmart Australia & Target Australia) Ian Bailey said climate change is one of the major challenges we face in our lifetime.
"This partnership with CleanCo is a step towards achieving our 100 per cent renewable electricity target by 2025 and builds on our programs that have improved store energy efficiency by around 27 per cent while reducing emissions by 34 per cent since 2015.
"We know that the road ahead to achieve our sustainability goals is long and challenging, but with solid action like this partnership with the Queensland Government we are making meaningful progress and doing our part on the race to net zero", he said.
Managing Director Officeworks Sarah Hunter said the decarbonisation of the electricity sector is a crucial step in the pathway to a net-zero future, and one in which we all have a role to play.
"By choosing where we purchase our electricity, and how it is generated, we have the opportunity to contribute to that transition.
"We are excited to work with our industry peers, and CleanCo, as we work towards our goal of using 100 per cent renewable electricity by 2025, and shaping a cleaner energy sector in the process."
ends
About the Western Downs Green Power Hub
The Western Downs Green Power Hub is located 22km south-east of Chinchilla and will connect to the electricity grid via a new overhead line to Powerlink's existing Western Downs substation. Full generation is scheduled for the last quarter in 2022.
About the MacIntyre Wind Farm
The MacIntyre Wind Farm is located approximately 50km west of Warwick and will connect to the electricity grid via a new overhead power line. Generation is scheduled for 2024.