Stanwell commits CQ's hydrogen future
Published Tuesday, 29 March, 2022 at 03:06 PM
Deputy Premier, Minister for State Development, Infrastructure, Local Government and Planning and Minister Assisting the Premier on Olympics Infrastructure
The Honourable Dr Steven Miles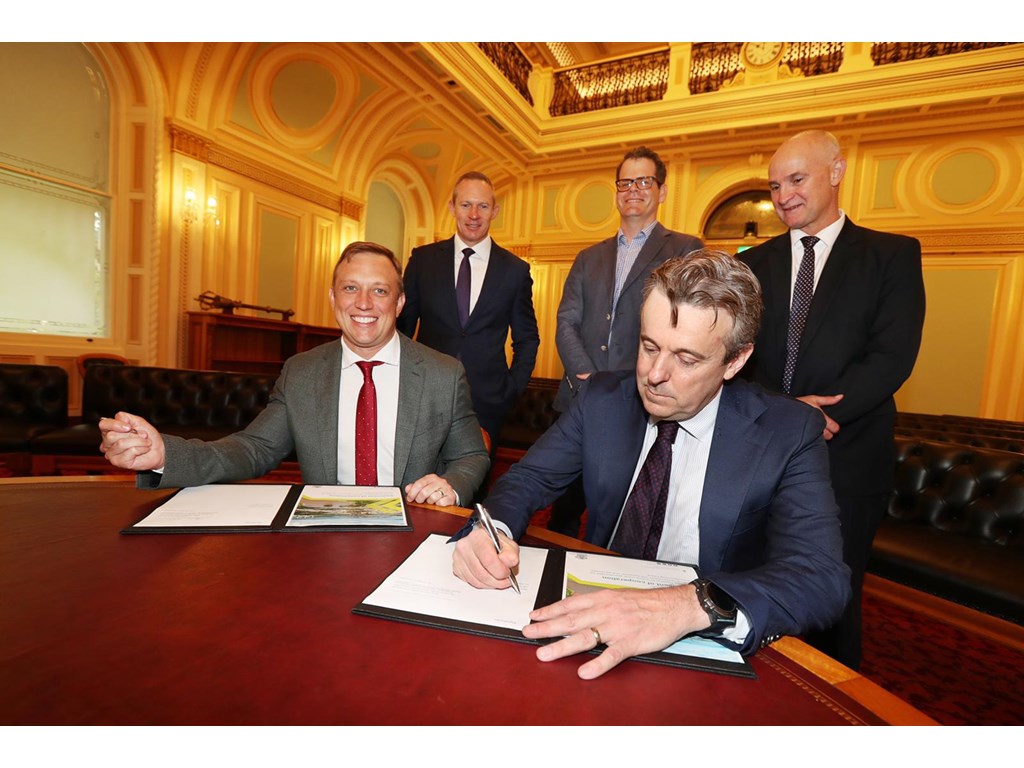 The future is looking clean for Central Queensland with Queensland Government owned energy company, Stanwell Corporation signing the Central Queensland Statement of Cooperation today.
Deputy Premier and Minister for State Development Steven Miles said commitments like this help to propel Central Queensland towards becoming a renewable energy powerhouse, as part of Queensland's plan for economic recovery.
"We are unlocking opportunities for Queensland to create more jobs as the world shifts towards decarbonisation," Mr Miles said.
"By bringing together key players in the region, we can leverage our state's traditional strengths and thrive in the global transformations ahead."
Mr Miles said Stanwell will join Rio Tinto Australia, Alpha HPA, Orica and ACCIONA, and work with Government to unlock more renewable opportunities for the state, starting in Central Queensland.
"With their major Japanese and domestic partners, the company is progressing their feasibility study for a large-scale green hydrogen project to supply both domestic and export customers,"
"Having Stanwell join the Statement of Cooperation makes sense and is a good step forward for Central Queensland's growing renewables and hydrogen industry."
Minister for Energy, Renewables and Hydrogen Mick de Brenni said Queensland is on the cusp of establishing a large-scale renewable hydrogen industry through Queensland's publicly-owned power company Stanwell.
"Stanwell is a major player in the renewables sector, and their landmark Memorandum of Understanding with ACCIONA will enable Queensland's largest solar project providing clean and renewable energy to one of Australia's largest and most promising green hydrogen projects, expected to drive $4.2B in hydrogen exports," Mr de Brenni said.
"Renewables and green hydrogen are the fuel to create more jobs and more industry for Queensland.
"Our global partners are looking for leadership and certainty in the hydrogen supply chain and the Palaszczuk Government's focus of efforts through Queensland's publicly-owned energy companies are delivering those ingredients.
"We are only at the beginning of an industry that will see billions of dollars added to our economy, creating prosperity for local residents for generations to come."
Minister for Regional Development and Manufacturing, Minister for Water and Member for Gladstone Glenn Butcher said Central Queensland has established itself as a renewable's powerhouse.
"These partnerships are highlighting, on a global stage, the benefits of investing into Queensland's regions and creating jobs for the future," Mr Butcher said.
"Today's announcement is another testament to what this government is committed to, regional development and job creation.
"That's why renewable energy, hydrogen, and manufacturing is at the core of our $3.34 billion Queensland Jobs Fund."
Stanwell's Chief Executive Officer Michael O'Rourke said the company has been developing strategic partnerships across the supply chain to support the development of Queensland's renewable energy future.
"We want to provide low emissions solutions to commercial and industrial retail customers by developing a high-quality, value-for-money pipeline of renewable energy projects and this the Statement of Cooperation will help us achieve that goal," Mr O'Rourke said.
The Statement of Cooperation will secure the future competitiveness of Queensland, adding value to a natural energy advantage to drive employment and economic outcomes for the state by focusing on three areas:
Committing to industry by establishing certainty for current industry and growing demand.
Delivering a globally competitive energy solution that is centred around firmed, low-carbon electricity for industry.
Growing the industries of the future in Central Queensland by creating an enabling regulatory environment, strengthening regional skills and employment to lower capital intensity, and planning for the infrastructure to enable industry development.
Mr Miles said it's great to see more signatories join the statement, meaning more jobs, getting more of the supply chain and holding on to value for Queenslanders.
"The Statement of Cooperation outlines our commitment to making Central Queensland a renewable energy powerhouse," he said.
"Our ambitious target to get to net zero emissions by 2050 is creating huge opportunities with more jobs in more industries right along the renewable energy supply chain."
Read more about Queensland's Hydrogen Strategy and the $3.34 Billion Queensland Jobs Fund.
Photos of the signing can be downloaded here: https://www.dropbox.com/s/4jgvqgkuvr4qit9/Photo%2029-3-2022%2C%201%2041%2006%20pm.jpg?dl=0 (from left to right: Phil Richardson, General Manager New Energy Projects Stanwell, Minister for Energy, Renewables and Hydrogen Mick de Brenni, Deputy Premier Steven Miles, Stanwell's Chief Executive Officer Michael O'Rourke, Minister for Regional Development and Manufacturing, Minister for Water and Member for Gladstone Glenn Butcher).
Additional photo: https://www.dropbox.com/s/9a8504fd9e9hp1o/Photo%2029-3-2022%2C%201%2047%2011%20pm.jpg?dl=0
ENDS
Media contact:
Amy Hunter – 0423 651 484 (Deputy Premier's office)
Daniel Knowles - 0432 681 664 (Minister de Brenni's office)
Emilia Hutchinson - 0437 060 435 (Minister Butcher's office)